---
"Coming Back To Earth": UK House Prices Book First Annual Drop Since 2012
Lender Halifax published a new report showing UK house prices recorded their first annual contraction in May in over a decade. The decline was attributed to an affordability crisis faced by buyers. A price reversal signals the possibility the housing boom has come to an abrupt halt. 
"House prices were largely unchanged in May, edging down very slightly (-£130) compared to April, with the average UK property now costing £286,532. More notably, the annual rate of growth fell to -1.0%, marking the first time since 2012 that house prices have fallen year-on-year. Given the effectively flat month, the annual decline largely reflects a comparison with strong house prices this time last year, as the market continued to be buoyant heading into the summer," Kim Kinnaird, the director at Halifax Mortgages, wrote in the report. 
Kinnaird said, "Property prices have now fallen by about £3,000 over the last 12 months and are down around £7,500 from the peak in August. But prices are still £5,000 up since the end of last year, and £25,000 above the level of two years ago."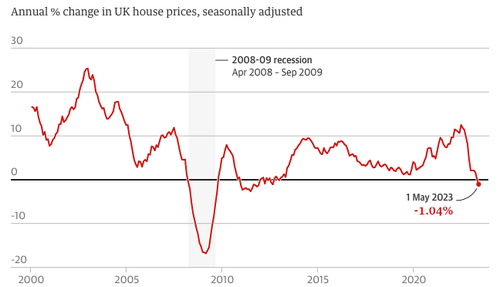 Kinnaird explained the Bank of England still has more interest rate hikes this year that will continue to exert downward pressure on the housing market:
"With consumer price inflation remaining stubbornly high, markets are pricing in several more rate rises that would take Base Rate above 5% for the first time since the start of 2008. Those expectations have led fixed mortgage rates to start rising again across the market.

"This will inevitably impact confidence in the housing market as both buyers and sellers adjust their expectations, and latest industry figures for both mortgage approvals and completed transactions show demand is cooling. Therefore further downward pressure on house prices is still expected." 
Using the WIRP function from the Bloomberg terminal, the market believes the BoE has at least three more hikes, maybe even four, by the end of the year, for a terminal rate of around 5.46%.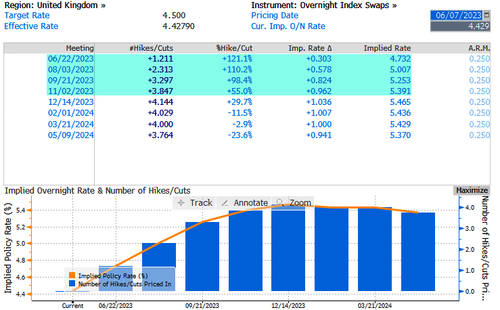 Additional interest rate hikes will keep mortgage rates edging higher and send first-time buyers back onto the sidelines because home ownership costs are too expensive.  Recall the Brits have experienced a terrible cost-of-living crisis due to elevated inflation (read: here & here). And has caused the most labor actions since the late 1980s. 
As of Wednesday, the financial data provider Moneyfacts reported that the average rate for a new two-year fixed mortgage was 5.79%. This marked an increase from 5.26% at the beginning of May.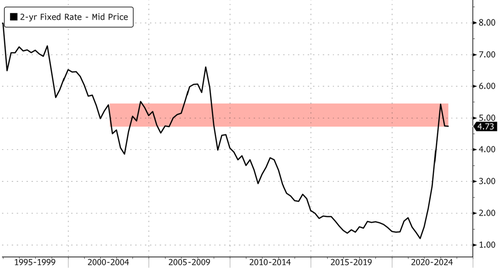 Some economists warn there is more downside to housing prices: "The UK housing market is coming back down to earth after a strong three years, not falling off a cliff," Tom Bill, head of UK residential research at Knight Frank, told Bloomberg. 
Loading...