---
Congress Claims Amazon Potentially Obstructed Justice
Over the years, Amazon has faced multiple investigations into whether its platform implicitly favors its own products. Back in 2020, WSJ published a series about Amazon's use of its proprietary data collected on third-party sellers, and how the company used this information (which it doesn't share with its competitors) to produce its own rival products.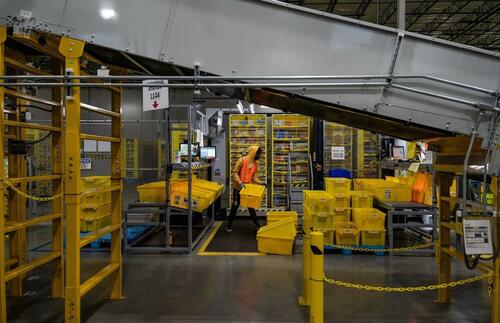 At a time when Democrats (and many Republicans) are eager to weaken the economic strength of consumer-facing tech behemoths like Alphabet, Amazon, Apple and Meta, there are few better options for accomplishing this than litigation, or criminal prosecution. A bipartisan team of lawmakers is trying very hard to make the latter happen. According to WSJ, two Congressmen have sent a letter to US Attorney General Merrick Garland asking him to investigate the Seattle-based tech giant Amazon's refusal to provide information that lawmakers had sought as part of a Judiciary Committee subcommittee probe into Amazon's competitive practices.
What's more, the letter accuses Amazon of deliberately trying to thwart investigators looking into potential "criminal conduct".
Throughout the investigation, "Amazon repeatedly endeavored to thwart the Committee's efforts to uncover the truth about Amazon's business practices," the congressional letter says. "For this, it must be held accountable."

The letter says it is alerting the Justice Department to "potentially criminal conduct by Amazon and certain of its executives," though it doesn't specify which individuals.
The letter represents a revival of tensions between Amazon and lawmakers who conducted a 16-month antitrust investigation of Congress, which resulted in the October 2020 report that criticized all four companies, but their take on Amazon was particularly contentious.
The biggest issue for Amazon  was its responses (or lack thereof) to lawmakers' inquiries about how it uses the data of third-party sellers on its platform when creating private-label products, and how it treats those Amazon brands in its search results.
At one point, Committee members asked Amazon to produce evidence to support its denials, including a report from the investigation Mr. Bezos had referenced.
In meetings with congressional staff and written testimony, Amazon or its lawyers refused to produce the investigation report and other documents.
This isn't the first time one of these anti-trust letters has been sent to the DoJ regarding Amazon.
In October, committee members sent a letter to Amazon Chief Executive Andy Jassy urging the company to provide "exculpatory evidence" surrounding its private-label business practices and its use of third-party sales data.
Amazon has a reason for being secretive. Amazon "has refused to turn over business documents or communications that would either corroborate its claims or correct the record," the letter says. "And it appears to have done so to conceal the truth about its use of third-party sellers' data to advantage its private-label business and its preferencing of private-label products in search results—subjects of the Committee's investigation."
The letter was signed by House Judiciary Committee Chairman Jerrold Nadler, Antitrust Subcommittee Chairman David Cicilline and committee members Reps. Ken Buck, Matt Gaet and Pramila Jayapal.
Loading...