---
Consolidation In Luxury Is Only A Matter Of Price
By Alexandra Muller and Michael Msika, Bloomberg Markets live reporters and analysts
Luxury stocks have never been this pricey relative to the broader market, but that shouldn't deter acquisitive predators keen to snap up trophy assets in the sector.
Hugo Boss and British luxury apparel-maker Burberry are among luxury companies being marked out as potential European takeover targets this year, according to an informal Bloomberg survey of 17 M&A desks, fund managers and analysts.
The luxury sector has been on fire this year, with the MSCI Europe Textiles Apparel & Luxury Goods Index rising 19%. That has stretched its premium over the broader market to a record 120%.
Investors have bought these shares to gain from China's post-Covid reopening and because the industry is studded with companies that have healthy balance sheets and earnings growth, and the pricing power to overcome economic strife. That means targets come with hefty price tags.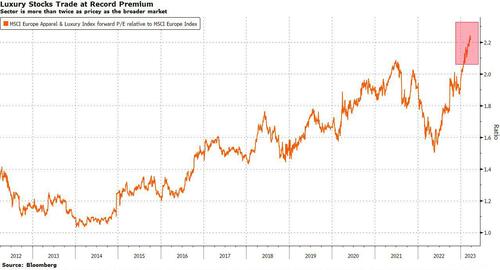 Dealmaking in the luxury industry "normally happens at punchy share price levels, as attractive acquisition targets are few and far apart," says Luca Solca, senior research analyst at Sanford C. Bernstein.
Many expect France's €415-billion luxury behemoth LVMH to be the one that ends up consolidating rivals. Its track record and de-leveraged balance sheet make it most likely to participate in a deal, Bank of America predicted in January.
In this tough competitive environment for smaller companies, "owners of rare assets may be tempted to fold and sell their brands to larger players, who would be more and more in a position to cherry pick," Solca adds.
While buyers may need to pay top dollar after months of booming market performance, not all stocks in the sector trade at a heavy premium. In fact, Richemont and Burberry are now heavily discounted to peers, having given up the superior valuation it used to boast.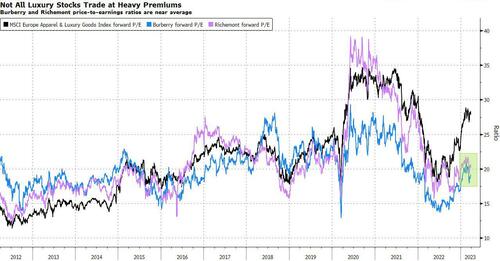 The survey coincides with a worsening M&A outlook, as higher interest rates and the threat of a recession give buyers pause. European deals in January-March totaled around $137 billion, about 60% below year-earlier levels, and among the slowest starts to the year in two decades, according to data compiled by Bloomberg.
Other names that cropped up in the survey include TMT firms Temenos, Vivendi and Atos, after featuring in December's poll. Commerzbank and Banco BPM were the only lenders identified as M&A candidates. Representatives for the five companies with the most mentions in the survey either declined to comment or didn't respond to requests for comment.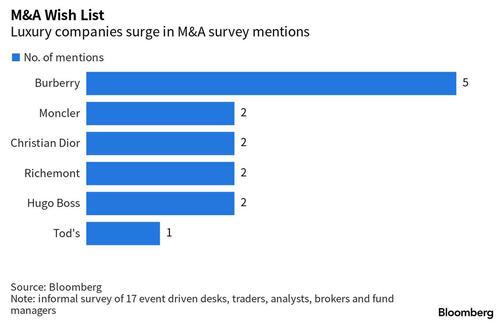 Loading...