---
Consumer Spending Explodes, Driven By Vaccine Recipients, Millennials Splurging On Airlines, Restaurants
Now that the awful February retail sales report is in the rearview mirror, as is its huge miss to consensus expectations - just as we warned - due to i)  payback from the stimulus-induced gain in January; ii) delayed tax refunds; and ii) the Texas winter blizzard, the most recent card spending data from both Bank of America and JPMorgan confirms that the latest stimmy checks have not only arrived but have been put to good use, mostly by millennials but also by those elderly vaccinated Americans (whom BofA calls "traditionalists") who just can't wait to jump on a plane or cruise ship, and enjoy some time away from house arrest, following a year of unprecedented government-overreach lockdowns.
The latest BofA card spending data (as measured by aggregated BAC credit and debit card data) for the week ending March 13 showed a 7.4% 1-year change and 8.9% 2-year change for the 7-days ending March 13th, both numbers confirming a substantial rebound from February's spending freeze.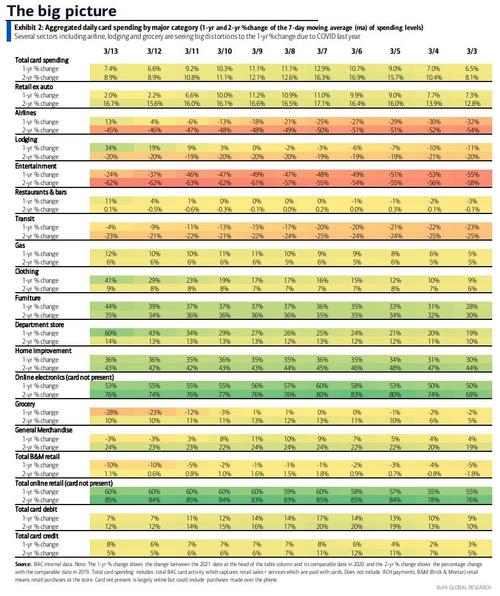 Looking ahead to next week, BofA economists expect the 1-year growth rate to soar given two things: the first round of lockdowns went into effect one year ago (i.e. the base effect now comes into play) and indeed, as shown below some categories are already showing the effects; ii) card spending next week will also likely be greatly impacted by the distribution of the latest round of stimulus checks.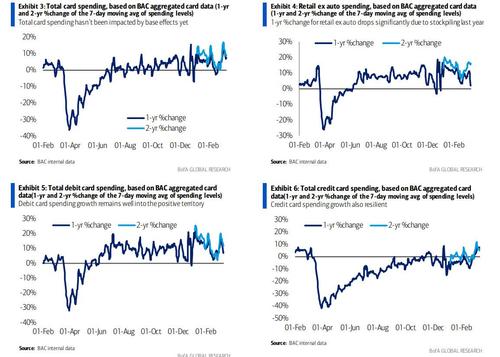 And speaking of the base effect and the March 2020 lockdowns, BofA shows that spending at department stores and on clothing shot up on a 1-year comparison - if not 2 years - which shows that people had already pulled back this time last year.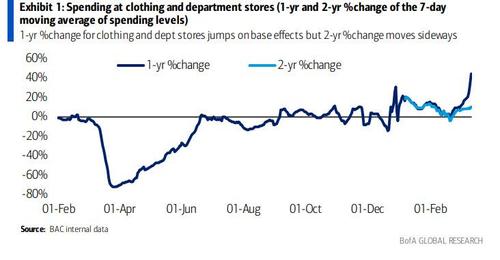 Meanwhile, overall retail spending remains modestly lower compared to the pre-covid average according to JPM data, while on a one-year basis consumer spending is now up almost 24% Y/Y.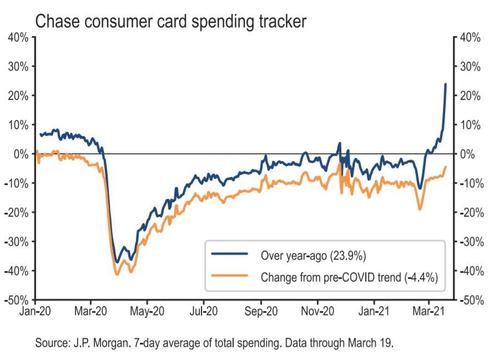 In contrast, the 1 and 2-year change is comparable for spending at home improvement and furniture stores, running at around 40%  and showing resilience both this year and last.

Additionally, BofA finds that card spending on restaurants is up 11% 1-year and flat over a 2-year period, suggesting this industry haw now normalized. To be sure, one can still see regional differences with the 2-year change negative in CA and NY, for example, but up roughly double digits in GA and FL.
Restaurant spending has improved in states where restrictions are being eased – for example, a pickup in restaurant activity in NYC. When looking at the composition of spending, BofA finds that locals make up 70% of NYC restaurant spending, down from the peak of  83% in April 2020 but still above the pre-COVID level of 56%

A great demonstration of the base effect is that while card spending on airlines is up 13% year over year, moving into positive territory on March 12th, the 2-year change is still down 45%. Given the one year base effects, and the desire to avoid noise in comparisons, BofA now prefers to focus on the 2-year change.
And here, we find that in the past week, the 2-year growth rate inflected higher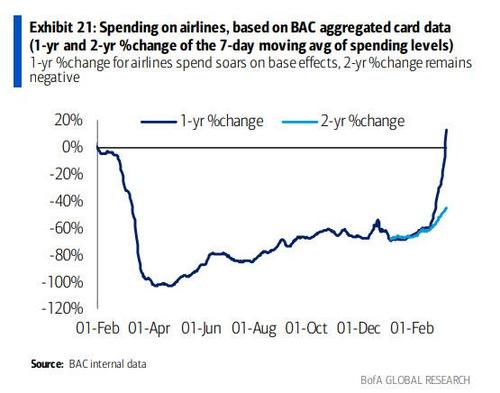 Drilling down we find that the traditionalist generation (75+ age group, mostly vacinated) has continued to ramp up spending on airlines, running 6X the June 2020 average. Meanwhile, in the last week, there has been a modest divergence in bank data sets: according to BofA, other cohorts have also spending but less so, with spending on airlines amongst Millennials at 2.3X the summer level.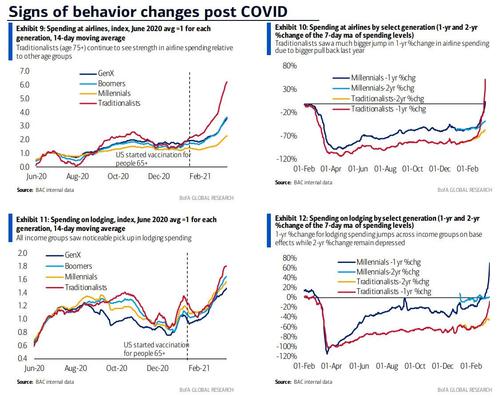 At the same time, data from JPMorgan shows that unlike BofA, the primary source of all the new spending is the Millennial generation - fueled by stimulus payment s -  with both Gen Z and Baby Boomers far behind.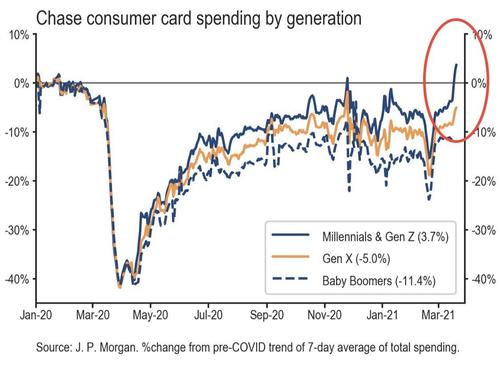 One caveat: as JPM notes, 62% of the stimulus checks ($242bn of $393bn) have been disbursed right as we are about to lap peak covid closures from last year. "So while the data is set to explode higher in the coming weeks- the benefits will begin to roll off as we move past April 15th (when initial stimulus hit last year)."
One final point: expect even more spending once tax refunds - which remain substantially delayed compared to both 2019 and 2020 at this time of the year - finally catch up to historical trendlines.