---
Consumer Weakness Confirmed: All Consumer Companies Missed On Comps Today And Spoke To Slowdown In Spending
From Goldman Consumer-focused trader Scott Feiler
A lot of Maybe's: Maybe some of the weakness was expected. Maybe it was not much worse than feared. Maybe a lot of it can be blamed on weather. Maybe it's priced in. Maybe the corporates will talk to trends improving.
Definitely: That's a lot of maybe's and those all could be true, but what we know for sure is all consumer companies missed top-this this morning and largely spoke to a slowdown in spending.
Priced?: The retail group is down 3% the last 3 days, underperforming the market by over 200 bps. So, maybe this is becoming anticipated at this point, but the fundamental takeaway is that top-line trends in consumer are slowing for most of the biggest retailers. Anticipated? Yes. Priced in? We'll see.
Pushback: All companies beat on better margins.
What happened?
LOW: Put up a -4.3% comp vs Consensus -3.4% and bogey for a -4%.  Blamed weather but also spoke to softer-than-expected demand for discretionary purchases and a slowdown in DIY spending.

AZO: In one of the more surprising misses, they did a +1.9% comp vs Consensus +4% and bogey of +5%.  Said weaker than expected sales in March meaningfully impacted the quarter. Will see what they say on the call about if/how much trends picked back up after March.

BJ: Comp sales of +5.7% vs Consensus +6.1% and a bogey for +6%. Not the end of the world they missed by 40 bps on comps and 200 bps on total sales, but it was their largest sales miss in 10 quarters. This is the most debated name in my IB's this morning with clients, with a lot of bulls (margin upside) and bears (comp miss, disinflation theme).

DKS:  1Q comps of +3.4% missed consensus by 40 bps. They did say they continue to gain share and the stock has moved lower into the print on some softer end of quarter checks (away), but we think a modest comp beat was expected, not a miss.
Continuation of a trend: The 4 sales missed this morning follow HD's miss (worst comp in 14 years) last week, TGT speaking to a soft start to 2Q, WMT talking to moderation during 1Q, MNRO speaking to a trade-down to entry price points and FL saying trends fell in April and onwards  
The Pushback:
A good chunk of this is expected and known. On top of that, EPS is intact, driven by margin upside (BJ, DKS, LOW and AZO all beat EPS this morning, as did most of the names last week). Also, positioning is very light, with our GS PB data showing long/short ratios near 5-year lows in discretionary.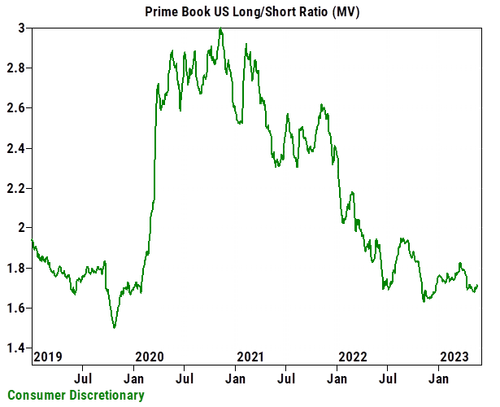 Source: GS PB Data, Vincent Lin
Loading...