---
China Bans Short Selling, Plans Massive Liquidity Injection To Prevent Market Crash
Judging by the collapse in Chinese futures and the Offshore Yuan over the past week, China's key cash equity index - The Shanghai Composite - is set to plunge around 6-8% as the market re-opens for the first time since Lunar New Year (and the coronavorus chaos).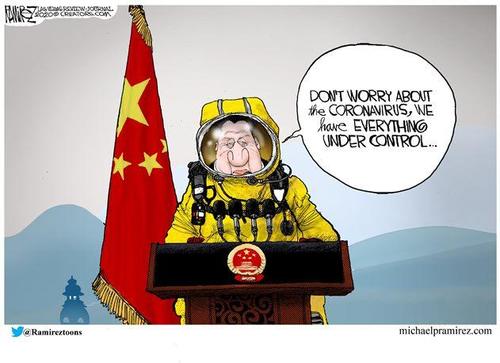 China stock futures have tumbled...
Source: Bloomberg
And Offshore Yuan is fighting at the 7.00/USD level...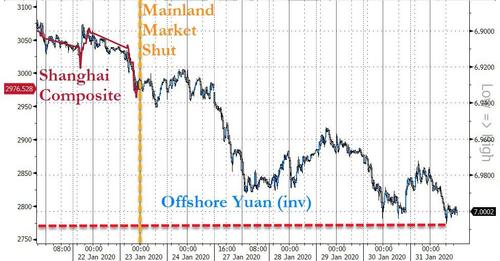 Source: Bloomberg
Which of course will not do for the nation has to maintain the appearance of a minor flesh-wound than a catastrophic coronary. And so, as Bloomberg reports, China unveiled a raft of measures over the weekend to aid companies hit by the coronavirus outbreak and also shore up financial markets.
Quarantative easing?
The People's Bank of China announced that the total injection announced was 1.2 trillion yuan, the largest single-day addition of its kind in data going back to 2004. The money will be supplied using reverse repurchase agreements to ensure liquidity is "reasonably ample" during the outbreak, according to the PBOC.
The new measures follow the announcement last week that China's biggest banks will lower interest rates for firms in Hubei, the center of the outbreak.
However, as Tommy Xie, an economist at Oversea-Chinese Banking Corp notes, the net effect of this admittedly huge liquidity injection is much lower as there are more than 1 trillion yuan of short-term funds scheduled to mature on Monday.
"The amount of the net injection isn't huge. The PBOC may want to retain some flexibility, which means it can add more liquidity in the rest of the week if the sentiment is too bad."
Source: Bloomberg
Finally, we wonder if even this additional liquidity injection will be big enough as judging by Dr.Copper, the Chinese economy is about to be hit by the biggest shock in recent history...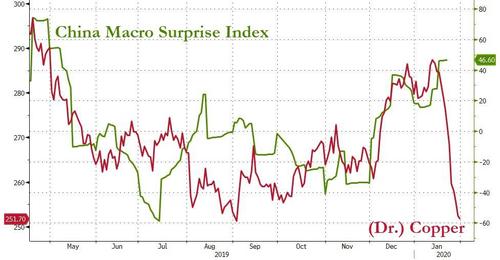 Source: Bloomberg
And China's credit impulse - the lifeline of its economic growth - is barely positive and rolling over...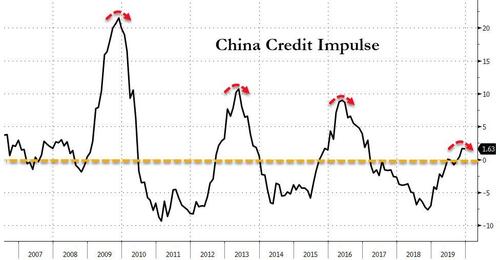 Source: Bloomberg
In addition to the concrete measures, Bloomberg notes that senior officials from various regulators and the central bank put out statements urging brokerages and funds to guide investors to "rationally and objectively" evaluate the impact of the epidemic, calling it "short-term and temporary."
Financial regulators said they have "full confidence" they can keep the economy stable in the long term, according to the Saturday statement, which urged investors not to be affected by "irrational sentiment."
We are not quite sure what they mean by "irrational sentiment," as it seems entirely rational to expect economic growth to slow and earnings to be pressured lower given the nation is practically on total lockdown for the foreseeable future.
And if you think that is just conjecture, here is a local business owner with the truth on the ground...
CEO of restaurant chain 西贝 says he can only pay salaries for 3 more months before his cash runs out. Calls for relief from stupid govt policy (傻政策)otherwise will have to layoff workers and create social unrest. 100k views before blocked on wechat https://t.co/gkmIvVV8ha

— Jordan Schneider 司马乔丹 (@jordanschnyc) February 1, 2020
Said back during SARS it was easier to cope since they didn't have to pay salaries. Now labor makes up 30% of their costs vs just 15% in 2003 and firms have to keep paying.

— Jordan Schneider 司马乔丹 (@jordanschnyc) February 1, 2020
Says that cutting interest rates is a drop in the bucket, instead wants the government to write off 2020 taxes and take up some of slack when paying salaries

— Jordan Schneider 司马乔丹 (@jordanschnyc) February 1, 2020
1.2 trillion yuan is nothing like enough...and they have a plan for that - ban selling, similar to what Beijing did at the height of its 2015 stock market crash.
Notice about stock market in #China. No one is allowed to sell when the market resume on Feb. 3. Biding price to be controlled before opening, no net sell before Feb. 7. Needs special permission for sales over 10M yuan. #CCP fearing market crash #Coronavirus #CoronavirusOutbreak pic.twitter.com/lnGIdQJCe2

— 曾錚 Jennifer Zeng (@jenniferatntd) February 2, 2020
Out of concern over widespread stock selling amid the #coronavirus outbreak, China's #stock regulator will ban short sales of securities starting from Monday: reports pic.twitter.com/ehSZuEjE5I

— The Business Source (@GlobalTimesBiz) February 2, 2020
And 21st Century Herald confirms that China's securities regulator CSRC has reportedly notified brokerages to suspend short selling of stocks from Feb 3...
#China's securities regulator CSRC has reportedly notified brokerages to suspend short selling of stocks from Feb 3, according to the 21st Century Business Herald.

— YUAN TALKS (@YuanTalks) February 2, 2020
So the Chinese 'market' is now Hotel California - you can check out any time, but you can never leave!