---
Core European Inflation Hits Record High, Headline Falls As Energy Costs Collapse
Following yesterday's mixed messages from various EU nations, the overall Euro area headline CPI for Feb fell 163bp in March to 6.88% YoY - the lowest since Feb 2022 (and well below consensus expectations of 7.1% YoY).
However, and potentially more problematic for any ECB doves, core EU CPI (excluding energy, food, alcohol and tobacco), rose 4bp to a new record high at 5.65% YoY, in line with expectations.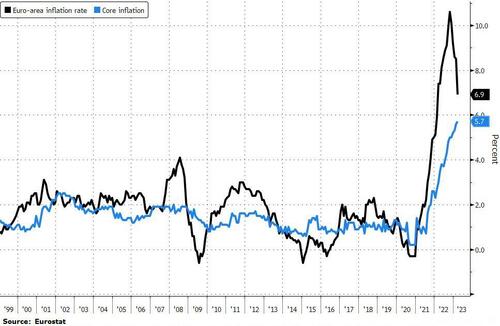 Source: Bloomberg
Under the hood - and mimicking US patterns - services inflation rose 20bps to a new record high at 5.0% YoY, and non-energy industrial goods inflation 20bps to 6.6% YoY. Of the non-core components, energy inflation crashed 14.6pp to -0.9% YoY, while food, alcohol and tobacco inflation rose 40bps to 15.4%YoY.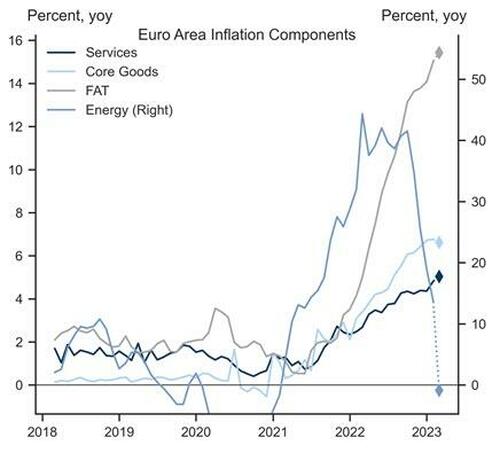 Source: Goldman Sachs
Most notably, following today's releases, Goldman updated its Euro area inflation forecast, and now expect core and headline inflation to be 4.0% YoY and 3.3% YoY respectively in December 2023.
And the market has adjusted hawkishly, with a 25bps hike by the ECB in May now priced at 90% odds...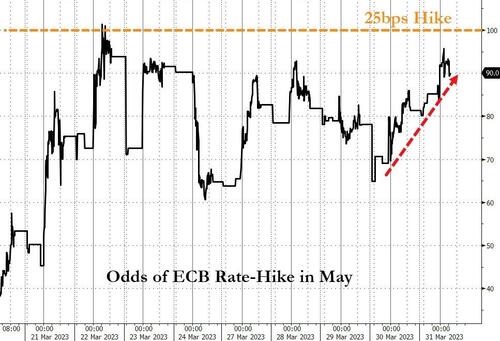 Maeva Cousin, senior Bloomberg economist noted: "The March inflation reading adds to the case for additional tightening from the ECB. That follows comments from even dovish policymakers about the need for further hikes, now that stress in the banking sector has receded."
As Bloomberg's Ven Ram pointed out, interest-rate traders are currently pricing in a terminal rate circa 3.60%, but even assuming that inflation eventually slows to it estimate of 5.3% for this year, its policy rate would still be deeply negative.
That makes a 4% peak rate more likely than not.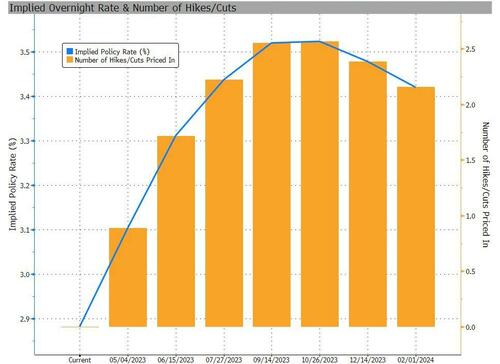 For now, the banking stress is easing - prompting more hawkish ECB policymakers to urge further rises in borrowing costs.
Loading...