---
Corporate America Panics As 'Student Loan' Chatter Hits Record On Earnings Calls
Corporate America is panicking this earnings season as the prospect of more than 40 million Americans carrying student debt will have to start making payments in October after a three-year-long payment forbearance that had artificially boosted disposable incomes by tens of billions of dollars.  
Using the 'Document Search' function on Bloomberg, the phrase "student loan" in all second-quarter earnings calls soared to a record high of 151 mentions. 

During earnings calls, companies in the financials, consumer discretionary, and consumer staples sectors had the most mentions. Consequently, these sectors are poised to face the greatest exposure when consumer spending decreases.

In June, Barclays economist Adirenne Yih wrote in a note to clients (available to pro subscribers in the usual place), explaining the restart of student loan payments would be a $15.8 billion monthly headwind -- or a $190 billion per year -- to the US economy as the average student debt holder sees an incremental monthly payment of -- $390 beginning this fall.
With the return of these payments for 40 million Americans, the threat of consumer spending sliding is high. We've asked: Student Loan Repayments – Will It Start The Recession?
... and comes as the latest revolving credit (i.e., credit card debt) data shows consumers are nearing a breaking point as the spending binge wanes with interest rates at 22-year highs.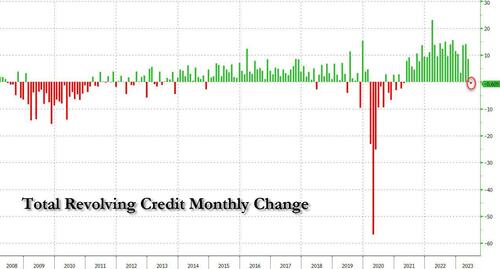 Analytics company Earnest Insights wrote in a note that Frontier Airlines, Pleoton, and Old Navy will be some of the hardest-hit companies come October. 
Student loan payers who suspended payments during Covid will have to resume those payments come October. That cohort of shoppers made up more than 10% of spending at several national brands in 2022 (above the dotted line). Their spending also outperformed non-borrowers at several brands (left of the solid line), suggesting that their lack of payments may have buoyed their spending in recent years. That leaves dozens of national brands that benefited meaningfully from the pause in student loans, and that may be more exposed to that shopper base as payments resume.

Within Travel, Frontier Airlines was the most sensitive to the Covid-Suspended cohort in 2022, with 11% share and 2 points of outspending from the cohort. In contrast, Alaska Airlines and United Airlines both had 7% share and 10 points of under-spending. Airbnb had a high 11% share from the cohort but with 4 points of underspending.

Within the Home sector, Peloton was most sensitive, with 13% share and 11 points of outspending from the Covid-Suspended cohort; Sherwin Williams had 6% share and 10 points of under-spending. IKEA, Ashley, HomeGoods, Wayfair, and Lowe's all had 10%+ share from the cohort but the cohort also underspent Non-Borrowers by ~5 points. 

Most Apparel and Department Stores had over 10% share from the Covid-Suspended cohort: Old Navy had the highest share at 14%; Nordstrom Full Price had the lowest share at 8%. Old Navy and Burlington each had 3 points of outspending from the cohort, while most others saw minimal to underspending. 
Earnest shows companies in the top left quadrant are most exposed to the student loan-paying cohort.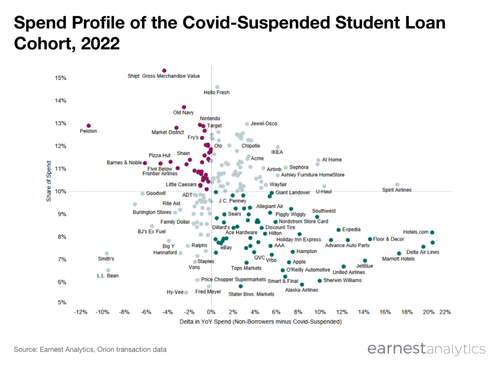 Company execs have already warned investors what's about the incoming spending cliff:
Target's CFO Michael Fiddelke

"The upcoming resumption of student loan repayments will put additional pressure on the already strained budgets of tens of millions of households ... We remain cautious in our planning."

Levi's CEO Chip Bergh

"It's not going to help us ... The consumer is already under pressure and this is just going to ratchet that up even further."

Macy's CFO Adrian Mitchell

"The expiration of student loan forgiveness beginning in October, higher interest rate levels, and lower new job creation are all new pressures on the consumer." 
A looming consumer spending cliff has corporate America in a panic. This seems deflationary.
Loading...