---
Corporate America Splurges On Super Bowl Ads Despite Recession Threat
Corporate America isn't buying the notion that the US economy could achieve a soft landing this year, as the Federal Reserve spent all of last year combating inflation with oversized interest rate hikes. Despite tremendous economic uncertainty, advertising spending for the Super Bowl is expected to hit a record high. 
Bloomberg Intelligence analysts Geetha Ranganathan and Kevin Near wrote a note that shows companies locking in slots to advertise during the big game is over $6.5 million for 30-second spots, in line with NBC from last year. Some slots are topping $7 million. 
"Sold-out ad inventory, surging sports bets and expectations for strong ratings are all helping support ad prices," the analysts noted.
The total ad time for the Super Bowl runs approximately 52 minutes. Factor in unpaid ads, such as one from Fox and the National Football League, and the total air time for paid ads is around 42 minutes. 
Ad insight firm Kantar said ad revenue from the game could bring in $570 million of in-game revenue for Fox. Then count pre/post ad revenue of around $75-$80 million. This could mean a record $650 million payday for Fox. 
"NBC's $636 million last year was an 18% jump from the prior year, and though ads are still robust, a slowing economy has weighed on sales," the analyst said.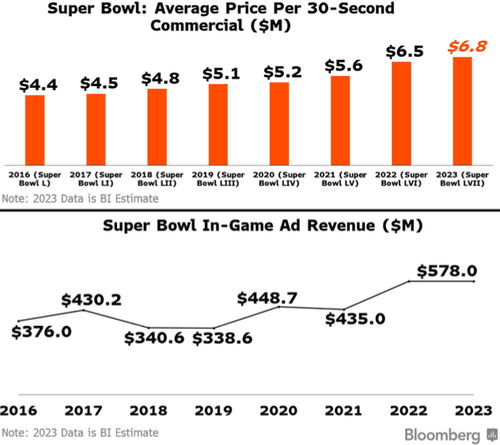 Tens of millions of Americans tune into the Super Bowl just to watch the iconic ads. 
"According to an August 2021 survey among viewers in the United States, 43 percent of respondents said they tuned in to the Super Bowl to watch the commercials. When it came to women, this figure rose to 60 percent, while 24 percent of men said they tuned in to the big game in order to watch ads," Statista wrote.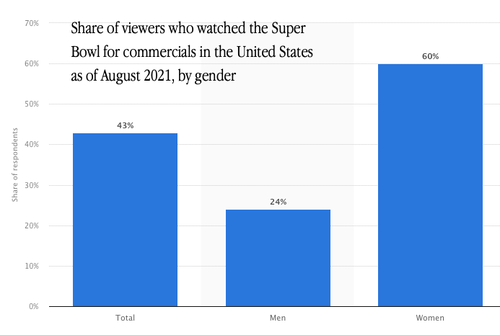 The threat of recession? Corporate America doesn't care. They want the most valuable ad space in the world to reach consumers. 
Loading...