---
'COVID Secured': Over 15% Of Tesla Employees Affected After Musk's Early Reopening
Over 130 Tesla employees have tested positive to COVID-19 out of a total of 1,550 "affected" workers, according to an internal leak obtained by electrek, which notes that "affected" appears to refer to employees who had confirmed exposure to the virus.
Tesla has around 10,000 employees at its Fremont, California factory, where most of the infections and exposures have occurred.
This news comes weeks after CEO Elon Musk threw a fit several weeks ago about not being able to reopen the company's Fremont factory. He even went so far as to threaten to move the company out of California.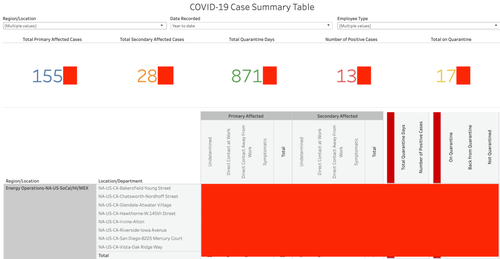 What's more, "Based on Tesla's own data, the majority of employees tracked for exposure have been not been tested, or it is unknown whether they have been tested," according to the report.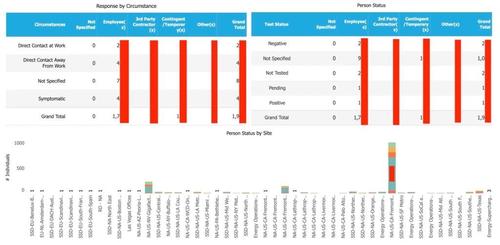 Tesla's own internal data also confirmed that the amount of "exposure" that employees at Fremont have had has spiked over the last 14 days.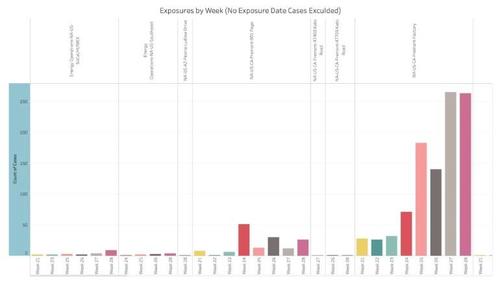 The company is reportedly telling workers that have been affected:
Since this is precautionary only, if you test negative, you can return to work 24 hours after being fever free (without the use of fever-reducing medication) and improved symptoms (if symptoms develop).
If you test positive, you will need to stay home for 10 days after the test date and at least three days after you have recovered. Recovery means that your fever is gone for 72 hours without the use of fever-reducing medications and your respiratory symptoms have improved. A doctor's note is required to say you are fit to return to work.
electrek also says that sources told it that Tesla had "some outbreaks" within "a few teams" at Fremont. 
Recall, just weeks ago we noted that Tesla's head of safety was claiming that Covid-19 transmission wasn't taking place inside of the Fremont factory and claimed that Tesla has "had zero COVID-19 workplace transmissions," since restarting operations at Fremont in May. In other words, Tesla was blaming the transmission on what employees are doing outside of the workplace.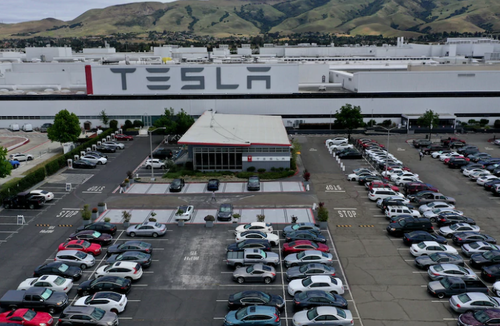 As we said then: it's a bold claim to make without having the science to back up how one arrives at the conclusion of where and when virus transmissions take place. After all, you can't see, feel or touch the virus. So, how can Tesla be so certain?
At the time, employees told CNBC that it was "impossible" to do their work building cars while complying with safety rules that have been put into place by Alameda County. 
Specifically, these employees said, they cannot wear a face covering during their entire shift, thoroughly clean shared tools and equipment between shifts, and keep social distance between coworkers during work, or even during breaks.
Days before that bold claim, we wrote about how four Tesla workers had tested positive for the coronavirus. This news came after we noted that two workers had tested positive for the virus just days after Elon Musk went to war with Alameda County and Governor Newsom for the right to re-open his Fremont factory. 
It appears that the early June statement about no transmission at Fremont may have been more than just a good spin on events that took place - but rather spin for the forthcoming information about increased cases at Tesla that we are now learning about.
As electrek notes:
Now, two months later, the US is still seeing record levels of new COVID-19 cases, and Tesla is also experiencing an increasing number of cases in its workforce. Tesla's workforce is largely in California, which has been particularly hard hit in recent weeks.
Famously, Elon Musk commented back in March on his Twitter that "Based on current trends, probably close to zero new cases in US too by end of April".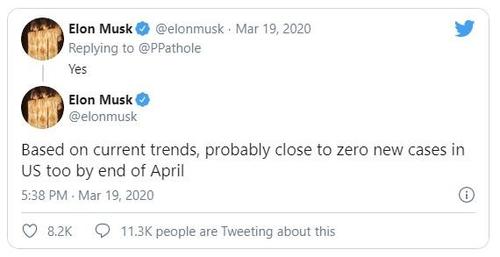 Even with the company's sycophants, Elon's behavior isn't flying. electrek editor Fred Lambert concluded by stating:
While Tesla seems to be pushing common-sense measures to prevent the spread, they also seem to be willing to overlook things if it means that they can keep production going and ramp it up.

I think it starts at the top, and with Elon's comments often dismissing the seriousness of the pandemic, I can see how this can trickle down in the organization.

Elon should publicly correct the course here, admit that some of the comments he made regarding the pandemic were wrong, and that he and Tesla are taking the situation extremely seriously.