---
Cracker Barrel Leaves Portland, Following Walmart's Lead
Cracker Barrel is calling it quits on Portland. 
It seems nary a day goes by when we aren't writing about some major corporation - Target, Walmart, Walgreens, etc. - leaving a major city due to a rise in crime and theft. Today is going to be no different.
The restaurant chain this week acknowledged what Walmart's CEO had already pointed out: that "crime and theft were taking their toll" on companies in Portland and that they would be leaving the city, according to Fox News. 
The company officially blamed Covid-19 for the closures, the report says. The company said: "As a standard course of business, we continually evaluate the performance of our stores, using various criteria to ensure we are meeting the needs of our guests and our business."
It continued: "With that, we are saddened that we have been unable to overcome the impact the pandemic had on our business and have made the difficult decision to close the Beaverton, Tualatin, and Bend locations on March 20. The decision to close a store is never one we take lightly, and our focus right now is in assisting our impacted employees during this transition."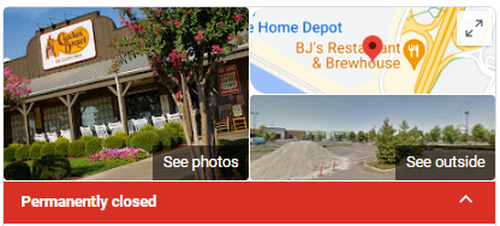 When Fox News asked for more details, a spokesperson told them: "Like so many other companies, the pandemic impacted our business, and we have struggled to staff and profitably run these stores. Despite the extra efforts made, we couldn't viably continue to keep our doors open."
Recall, Walmart also recently closed all of its Portland stores, stating officially: "We have nearly 5,000 stores across the U.S. and unfortunately some do not meet our financial expectations. While our underlying business is strong, these specific stores haven't performed as well as we hoped."
Walmart CEO Doug McMillon later said: "Theft is an issue. It's higher than what it has historically been."
"Prices will be higher and/or stores will close" if crime didn't slow, he continued. 
Portland native Dustin Michael Miller told Fox News: "Our city is out of control. It is unrecognizable. I've lived here my whole life, and it's just deteriorated over the last five years."
Loading...