---
CRE Crisis Crosses Atlantic: Sweden's Largest Commercial Landlord SBB Implodes After Getting Junked, Halting Dividend
The US Commercial real estate crisis - which according to Jim Cramer "isn't going to destabilize the system" thus guaranteeing another global crash - has crossed the Atlantic and made landfall in Sweden where commercial landlord SBB - one of the most-owned stocks in Sweden - saw its share price crater to the lowest level since 2018 years after the company announced plans to postpone a dividend and cancel a rights issue intended to shore up its finances.
Shares in Samhallsbyggnadsbolaget i Norden AB — as SBB is formally known — plummeted more than 20% and have fallen 14 out of the last 15 trading days. Today's plunge compounded the losses from Monday when the stock cratered 20% following a credit rating cut to junk by S&P Global Ratings. Its market capitalization has dropped from over $17 billion in late 2021 to less than $1.5 billion, a historic collapse for its more than 260,000 shareholders.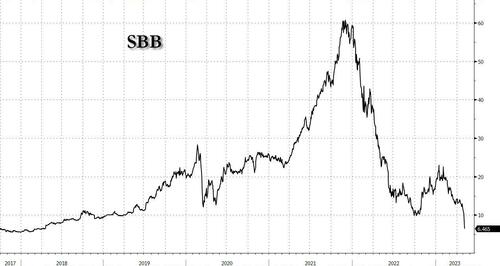 In a statement issued at 11 p.m. Stockholm time on Monday, the property company said that "the market reaction thereafter has made it impossible to carry out the rights issue of ordinary D-shares on the intended terms", Bloomberg reports, noting that it is seeking to push back its dividend payment date until next year's shareholders meeting "at the latest." The Stockholm-based company also said it will not carry out the issuance of 2.6 billion kronor ($260 million) worth of new class D shares.
The dividend cut comes one day after SBB's credit rating was cut to junk by S&P Global Ratings, which warned a further downgrade is possible if the company is "unable to secure sufficient funding sources in the next couple of quarters to sustainably cover its short-term financial obligations." The ratings firm said it no longer believed the landlord could meet its thresholds for investment-grade debt; the downgrade adds to the company's costs by triggering so-called "step-up" coupons on its existing debt. That adds up to an additional 285 million kronor in financing costs.
The developments raise serious questions for one of Sweden's biggest landlords as it grapples with an $8.1 billion debt load amid sharply rising interest rates and ballooning credit spreads. It's also symptomatic of the problems facing the wider commercial property sector in Sweden.
The collapse in SBB's price is also a crushing blow for CEO Ilija Batljan, who has repeatedly assured investors he would take action to defend the company's credit profile. SBB derives most of its rental income from regulated residential properties in the Nordic region.
Similar to their US peers, Swedish landlords must roll over $40.8 billion of maturing bond debt over the next five years, a quarter of which falls due in 2023. They have been viewed as the canary in the coal mine for European real estate because much of that debt is short term and floating rate, making it particularly exposed to interest rates.
Analysts at Arctic Securities AS welcomed the plan by SBB to improve its liquidity position. "These two decisions, pausing the dividend payout and cancelling the planned issue of D-shares, are as a whole positive for SBB shareholders," real estate analyst Michael Johansson said by phone.
"The problem for SBB is that the dividend has already been voted through at the AGM, so their only option is to pause it," he added.
Others were less sanguine: "This will be yet another negative overhang for the sector," even if SBB's situation doesn't directly correlate with its Swedish peers, said Molly Guggenheimer, an equity strategist at Danske Bank in Stockholm; he added that the canceled share issue was "illustrative of SBB's current lack of access to capital markets, increasing refinancing risks."
Carnegie downgrades SBB to sell from hold, with analyst Fredric Cyon saying downside risks remain high, and that corporate actions are required to improve the balance sheet. "Further disposals are an option, but we doubt this would be enough to restore investor confidence," Cyon writes, cutting price target to SEK7 from SEK13.
The plunge in SBB hammered European real estate stocks which dropped 3.2%, led by Swedish firms with Sagax -7.8%, Balder -7.6%, Wallenstam -5.9%, Fabege -4.4%. European sector peers falling include Kojamo -5.3%, Aroundtown -5.1%, Safestore -5%, Tritax Big Box REIT -4.8%.
A 15% decline in residential home prices in Sweden - one of the world's worst property routs - exacerbates the challenges facing the real estate sector more broadly by making sales less lucrative. But with banks tightening lending and bond markets all but closed for lower rated issuers, few options are available.
In a sign of the tension, the statement was issued close to 11 p.m. local time on Monday following an emergency meeting of SBB's board.
Loading...