---
CRE Dominos Fall: Starwood Defaults On $212.4 Million Atlanta Office Tower
Starwood Capital Group has defaulted on a $212.5 million mortgage backed by an office building in Sandy Springs, an ultra-wealthy suburb in northern Fulton County, Georgia, just above Atlanta. 
The mortgage is on Tower Place 100, a 790,000 sqft mixed-use property built in 1974 and renovated in 2017. The largest tenant is WeWork companies which occupy 84,594 sqft. 

At the end of 2022, the tower was 62% leased, down from 87% in 2018 when the loan was originated.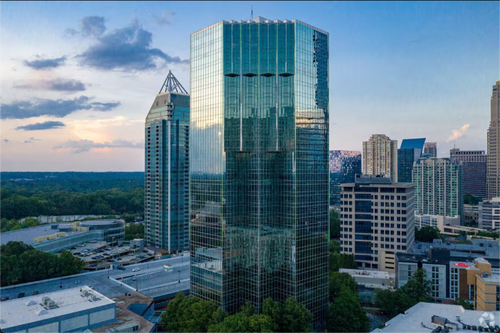 Bloomberg data shows the loan matured on July 9. Starwood has failed to refinance or pay off the debt. Delinquency commentary on the Terminal reads, "Borrower confirmed they are unable to pay off the loan at maturity. Counsel engaged. PNA pending." 

CRE lending standards have tightened considerably in response to the Federal Reserve's aggressive interest rate hikes over the past sixteen months to combat inflation. Further tightening in lending was seen earlier this year after several regional banks failed. The combination of the two, plus remote and hybrid work, has led to declining property values. 
Last month, Brookfield Asset Management Ltd. made the "difficult decision" to stop payment on a $558 million loan for San Fransico's largest shopping mall after "challenging operating conditions." Park Hotels & Resorts Inc. also ceased making payments on a $725 million CMBS loan secured by two of its San Francisco hotels. 
We reported Tuesday that a 30-story office tower in downtown Baltimore was just sold at a 63% discount versus 2015 prices. 
Meanwhile, financing-data firm Trepp showed the delinquency rate for offices with CMBS loans soared to 4.5% in June from 1.7% a year earlier. 
"Most CMBS financing is non-recourse, which means owners can walk away from properties without exposing themselves to further financial damages," Bloomberg noted. And that's precisely what owners have been doing and will continue to do. 
We noted last month that "full-blown trouble" is ahead for the CRE office space. 
Loading...