---
CRE Doom Loop Accelerates As Westfield Abandons Largest San Fran Mall, Stops Paying $558 Million Loan
Downtown San Francisco has been dealt another blow after Westfield and its partner Brookfield Properties made the "difficult decision" to stop payment on a $558 million loan for the metro area's largest shopping mall after "challenging operating conditions," the San Francisco Chronicle reported.
"For more than 20 years, Westfield has proudly and successfully operated San Francisco Centre, investing significantly over that time in the vitality of the property. Given the challenging operating conditions in downtown San Francisco, which have led to declines in sales, occupancy and foot traffic, we have made the difficult decision to begin the process to transfer management of the shopping center to our lender to allow them to appoint a receiver to operate the property going forward," Westfield said. 
The mall at 865 Market St has multiple lenders tied to its commercial mortgage-backed securities. Those lenders weren't disclosed. The receiver determines what happens to the mall next, but during a retail foreclosure, the property usually stays open.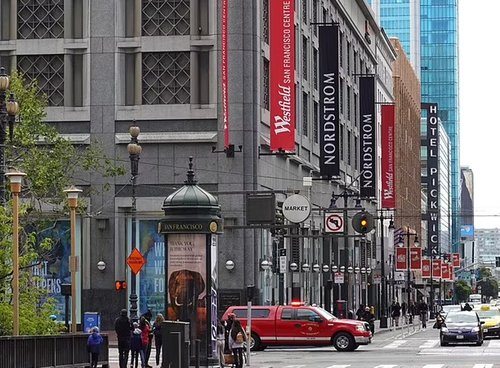 This comes after Nordstrom, which occupies 312,000 square feet in the mall, isn't renewing its lease in August after nearly four decades of operations. When Nordstrom closes, the mall only be 55% leased, well below the average 93% of other Westfield malls across the US. 
Bloomberg obtained a letter to employees from Jamie Nordstrom, the retailer's chief stores officer, who said the closing of Nordstrom is due to a slump in sales because of lower foot traffic, adding "dynamics of the downtown San Francisco market have changed dramatically over the past several years." We suspect Nordstrom is referring to the out-of-control crime... 
Westfield recently blamed "unsafe conditions" and "lack of enforcement against rampant criminal activity" in the downtown area for Nordstrom's departure. It also said the mall's poor performance and crime-ridden surrounding area is an anomaly versus its other properties nationwide. 
Westfield and Nordstrom's exodus comes one week after Park Hotels & Resorts Inc. ceased making payments on a $725 million CMBS loan secured by two of its San Francisco hotels. 
Park Hotels also blamed crime in the downtown area, and "San Francisco's path to recovery remains clouded and elongated by major challenges." 
In the past several months, retailers, including Whole Foods, T-Mobile, and many other stores, have closed up shop after progressive city leadership fails to enforce law and order. San Francisco's CRE meltdown is only accelerating, and the latest property foreclosures of major hotels and malls might be the start and could stymie any economic recovery. 
Meanwhile, the city is also grappling with the tech downturn and regional banking crisis that saw the collapse of Silicon Valley Bank and First Republic Bank. Another segment of the CRE market faltering is office, where vacancies are high as companies like Salesforce Inc. and Meta Platforms Inc. are reducing square footage. 
The departure of companies and CRE meltdown prompted San Francisco's Mayor, London Breed, to recently make a U-Turn to fund police after years of promoting the defund the police movement. 
Congrats, Democrats, You've effectively transformed a once-thriving city into a hellhole. Now watch it implode. 
Loading...