---
Credit Suisse Fires Risk Chief, Others As Archegos Losses Climb To $5 Billion
Shortly after Credit Suisse dumped its last blocks of the so-called Archegos stocks Monday evening in the US (and in the middle of the night in Switzerland), the Financial Times confirmed rumors from earlier in the day by reporting that Lara Warner, Credit Suisse's chief risk and compliance officer, had been fired, along with two other senior bankers.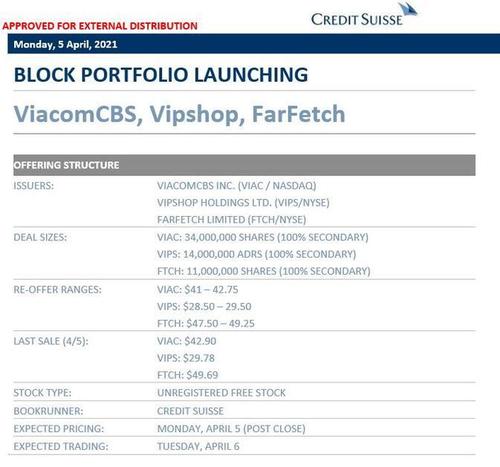 The others included Brian Chin, head of Credit Suisse's investment banking division, and Paul Galietto, head of equities sales and trading.
Insider reported Galietto's departure, while the FT reported on Chin and Warner. Chin was fired since the prime brokerage unit was part of the investment bank.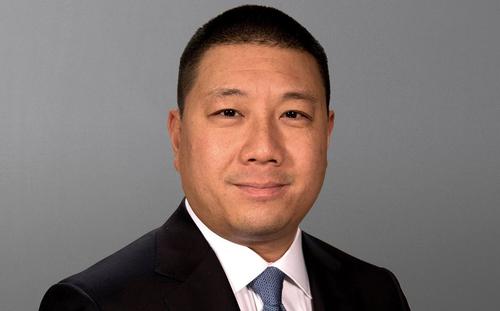 Brian Chin
While Warner wasn't directly involved in nurturing the relationship with Greensill, she did sign off on a $140M bridge loan made by Credit Suisse to Greensill even after other risk managers raised concerns.
The FT reported that the Archegos collapse and Greensill's filing for administration had called into question "the risk management processes within the bank."
Fair enough.
Still, by firing Warner, the bank is axing one of the most senior women on Wall Street.
Having moved from Lehman, Warner had been with Credit Suisse since 2002, rising from senior equity analyst to head of global fixed income research (interesting specialty shift?) to COO of Investment Banking and finally to board member  and Chief Risk and Compliance Officer...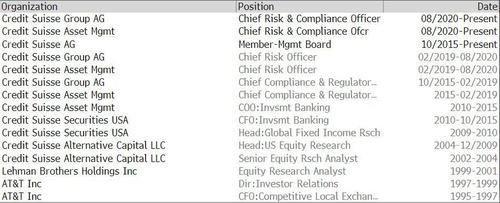 And sits (or sat, we should say) on numerous boards...

As far as optics are concerned, it might lead to some awkwardness, especially as the reins to American rival Citigroup were recently taken over by CEO Jane Fraser, the first female CEO of a Wall Street megabank.
Lara Warner
As the FT explained, Gottstein, shortly after taking over the bank, expanded the remits of both Warner and Chin, which would in theory give him exposure to the scandal.  Though the firings haven't been made official, the FT said the bank is expected to announce their departures a soon as Tuesday morning.
However, as a number of sell-side analysts (and arm-chair commentators) have pointed out, CS has spared CEO Thomas Gottstein, a decision that the bank's shareholders seem to support, and understandably so.
"I think it is unfair at this stage to put this on Mr. Gottstein," David Herro from Harris Associates, one of the bank's top shareholders, said in a Bloomberg TV interview last week.  

"He attempted and has been attempting to reorganize Credit Suisse, but Rome wasn't built in a day. Unless we see evidence to the contrary, I think he is the right person to continue to lead the organization."
Setting aside the question of whether Gottstein truly deserves to be fired, it's important to remember that Switzerland's second-largest bank is still recovering from 2019's corporate spying scandal, which resulted in the firing of the bank's prior CEO, Tidjane Thiam, last February. Firing two CEOs in just over a year would set a new precedent for C-suite churn, even for the famously scandal-prone Swiss bank.
As we noted earlier, if there's a silver lining to Monday's bloc-by-bloc dumps, it's that Credit Suisse finally appears to be out of inventory to unload (CS having been the only bank involved in the blowup not to release an accounting of its losses). Not long after the FT broke news of the firings, Reuters reported that CS's losses from the Archegos michegas have reached at least $5 billion. That's more than the $4 billion initially anticipated, according to "early estimates" quoted by the FT.
Combined with the $3 billion to $5 billion CS might owe to clients (should it make good on rumors to make some of the clients who lost big on the Greensill funds whole), the bank could be looking at up to $10 billion in losses from the twin crises alone. Fortunately, the SPAC deal boom has continued to drive massive dealmaking activity - the strongest globally since 1980, even as another wave of COVID descends upon the West.