---
Archegos Fallout: Credit Suisse Cuts Dividend, Slashes Buybacks; Headed For 2nd Straight Quarterly Loss
Embattled Swiss bank Credit Suisse finally dumped its last remaining blocks of stocks tied to the implosion of hedge fund (excuse us, "family office") Archegos Capital Management on Tuesday following the close of markets in New York. As investors waited to learn more, the bank told the financial press that this would be the last sale of the so-called Archegos stocks.
Hours later, a flurry of anonymously-sourced reports hit the tape claiming that the Swiss bank would be firing its top risk and compliance officer, along with the head of its investment bank (a white woman and asian man, respectively), and that its losses from the Archegos fiasco would total $5 billion, $1 billion more than initial estimates.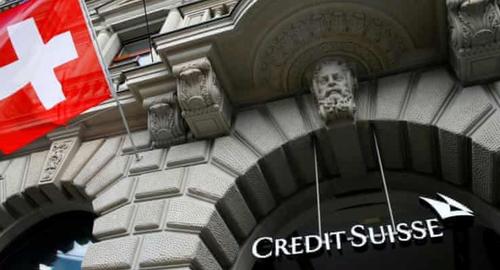 On Tuesday, CS confirmed all this and more, when it announced a bevy of layoffs (in addition to the senior execs mentioned above, at least four others will get the axe). Anonymous sources from within the bank also appeared to confirm that CS has now sold off $2.3 billion worth of stocks tied to Archegos. Thanks to the Archegos-related losses, CS said it expects to report  a Q1 pretax loss of about 900 million francs for a quarter that also saw the bank absorb potentially billions in losses tied to the collapse of Greensill, which both borrowed from the bank, and also sold it assets for special trade-finance funds marketed to the bank's elite clients. The bank also slashed its dividend and suspended share buybacks, as expected.
Credit Suisse Group AG will take a 4.4 billion franc ($4.7 billion) writedown tied to the implosion of Archegos Capital Management and replace more than half a dozen executives in response to the firm's worst trading debacle in over a decade.

The charge will result in a pretax loss of about 900 million francs for the first quarter, the bank said in a statement Tuesday, putting it on track for its second straight net loss. Credit Suisse scrapped bonuses for top executives, cut its dividend and suspended share buybacks to protect its capital. Investment bank head Brian Chin and Chief Risk Officer Lara Warner are leaving.
Amid the flurry of layoffs, it's notable that CS CEO Thomas Gottstein will likely be keeping his job. In the statement, Gottstein claimed he had learned some "serious lessons" from the Archegos blowup and the collapse of Greensill. While the bank and its board are clearly less than thrilled with Gottstein's performance (he's about to lead the bank to its second straight quarterly net loss), the board is clearly unwilling to fire Gottstein so soon after taking the job (he took over roughly one year ago after the bank fired Tidjane Thiam in the aftermath of its corporate spying scandal). And as we noted last night, many of CS's shareholders also want Gottstein to stay on.
Chief Executive Officer Thomas Gottstein vowed he will draw "serious lessons" from the Archegos loss and the collapse of Greensill Capital last month as they leave him with little room for further missteps. The firm is the worst-performing major bank stock in the world this year as a strong first two months for its investment bank business are being overshadowed by its exposure to the failed firms.

"I recognize that these cases have caused significant concern amongst all our stakeholders," Gottstein said Tuesday. "Together with the board of directors, we are fully committed to addressing these situations. Serious lessons will be learned."
Unfortunately for CS, the writedowns aren't the end of what has been an extremely rough Q1. Bloomberg said the bank will need to set aside up to 2 billion francs ($2.13 billion) over the coming years to offset the costs of litigation tied to Greensill. While whispered reports claimed the b
The bank has slashed its dividend to 10 centimes a share from about 29 centimes and suspended its share buyback until its common equity Tier 1 ratio, a key measure of capital strength, returns to the targeted level. Credit Suisse said it expects a CET1 ratio of at least 12% in the first quarter. It had aimed for at least 12.5% in the first half of this year. Additionally, Chairman Urs Rohner has given up his 2020 compensation of 1.5 million francs ($1.6 million), and bonuses for the executive board have been scrapped. Rohner is set to step down later this month when Lloyds Banking Group CEO Antonio Horta-Osorio takes over.
CS shares climbed 1.8% in Zurich Tuesday morning, paring YTD losses to just 9.3% for one of Europe's worst-performing banks. The bank's $2.25 billion perpetual bonds climbed by about 2 cents on the dollar to 110 cents, though they're still trading below levels from the Archegos blowup.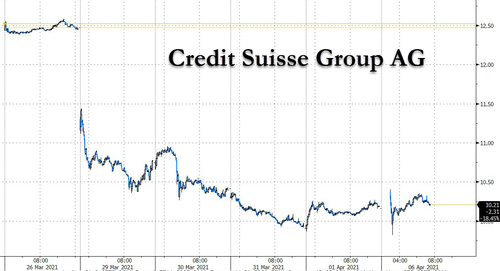 Now that the bank appears to be moving past the Archegos blowup, Credit Suisse said it will release more information about the fallout from the collapse of Greensill, which blew up some $10 billion in Credit Suisse-managed funds stocked with Greensill assets - assets that, in at least some cases, might be backed by fraudulent invoices.
CS said it will provide an update on Greensill in the coming days.