---
Credit Suisse Hits New Low As "Material Weaknesses" Found In Financial Reporting, Outflows Continue
Credit Suisse Group AG published its annual report, slated for release last Thursday but was delayed by the US Securities and Exchange Commission over "material weaknesses" in its internal controls over financial reporting. 
In the annual report on Tuesday, the embattled Swiss lender said, "management did not design and maintain an effective risk assessment process to identify and analyze the risk of material misstatements in its financial statements."
Credit Suisse disclosed last week, after a last-minute call from the SEC it would delay its annual report. The issues, described as "technical," were related to cash flow statements going back to 2019. 
Shares of the Swiss lender fell 4%. The stock trades at a new all-time low in European trading.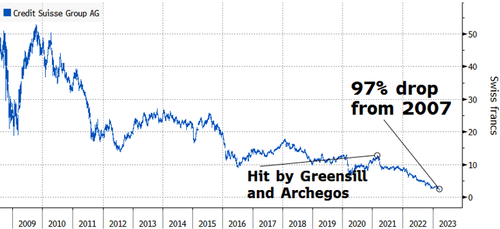 Despite initiating a campaign to regain clients, Credit Suisse reported that client deposit outflows continued this month. As a consequence of the outflows, the bank also admitted that it had utilized its liquidity buffers. It warned these circumstances have "exacerbated and may continue to exacerbate" liquidity risks. 
Chief Executive Officer Ulrich Koerner told investors at a conference hosted by Morgan Stanley on Tuesday that he wants to rebuild what was lost following the restructuring, "and once we are there, we go beyond and grow the business again."
As part of the ongoing restructuring aimed at restoring profitability, the bank proposed granting equity to senior managers in its investment banking arm, CS First Boston, which is due to be spun off imminently. Under the plan, staff members could own as much as 20% of shares in the venture. 
Loading...