---
Credit Suisse Slashes Bonus Pool Amid Pushback From Swiss Regulator
Credit Suisse's top bankers are about to be extremely disappointed.
Following a scandal-plagued 2021, the Swiss banking giant had been planning to hike bonuses for its top bankers (MDs and up) - that is, until Finma, the Swiss banking regulator, stuck its nose in.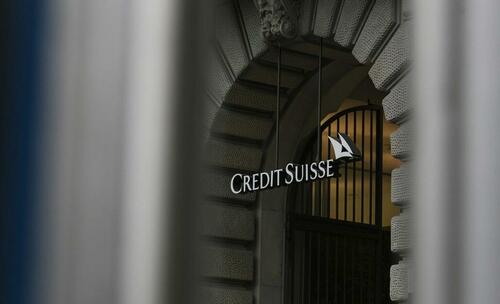 The agency has asked the megabank to make "significant reductions" to the size of its bonus pool. This led to a cut of 10%. Regulators presumably chafed at the notion that CS would indulge its employees with massive payouts despite the disastrous 2021 it had (among other things, the bank is currently facing a criminal trial in Switzerland related to its role in banking for cocaine traffickers).
The Swiss lender was forced to reverse plans to boost variable compensation after financial markets watchdog Finma asked the bank to consider significant reductions to the pool, the people said, asking not to be identified discussing internal matters. The final overall bonus number may still vary slightly and individual pay will depend on the business unit, they said.
Fortunately (or maybe unfortunately) for its top bankers, the Swiss megabank was able to avoid deeper cuts to the bonus pool after it changed its "bonus structure". Now, the bank retains the right to claw back money if employees leave within three years. Because of this, those payments can be booked as loans - a more palatable solution for the regulator.
As Bloomberg points out, the bonus cuts come "at a particularly precarious time" for the bank.
The pay reductions come at a particularly precarious time for Credit Suisse after it was buffeted by the twin scandals of Archegos Capital Management and Greensill last year. The bank is grappling with the need to satisfy regulators after steep losses, while staying competitive on pay to avoid defections, particularly as Wall Street rivals such as JPMorgan Chase & Co. and Goldman Sachs Group are increasing pay.
But even with its new clawback requirements, Credit Suisse's management is still bracing for a wave of departures since compensation across Wall Street is booming after a surge in dealmaking and trading activity over the past two years.
Despite its efforts to keep talent, Credit Suisse is bracing for a potential renewed wave of departures, one of the people said. That's because peers such as JPMorgan Chase & Co. and Goldman Sachs Group Inc. have raised bonuses by 40% and 50% respectively for their investment bankers.
Even with the 10% cutback to its bonus pool, bankers will still be well-compensated - but perhaps not as well-compensated as the rainmakers over at JPM and Goldman Sachs, who are spending their bonus checks on lavish dinners replete with Kaluga caviar and magnums of Krug.