---
Credit Suisse Still Not Done: Dumping Over 70 Million Shares Of Discovery And IQIYI
All those who were saying that the prime brokers were lying when they said they were done dumping their Archegos holdings, well... you were right.
Shortly after the close, David Faber reported that Credit Suisse - whose loss from Archegos has yet to be fully quantified but is big enough to result in massive layoffs and widespread bonus cuts because apparently it has no idea that when it is liquidating, it has to do so fast...
A live look @CreditSuisse selling down their block risk... pic.twitter.com/zhtl2hdMGN

— Joseph S. Mauro (@jsmauro13) April 13, 2021
... hitting the market yet again with more legacy shares, in this tens of millions of shares of Discovery Class A, Class C and IQIYI.
CS not done yet. Selling 19m shares of $DISCA and 22m shares of $DISCK, according to traders.

— David Faber (@davidfaber) April 13, 2021
Specifically, the troubled Swiss bank which has emerged as the new "Deutsche Bank" was offering the following:
DISCA : 19 Million shares at $38.40 – 39.60
DISCK: 22 Million shares at $32.35 – 33.75
IQ: 35 Million shares at $15.85-16.35
In kneejerk response, all three stocks dropped at least 4% after hours:
DISCA:
DISCK:
And IQ: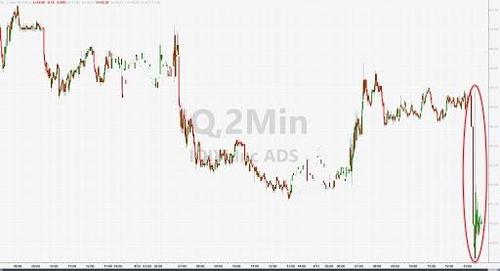 What is more worrisome is that more than three weeks after the Archegos fiasco, it is clearly still not over with primer brokers still holding on to exposure which will continue to be a persistent overhang.
That said, we assume that this is still Archegos exposure: it is entirely possible that CS is quietly liquidation another highly levered copycat family office, although as of now we have no information to confirm or deny this speculation.