---
"Credit Tightening" Mentions In Earnings Calls By Execs Soars Past 2008 Levels 
We have shown readers a credit crunch emerged in early April, thanks to critical real-time indicators of US loan activity via the Federal Reserve. 
Days after the collapse of Silicon Valley Bank, we warned that the next "credit event" had arrived. Then cited a note from Jan Hatzius, Goldman Sachs chief economist, who pointed out small and medium-sized banks serve a critical function in the US economy:
"Banks with less than $250bn in assets account for roughly 50% of US commercial and industrial lending, 60% of residential real estate lending, 80% of commercial real estate lending, and 45% of consumer lending." 
Throughout March into April, we highlighted the macroeconomic impacts of regional bank failures, which would be a significant catalyst in a pullback of lending: 
"A credit crunch will now reduce inflation, but in a very painful manner. A lack of credit means an avalanche of bankruptcies. They should hit record highs," Bert Dohmen of Dohmen Capital Research wrote. 
Only a few days into May, the worsening bank crisis (see: here) threatens to tighten credit conditions even more as recession threats are rising. With earnings season underway, we used Bloomberg data to determine the number of company executives on earnings calls talking about "credit tightening" has surpassed levels not seen since the 2008 crisis. 
There have been more than 50 mentions of "credit tightening" in the second quarter, more than any three-month period since at least 2006, according to call transcripts compiled by Bloomberg from companies around the world. "Credit crunch" is also showing up more often, especially in relation to real estate, with mentions the highest in more than a decade. --Bloomberg 
Mentions of "credit tightening" on company calls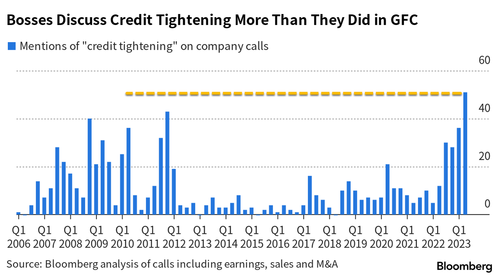 Mentions of "credit crunch" on company calls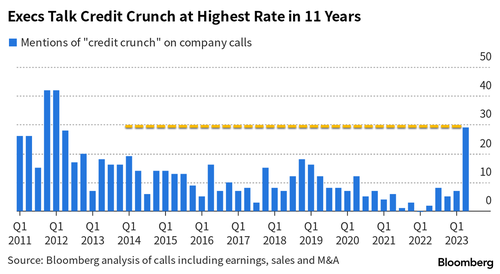 Also, news stories featuring "credit tightening" topics across all US media have soared to record highs, according to Bloomberg data that only goes back to 2013.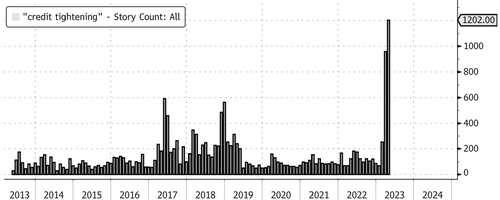 So, what's next? Historically, credit crunches have been accompanied by a surge of defaults on speculative-grade debt by companies with low credit ratings. Is the next domino to drop in the commercial real estate space? 
Loading...