---
"Crisis Mode" - Auto Plants Worldwide Idled As Chip Shortage Worsens 
The global semiconductor shortage appears to be reaching a new 'crisis point' as automakers worldwide are shuttering production facilities due to the lack of chips. Even though global manufacturing is humming along, fueled by new demand, unprecedented fiscal and monetary support continues to exacerbate shortages. 
The shortage initially began in early 2020 because of the virus-related downturn in the economy. Chip demand was diverted away from autos to household electronics due to heavy demand from people working at home during lockdowns. Further, winter storms in the US last month, plus a fire last week at Renesas Electronics Corp., one of the biggest makers of auto chips, had been compounding factors in the worsening shortage for car companies. 
Ford Motor Co., Toyota Motor Corp., Volkswagen AG, and Honda Motor Co are some of the manufacturers that have recently announced their inability to source semiconductors components for vehicles has resulted in plant idles. 
Bloomberg Intelligence auto-industry analyst Tatsuo Yoshida warned that "production is really vulnerable right now," adding that "any kind of abnormal occurrence causes parts to run out," such as a major fire at a semi plant operated by Renesas last week. 
Analysts at Mitsubishi UFJ Morgan Stanley Securities Co. said the shortage of semis would drag on global auto production. They estimated in January, the shortage would reduce global vehicle production by 1.5 million units, with at least a third of the reduction coming from Japanese automakers. 
China and European carmakers are set to be the biggest losers this year due to chip shortages.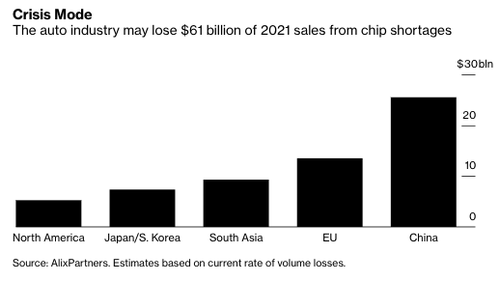 Bloomberg provides an in-depth list of major automakers who have adjusted vehicle production because of the shortage: 
1. Hyundai Motor Co. is suspending extra work on the weekend to adjust production of brands including Kona, Avante, Grandeur and Sonata, the Seoul Economic Daily reported.

2. Honda is suspending production at six factories in the U.S., Canada and Mexico, citing the chip shortage as well as congestion at ports and cold weather.

3. Volvo AB is implementing stop days across global truck manufacturing operations, saying it sees a "substantial impact" from the global semiconductor shortage.

4. Ford has halted production at a factory in Ohio and dropped one shift at another in Kentucky, both until March 29. It said F-150 trucks and Edge SUVs will be assembled in North America without certain parts and shipped to dealers once electronic modules that contain chips are available.

5. Nissan Motor Co. is adjusting production across its operations in the USUS and Mexico.

6. Operations at Toyota's Kolin plant in the Czech Republic, which makes the compact car Aygo for the European market, have been suspended for two weeks from March 22 after cold weather in the USUS disrupted chip production.

7. Volkswagen is halting production at a plant in Portugal from March 22-28.

8. Mitsubishi Motors Corp. is reducing domestic output of vehicles by 4,000-5,000 units in March and reviewing production plans for April.
One striking feature of the global supply chain turmoil is how widespread the issues are. The semiconductor shortage and its drag on auto production have garnered significant attention. Goldman economist Jan Hatzius notes the shortage and many others - from headphones to sofas to roller skates.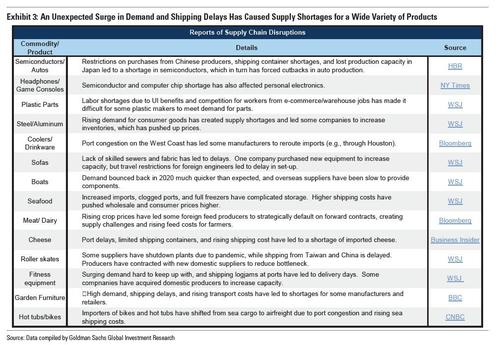 The role of unprecedented fiscal stimulus boosting demand for products is very much to blame for the chaos. The various stimulus checks have already more than offset all the lost income from the virus pandemic. With the increasingly broader acceptance of Universal Basic Income in the form of weekly and monthly stimulus checks from the government makes handouts from the government, which now accounts for 27% of all consumer income...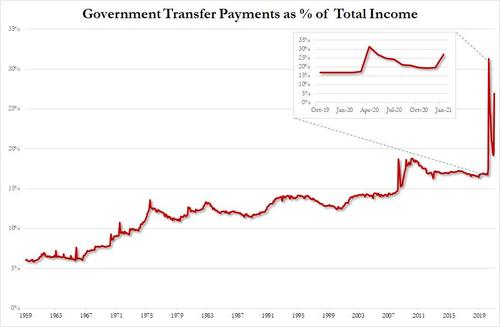 So with the most significant and most ruinous fiscal and monetary experiments ever conducted by the US, artificial demand from consumers will continue to pressure global supply chains as they consume overseas products. Goldman concludes that logistical challenges won't decrease until 2022. 
... and by the way, a global plastic shortage is developing.