---
Crude Craters, Chinese Tech 'Dead Cat Bounces', & VXX Decouples From Reality
Another 'dead cat bounce' in Chinese tech stocks (after the overnight bloodbath), a dip in core PPI (just ignore surging headline PPI... oh and CPI), and a plunge in crude (on positive Iran-nuke-deal comments) were enough to ignite some momentum in US equities today (shrugging off Russia's sanctions escalation and Putin's non-peace-deal-like comments)...
Nasdaq was the leader today, soaring to over 3% gains intraday after being down almost 1 % in the pre-open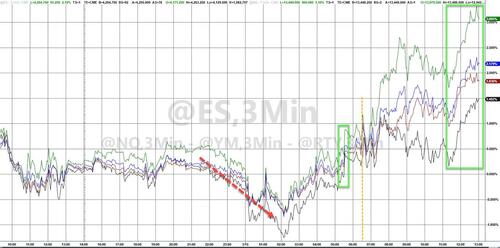 The Bear Traps Report notes that at 115 days, the Nasdaq is 3 days away from the longest correction since the financial crisis. Thus far, Nov 19, 2021 to Mar 14, 2022 -21.6%, 115 days.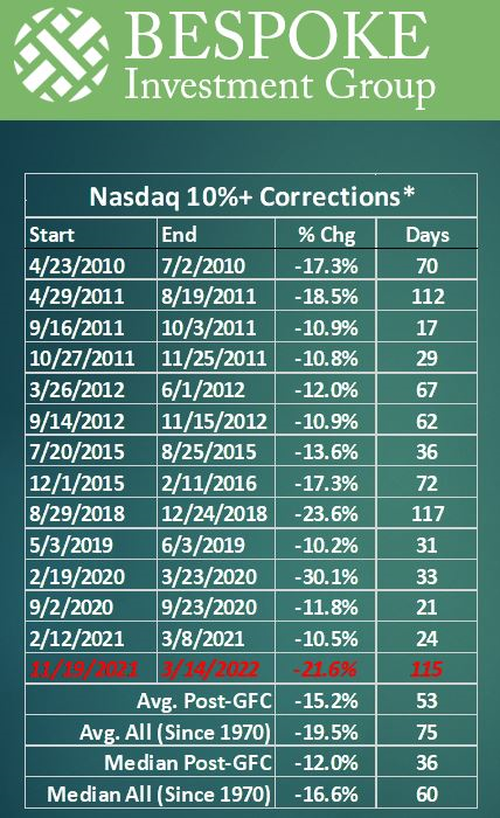 Notably, today's bounce in Growth occurred right at the crux of the Russell 1000 Growth/Value support line...
Source: Bloomberg
Crypto was also bid, with Bitcoin jumping back above $39,500...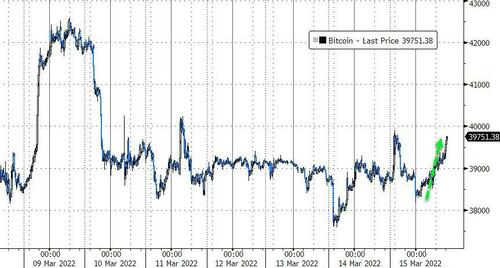 Source: Bloomberg
And amid all that, utter chaos reigned in the biggest VIX ETN (VXX) which exploded higher, completely decoupling from the reality of its underlying asset (amid arb short-squeeze)...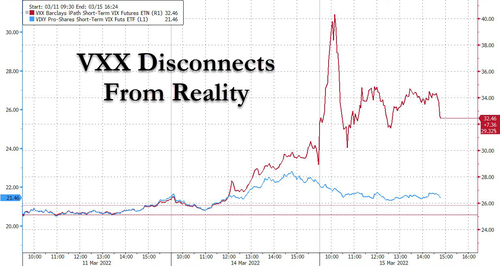 Source: Bloomberg
Chinese tech stocks dumped and pumped for the second day... only to end (for the second day) with selling pressure...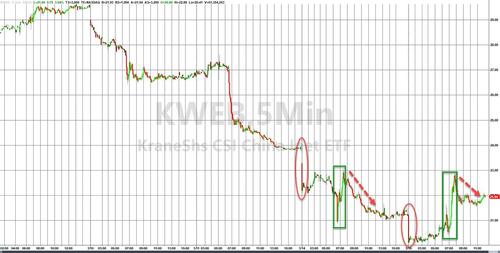 *NASDAQ GOLDEN DRAGON CHINA INDEX CLOSES 5% HIGHERhttps://t.co/nRet0E4gYI

— zerohedge (@zerohedge) March 15, 2022
An oldie but a goodie...
Bonds continued their bloodbath, though today more a roller-coaster than the straight shot higher in yield of the last few days, with overnight buying reversiing immediately at the US cash equity open...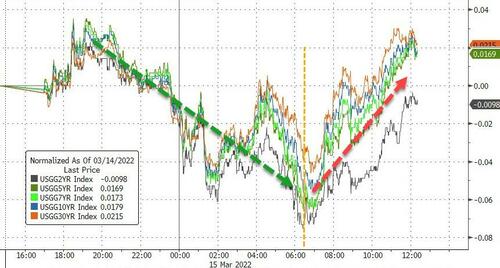 Source: Bloomberg
Which left 10Y at its highest since July 2019...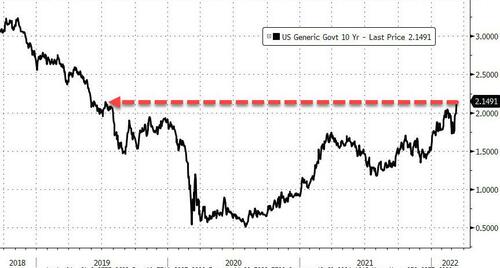 Source: Bloomberg
The question is, will 30Y Yields stick to the script of the last 30 years and reverse here?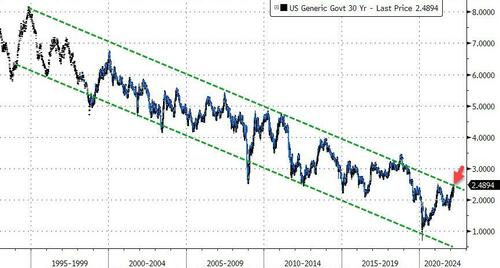 Source: Bloomberg
One rate-hike appears a 'done-deal' for tomorrow, but the market is now pricing in 7 rate-hikes for the year...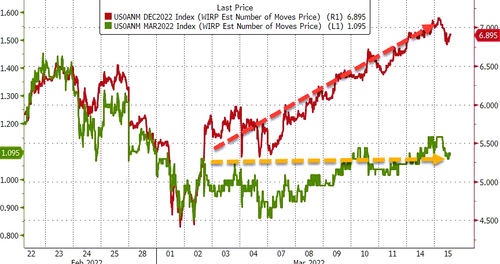 Source: Bloomberg
But 18bps of rate cuts are priced in for 2023...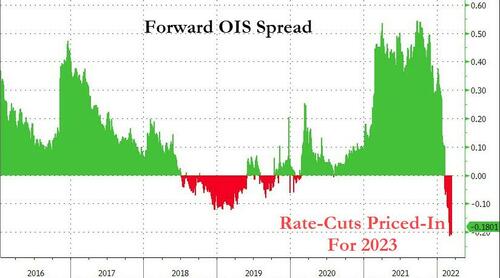 Source: Bloomberg
The dollar was very modestly lower today, treading water at the of its recent range...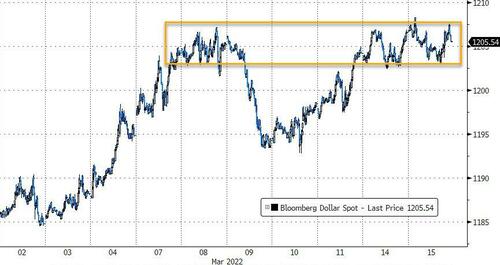 Source: Bloomberg
WTI Crude tumbled below $100...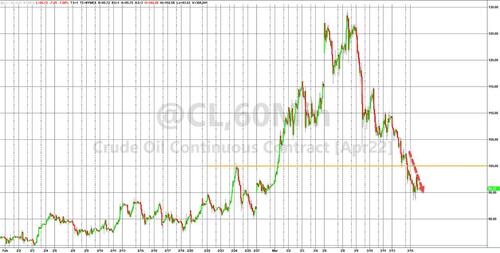 Gold also extended its losses below $2000 again today (despite a brief bounce on Putin's comments)...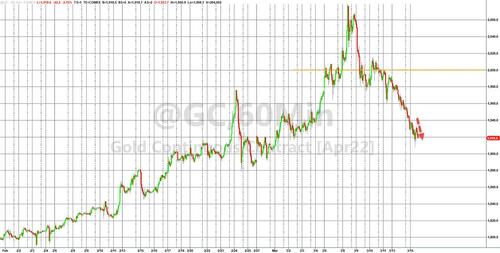 Finally, is it too soon to say 'tensions are easing' as FRA/OIS dipped today (suggesting some drop in systemic risk concerns)...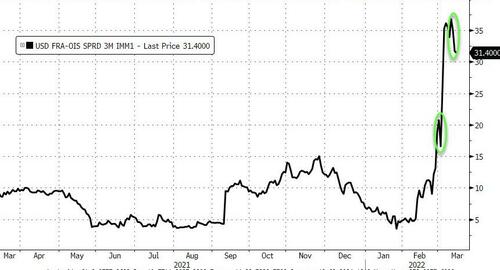 Source: Bloomberg
But just look back a few days and you'll see another 'dip'.
And in case you needed an excuse to 'buy stocks', The Fed's staff's geopolitical risk index to the highest level since the Iraq War...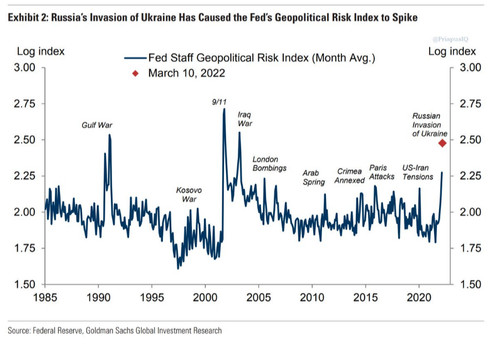 And a quick reminder... every Fed hiking cycle in the fiat high debt era has led to some kind of financial crisis somewhere across the world...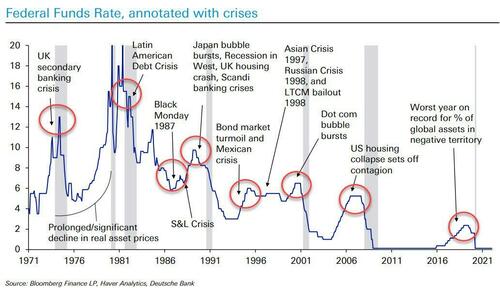 And so just to clarify - stocks rallied today... because enough rate-hikes are priced-in to guarantee a recession... which assures rate-cuts!
Loading...