---
Crude Crushed, Stocks Surge, Bitcoin Bid As US-Russia Tensions 'Ease'
Putin folds and the stock market rejoices, crude sees its geopolitical risk premium cut, safe-haven bonds and bullion are sold, but bitcoin gets a strong bid... then Biden steals the jam out of the market's donut.
The White House issued this graphic representation of what happened this morning on the Ukraine-Russia border...
It seems everyone forgot about the hotter than expected PPI print which left rate-hike odds up near cycle highs with a 60% chance of a 50bps hike in March holding steady...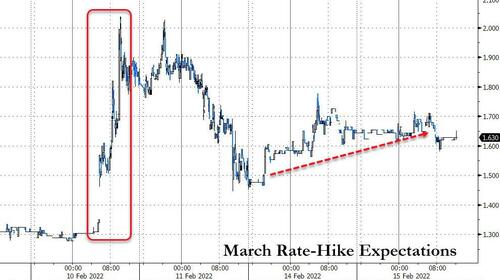 Source: Bloomberg
As Europe opened and reports came out that Putin was withdrawing some troops, futures exploded higher. Then the record PPI print hit and stocks stalled into the cash open, where they were bought... everything was awesome until Biden spoke late on and said "a Russia attack on Ukraine is still very much a possibility... and Russian troops are very much in a threatening position" and that sent stocks lower fast...and then a massive buying program stepped in and ripped everything to the highs of the day... Small Caps and Nasdaq outperformed, Dow lagged but still managed to gain over 1%...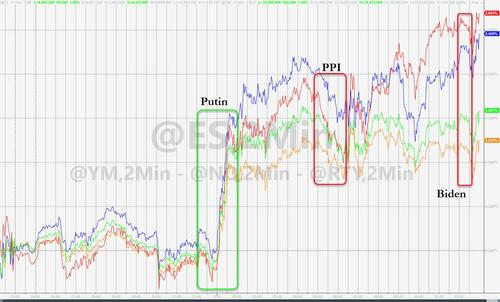 The last 30 minutes was crazy...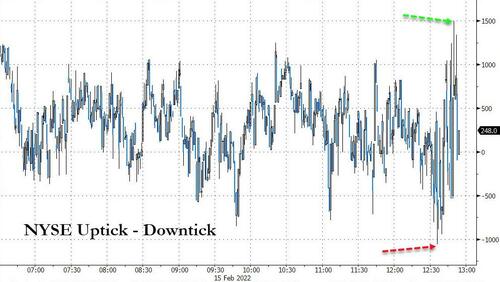 Source: Bloomberg
The S&P rallied up to its 200DMA and held it today while The Dow could not quite make it...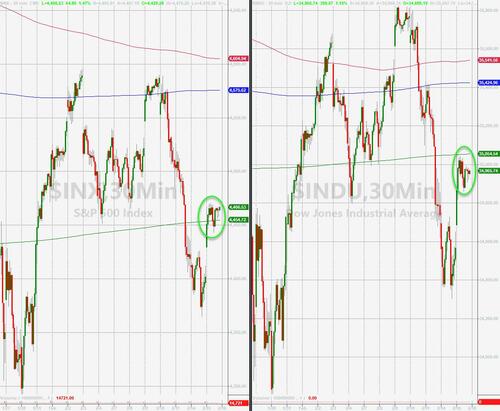 Today was the 2nd biggest short-squeeze since June 2021 as 'Most Shorted' stocks soared almost 5%....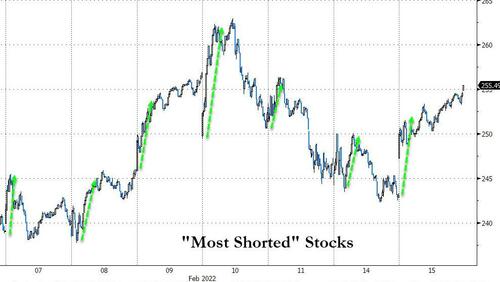 Source: Bloomberg
The credit market continues to worry about the coming recession...
Source: Bloomberg
Bond market vol continues to rise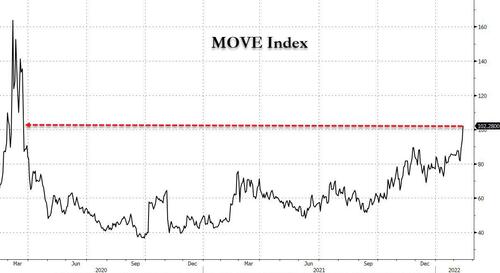 Source: Bloomberg
Bonds were mixed today with the long-end dramatically underperforming (30Y +8bps, 2Y unch)...
Source: Bloomberg
The dollar limped lower today...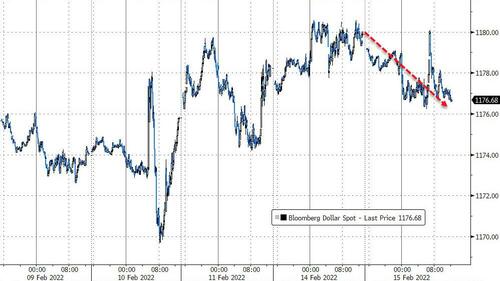 Source: Bloomberg
Bitcoin was well bid today, back above $44k (once again finding support at the 50DMA)...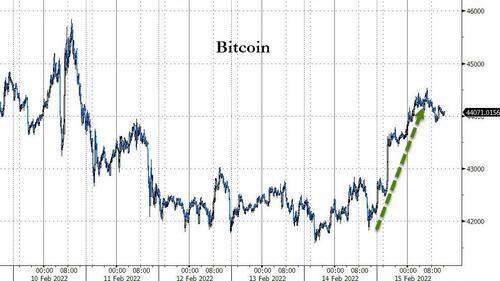 Source: Bloomberg
Aside from the malarkey in US equities, the energy complex was the most impacted by the Russia headlines as crude pricesa puked all the "invasion imminent" gains and more with WTI back below $91...
The possible good news (for any American who drives and also for Joe Biden's approval rating) is that a continued drop in the risk premium in crude could stall an expected ongoing surge in gas pump prices...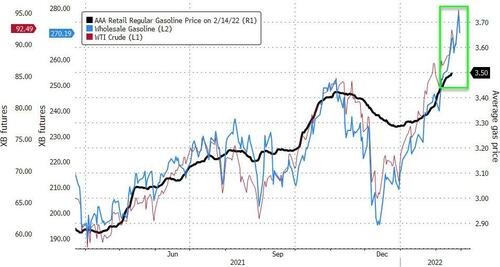 Source: Bloomberg
Gold was also dumped today, but less so. erasing the 'invasion imminent' premium...
And finally, it appears Omicron is over...
Source: Bloomberg
Cases are back to pre-Omicron levels and deaths are rolling over... and Putin is retreating?! Time for a beer!