---
Crypto Tumbles After SEC Chair Comments
Crypto markets just took a decent tumble as two headlines hit the wires at similar times.
First we saw comments from the Biden administration that it would likely follow former President Trump's China investment ban policy.

Then, SEC Chairman Gary Gensler told the House Financial Services committee that congress should consider regulating crypto exchanges.
Most traders are pointing to the latter as the driver of the crypto drop but the timing suggests other factors involved...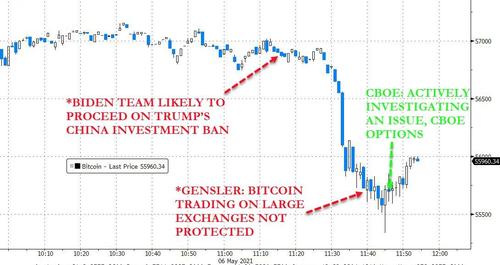 Source: Bloomberg
Interestingly, as the CBOE broke, the drop in crypto stopped.
Putting the moves in context, Bitcoin dropped around $1500...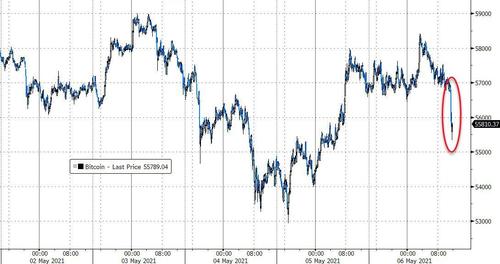 Source: Bloomberg
And Ethereum dropped $200 after tagging a new record high above $3600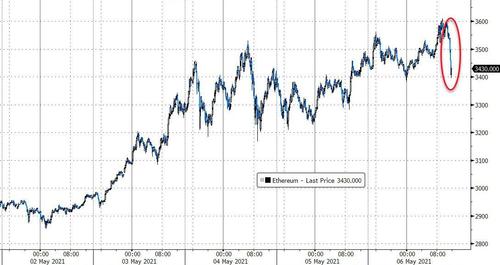 Source: Bloomberg
Appearing before the House Financial Services Committee on Thursday, newly anointed SEC Chairman Gary Gensler suggested that Congress should consider regulating cryptocurrency exchanges.
"It'd be good to consider whether to bring investor protection to the crypto exchanges," Gensler told Rep. Patrick McHenry.

"And I think if that were the case—because right now the exchanges trading in these crypto assets do not have a regulatory framework, either at the SEC or our sister agency, the Commodity Futures Trading Commission—that could instill greater confidence," he said.

"Right now, there's not a market regulator around these crypto exchanges and thus there's really no protection around fraud or manipulation."
Nothing to be too concerned about in crypto-land and far less aggressive than Yellen's statements.