---
Cryptos Tumble After CFTC Sues Binance And CEO Changpeng "CZ" Zhao
Operation Choke Point 2.0 is escalating.
"Operation Choke Point 2.0" is a term coined by Coin Metrics co-founder Nic Carter to refer to an apparently coordinated effort to discourage banks from holding crypto deposits or providing banking services to crypto firms on the basis of "safety and soundness" for the banking system.
In a time when millions of Americans are pulling billions in deposits from failing banks and allocating them to gold and bitcoin, US regulators were scrambling to come up a means to hammer cryptos and punish those who fled the fiat realm and run toward bitcoin. They may have just come up with one solution.
Just days after Coinbase was served a Wells Notice from the SEC, Bitcoin and cryptos are in freefall following a Bloomberg report that Binance, the world's largest cryptocurrency exchange, and Chief Executive Officer Changpeng Zhao, are being sued by the US Commodity Futures Trading Commission for allegedly breaking trading and derivatives rules and with violating laws around offering futures transactions, "illegal off-exchange commodity options," failing to register as a futures commissions merchant, designated contract market or swap execution facility, poorly supervising its business, not implementing know-your-customer or anti-money laundering processes and having a poor anti-evasion program.
The complaint alleges that Binance "actively facilitated violations of U.S. law" by assisting U.S. clients in evading compliance controls and instructing customers to obscure their location using virtual private networks, or VPNs.
The CFTC filed the lawsuit Monday in federal court in Chicago.  The derivatives regulator said Binance shirked its obligations by not properly registering with it.
In a since deleted tweet, CZ also questioned the seeming "coordinated effort to shutdown crypto"...
Bitcoin has tumbled to two-week lows...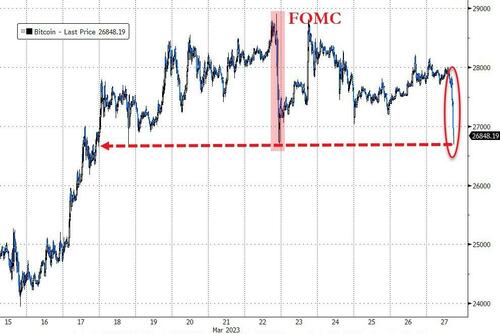 And the entire crypto space is getting hit...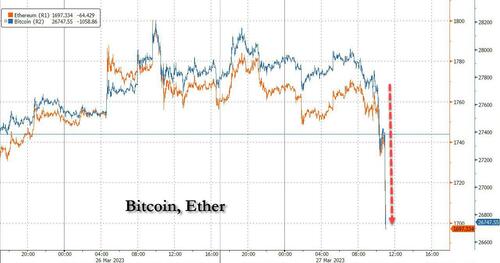 Additionally, crypto-related stocks are all getting hammered with Coinbase -8.8%, Riot Blockchain -7.6%, and Marathon Digital -8.3%.
As Coindesk notes, according to the complaint, filed in the U.S. District Court for the Northern District of Illinois on Monday, Binance operated a derivatives trading operation in the U.S., offering trades for cryptocurrencies including bitcoin (BTC), ether (ETH), litecoin (LTC), tether (USDT) and Binance USD (BUSD), which the suit referred to as commodities. The suit also alleged that the company, under CZ's leadership, directed its employees to spoof their locations through the use of virtual private networks.
According to the CFTC, the global exchange, which has a U.S. affiliate in Binance.US, created a system to hide its true reach and operations.
"Binance's reliance on a maze of corporate entities to operate the Binance platform is deliberate; it is designed to obscure the ownership, control, and location of the Binance platform," the filing said, adding that "Zhao answers to no one but himself."
In a press release, CFTC Chief Counsel Gretchen Lowe called Binance's actions "willful evasion of U.S. law," pointing to internal chats and emails.
Moreover, the suit alleged, Binance directed customers in the U.S. to use a variety of methods to evade restrictions on U.S-based customers.
"Binance has instructed U.S. customers to evade such controls by using VPNs to conceal their true location," the suit alleged. "VPNs have the effect of masking an internet user's true IP address. VPN use by customers to access and trade on the Binance platform has been an open secret, and Binance has consistently been aware of and encouraged the use of VPNs by U.S. customers."
The company directed important customers such as trading firms to set up shell companies in places such as Jersey, the British Virgin Islands and the Netherlands to avoid restrictions, the filing said to escape restrictions, and was fully aware of the scale of its U.S. business, the filing said.
"Binance knew that U.S. customers continued to comprise a substantial proportion of Binance's customer base," the filing said, citing internal monthly reports sent to Zhao which said that, even as of June 2020 after controls had supposedly been implemented, 17.8% of customers were based in the U.S.
Additionally, the complaint charges that Binance would alert VIP customers of any law enforcement enquiry with their accounts...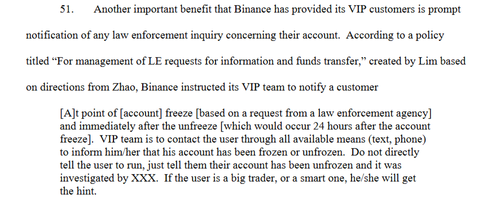 The filing pointed to internal chats between Binance employees, including Samuel Lim, the exchange's Chief Compliance Officer through January 2022 (who is also a defendant), where Lim appeared to direct an employee to ask U.S. customers to hide their location.
"On the surface we cannot be seen to have US users but in reality we should get them through other creative means," Lim allegedly said.
The suit also alleged that the exchange was well aware that sanctioned entities and individuals from sanctioned regions were trading on its platform, sharing chat logs where Lim said "terrorists usually send 'small sums'" that are "barely" enough to purchase weapons with. He said other customers were "here for crime," according to the suit.
Binance directly tasked an employee to be a "Money Laundering Reporting Officer" (MLRO) to write a report claiming its compliance audit was stringent to hide how poor its compliance program actually was from business partners like Paxos, the suit said.
"As part of this audit, the Binance employee who held the title of Money Laundering Reporting Officer ('MLRO') lamented that she 'need[ed] to write a fake annual MLRO report to Binance board of directors wtf,'" the suit said. "Lim, who was aware that Binance did not have a board of directors, nevertheless assured her, 'yea its fine I can get mgmt. to sign' off on the fake report."
The officer said in 2020 that they "HAZ NO CONFIDENCE IN OUR GEOFENCING," the suit said.
* * *
The CFTC is asking the court to enjoin Binance from further violations of the Commodity Exchange Act, as well as civil monetary penalties, trading and registration bans, and disgorgement.
The regulator is one of several US bodies that have been investigating Binance's activities. The Internal Revenue Service, as well as federal prosecutors, have been examining Binance's anti-money-laundering rule compliance, Bloomberg News has reported. The Securities and Exchange Commission has been scrutinizing whether the exchange has supported the trading of unregistered securities.
'CZ' had some advice at the start of the year...
Will try to keep 2023 simple. Spend more time on less things. Do's and Don'ts.

1. Education
2. Compliance
3. Product & Service

4. Ignore FUD, fake news, attacks, etc.

In the future, would appreciate if you can link to this post when I tweet "4". 🙏

— CZ 🔶 Binance (@cz_binance) January 2, 2023
And today reminds crypto investors...
4

— CZ 🔶 Binance (@cz_binance) March 27, 2023
As Carter previously noted, what began as a trickle is now a flood: the US government is using the banking sector (and regulatory powers) to organize a sophisticated, widespread crackdown against the crypto industry.
The CFTC lawsuit was expected by Binance. In February, the exchange's Chief Strategy Officer, Patrick Hillman, admitted Binance was being investigated by multiple regulators and expected to pay fines to "make amends" for past regulatory violations. According to the suit, Binance employees, including CZ, used the Signal app with an "auto-delete functionality" to communicate with each other. The suit implied the CFTC had access to CZ's phone, saying it was able to collect Signal text chains and group chats from it.
Read the full docket below:
Loading...