---
Culling Of Spanish 'Zombies' Sends European Bankruptcies Soaring To 8-Year-Highs
Q4 2022 saw European businesses filing for bankruptcy at the fastest pace in at least eight years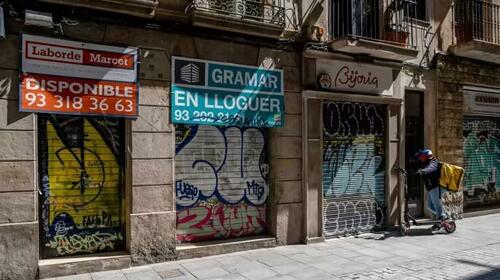 The number of bankruptcy declarations increased during all four quarters of 2022.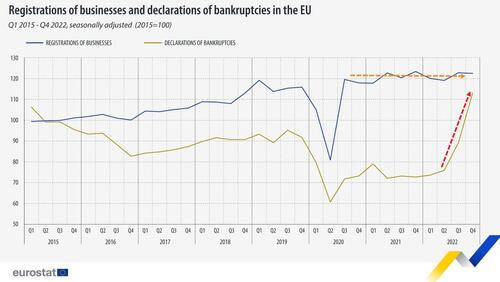 As The FT reports, there was a particularly sharp increase in Spanish bankruptcy filings, which more than doubled in the second half of last year after changes to the country's insolvency law made it easier for companies to restructure their debt, prompting a surge in such court filings.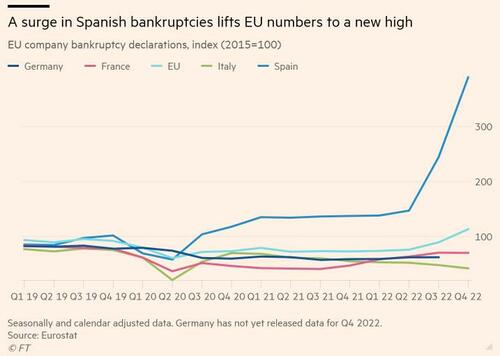 "There are a lot of companies that were given a free pass during all of 2020 and 2021 when they didn't even have to pay some of their creditors, such as social charges in France," said Ludovic Subran, chief economist at German insurer Allianz, which is forecasting an increase of almost 20 per cent in western European bankruptcy filings this year.

"These fallen angels, or companies that can barely manage, are now facing less support, with increased financing and wage costs and it is becoming completely untenable," he said.
Finally, as The FT reports, the biggest increase in EU insolvencies in the fourth quarter was in the transport and storage and the accommodation and food services sectors (up 72% and 39% respectively from the previous quarter).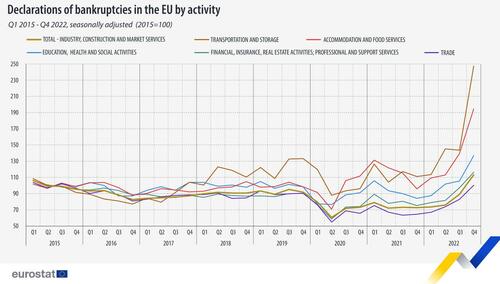 As James Watson, chief economist at the EU employers' federation BusinessEurope, said:
"There is clearly a factor of governments withdrawing support introduced during the pandemic and that is having an impact." 
But he added:
"There is also something else going on, as it is becoming an increasingly difficult trading environment for many companies due to high inflation, weak growth and rising interest rates." 
So, the zombies, kept on life-support (forgive the mixed metaphors) by direct fiscal government support and regulatory-imposed moratoria on any debt repudiation actions, and low/negative interest-rates, have finally been slayed.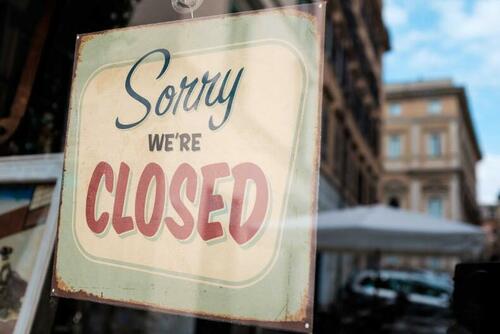 Is Europe's currently reality coming to American shores next as lending standards tighten and pandemic aid policies expire?
Loading...