---
Dalio's Bridgewater, Down 18.6% YTD, Sees $3.5 Billion In Redemptions And "Dozens" Of Layoffs
It's been an ugly year, performance-wise, for the man that the entire industry seemed to be worshiping, without question, heading into 2020. Ray Dalio's Bridgewater Associates is down 18.6% for the year, as of the end of August. 
But, but, but - the "How the Economic Machine Works" video. Didn't Ray have it all figured out?
Apparently not. In addition to the fund's worst losses in a decade, there is a "sprawling list of troubles" being dealt with internally, according to Bloomberg. These trouble include internal computer models misreading the market (also known as the New York Fed model), $3.5 billion in redemptions during the first 7 months of the year and Dalio losing an arbitration fight with ex-staffers.
He also has ongoing feuds with his co-cheif executive and has laid off "dozens" of employees, according to the report.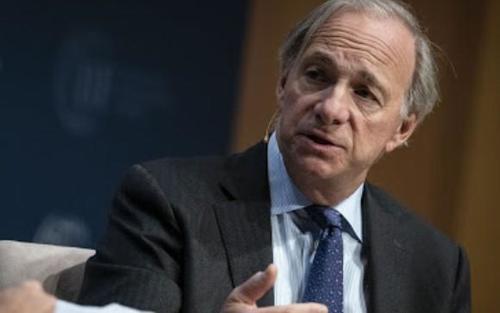 The chaos comes at the worst possible time for Dalio who, after writing "Principles" seemed to be hell bent on cementing his legacy as a financial world legend. But, perhaps among all that book-writing and TV interviews, Ray forgot what his job was in the first place?
Dalio took to TV on Tuesday and defended his fund: "We are the largest hedge fund for a reason. We have never had a significant downturn, all positive years, but we knew that there would come a day. We missed the pandemic going down and that is the reality."
And what changes has Dalio made to adjust? Apparently none. "We are operating in the same way we have always operated," he told Bloomberg TV. Dalio says the firm still has 45 commitments from investors, many around $1 billion. 
The firm's key issue, according to insiders, was that it adopted a risk off strategy in March while the market was tanking, and then failed to put risk back on despite the Federal Reserve guaranteeing it would backstop the market with unlimited QE. 
Former employees say that the fanfare surrounding Dalio has also "distracted him from the firm". Dalio doesn't want to adjust his computer models to add new data that's standard at other firms, including tracking oil tankers.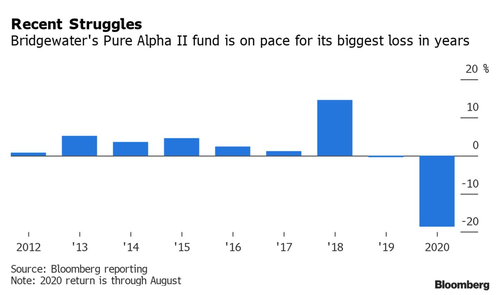 There are also several ongoing personnel disputes ongoing. The company's former co-CEO Eileen Murray sued the company in July over compensation and gender discrimination. Some investors in the fund said this disputed "troubled them", according to Bloomberg. The company's head of research is also at odds with the firm over the issue of unequal pay. 
Bridgewater has cut dozens of jobs amidst the chaos and its number of investors has dropped from 350 to about 300. Clients that remain on the roster tout the firm's 10.4% annualized gain since 1991 - and its "unparalleled customer service". 
Employees at the firm have been shaken up by the poor returns and the layoffs, however. Additionally, an arbitration case against Lawrence Minicone and Zachary Squire, two Bridgewater employees that left the firm to start their own, recently showed that Bridgewater lodged allegations of theft of trade secrets against them under false pretenses. This has also left a bad taste in the mouths of current employees. 
Bridgewater long has a reputation of an "extreme approach" to secrecy and departing staff, including contracts that make employees ask before they can take new jobs. Bridgewater defends the contracts, which can also prevent employees from trading equities for the rest of their careers, stating: "We believe we are fair and reasonable partners and have no incentive to enforce the restrictions more broadly than necessary."
Perhaps another trip to Burning Man would clear Dalio's head?