---
DB Head Credit Strategist: "These Are Not Normal Markets"
From Jim Ried, chief credit strategist at Deutsche Bank
After being back from holiday less than a week this year, many interesting themes are developing and I'm increasingly thinking that this is not going to be a low vol dull year. Let me stress that I think economic growth could increasingly get revised up once we hit Q2 onwards and that we could see some pretty major pent up demand once we get into the summer months. So it's difficult to get too concerned about the economy.
However a combination of the melt-up in risk, bubbles blowing everywhere, more likely stimulus from the Democrats and what are already elevated inflation breakevens in the US means that we have a number of high octane moving parts that are going to be very difficult to calibrate in 2021.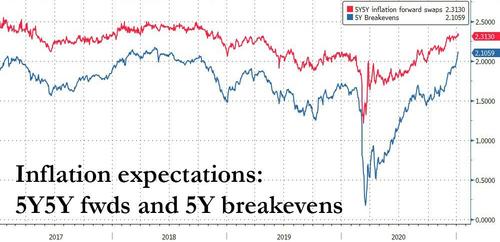 So for me I think the probability of a smooth year for markets is rescinding.
For now it feels that risk on is very hard to argue against but the biggest risks that I outlined in my 2021 outlook have probably intensified in the first week of the year.  They were there being a yield shock/taper tantrum at some point and there being a tech bubble that bursts.
So far this year US 10yr USTs are up +20bps and US 10 year breakevens are already up +8.5bps to 2.07% from 0.55% in March and only just over 10bps off 6 year highs. It would be difficult to go too much higher without serious talk of tapering and the more immediate pricing in of the first hike of the cycle.
With regards to a bubble, so far this year Bitcoin is up +22.8%, Tesla +24.7% (already added $165.3 bn market cap), with my favorite story being small-cap Texas healthcare company Signal Advance (with no full time employees other than the CEO as of a March 2019 filing) surging nearly 1500% at one point on Thursday after Elon Musk tweeted "use Signal". He was referring to a rival messaging app to WhatsApp but instead fuelled a frenzy in a company that surged from low millions to nearly a $100m company on that one misinterpreted tweet. It was still up c.1100% over Thursday and Friday even including Friday trading when the error should have been known.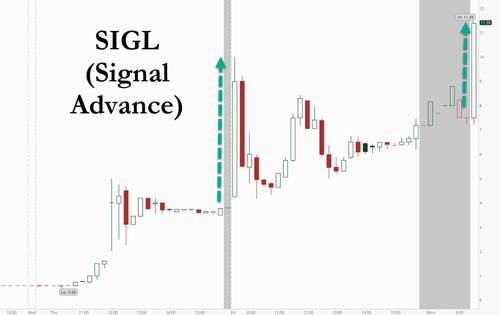 These are not normal markets!! Ride the liquidity for now but this does not feel like the ingredients for a low vol market year.