Global mergers and acquisitions activity fell to its lowest levels in more than a decade in 1H20, as paralyzed dealmakers were unwilling to explore new opportunities as uncertainty plagued capital markets. 
Data compiled by Bloomberg shows the value of M&A activity plunged 50% to $1 trillion in the first half from the year-earlier, marking the slowest period in dealmaking since 2012.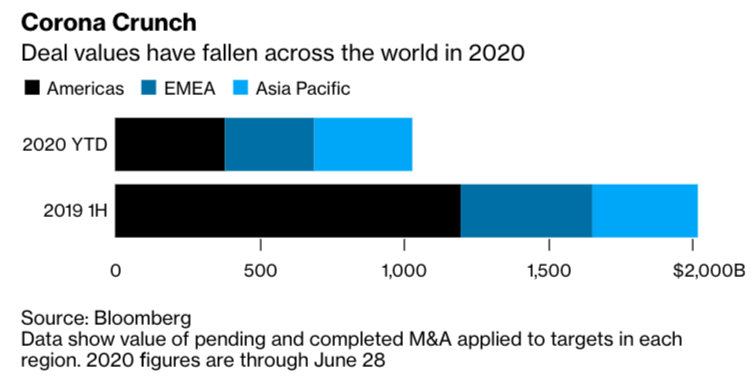 The first half in global capital markets was chaos - lockdowns and virus pandemic crippled supply chains and crushed consumers that will likely result in a recovery phase over several years. Sentiment shifted by mid-March, only after a rescue effort led by Fed, ECB, BOJ, and PBOC, slashing interest rates to zero and injecting trillions of dollars into global markets to arrest extreme volatility. 
During times of extreme volatility, dealmaking is usually sidelined as companies protect balance sheets to weather a downturn. 
The biggest plunge in M&A activity was seen in the Americas, where the value of deals collapsed 69% in 1H20. 
While every major industry has been hurt, the financial sector fared better than most. It was boosted by insurance brokerage Aon Plc's $30 billion offer for Willis Towers Watson Plc and Morgan Stanley's proposed $13 billion acquisition of E*Trade Financial Corp. The top three advisers on deals targeting the Americas so far in 2020 were Morgan Stanley, Goldman Sachs Group Inc., and JPMorgan Chase & Co. - Bloomberg.

h/t Bloomberg

 
M&A activity in Europe, the Middle East, and Africa was down 32% during the period. 
Large transactions that helped prevent a more dramatic drop include the $19 billion leveraged buyout of Thyssenkrupp AG's elevator unit by Advent International and Cinven. There was also a recent flurry of activity in the Middle East, including Abu Dhabi's sale of a $10.1 billion stake in its gas pipeline network that ranks as the biggest infrastructure transaction of the year. Goldman Sachs, JPMorgan and Rothschild & Co. were the busiest advisers on EMEA deals. - Bloomberg

h/t Bloomberg

 
The Asia Pacific region fared the best, M&A activity slipped 7%. 
The technology, media and telecommunications industry reported a 13% increase, helped by Indian billionaire Mukesh Ambani's digital arm attracting $15 billion of investments from the likes of Facebook Inc. and KKR & Co. Another landmark transaction was Tesco Plc's sale of Asian businesses to Thai billionaire Dhanin Chearavanont for more than $10 billion. The most active banks on deals in the region were Morgan Stanley, HSBC Holdings Plc and JPMorgan. - Bloomberg
Readers may recall, the global M&A bust was occurring well before the virus pandemic. As we noted in October 2020, "WeWork's catastrophic failed IPO had damaged capital market sentiment" - likely the markings of an early top. 
We also said back then: "A slowdown in M&A deals is an ominous sign that Wall Street banks will see declining revenues in the quarters ahead." 
With that being said, depressed M&A activity this year suggests a V-shaped recovery is not possible in the second half of the year.