---
Debate Post-Mortem: "Malarkey" Takes On "401K's In Hell" In Informative But Firework-Free Spectacle
Thursday night's debate kicked off with both candidates behaving themselves, more or less, until the two engaged in several spats over the Hunter Biden scandal which quickly dissipated.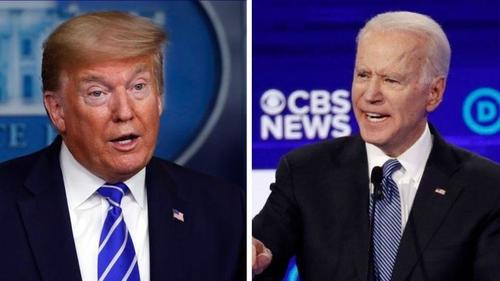 For a quick summary of how the candidates did aside from Huntergate:
COVID-19 - Tie, both stuck to well-worn talking points
American Families - Trump with the edge due to a 'kids in cages' moment. "Who built them?"
Race in America - Trump steamrolled Biden over the 1994 crime bill and inaction, plus Biden had a very senior moment
Climate Change - Trump, who successfully got Biden to admit he would 'shift' the country away from petroleum
National Security - Tie, as the topic devolved to Hunter Biden's laptop, however Biden defended against Trump's attempts to paint him as a corrupt politician - hammering back on Trump's tax returns and China bank account.
Leadership - Biden, who argued that he would represent all Americans
Overall, both candidates were much calmer and better organized than they were during the first debate - albeit Biden came off as very angry most of the debate. We doubt anyone is changing their mind after tonight.
Moderator Kristen Welker, who - while asking several loaded questions against Trump, allowed each candidate to follow up more than once on questions. That said, she interrupted Trump 30 times, and Biden twice.
*  *  *
Full Debate Post-Mortem
The second and final debate between President Trump and Joe Biden predictably went off the rails in short order, after a week of bombshell claims about Joe Biden's involvement in international corruption with his son Hunter - accusations which the Biden campaign and its MSM surrogates implied, without evidence, are part of a Russian disinformation campaign.
In the audience, however, was whistleblower Tony Bobulinski, a former Hunter Biden associate who has come forward with texts, emails and personal testimony that Joe and Hunter Biden peddled influence during the Obama administration.
The first question was on COVID-19
President Trump defended his administration's response, saying that while 2.2 million people were 'modeled to die,' that 'we're fighting it and we're fighting it hard.' Trump spoke of his personal experience with the disease, noting "I was in for a short period of time and I got better very fast" thanks to his treatment. Trump added that a vaccine will be 'announced within weeks.'
Biden launched into attack mode - blaming 220,000 US deaths on President Trump, and suggesting that he doesn't deserve to remain president because of it. "The president has no plan. No comprehensive plan," said Biden, who added that he would mandate masks.
When asked about the vaccine in 'two weeks,' Trump said that it's not a guarantee, but that Moderna, Pfizer and Johnson & Johnson were very close, and it would be here "by the end of the year" and that there are "generals lined up" to will assist in the rapid distribution of said vaccine.
Trump got in a hit during one testy exchange over shuttering the country, saying "We can't lock ourselves up in a basement like Joe does. He has the ability to lock himself up. I don't know; he's obviously made a lot of money someplace."
President @realDonaldTrump on refusing to hide in the basement from the coronavirus:

"We can't lock ourselves up in a basement like Joe does. He has the ability to lock himself up. I don't know; he's obviously made a lot of money someplace. " pic.twitter.com/kfadMrY1V8

— Townhall.com (@townhallcom) October 23, 2020
The two went back and forth regarding policy response to the virus - with Biden mostly spitting Venom at Trump's response - claiming "I'm going to shut down the virus, not the country."
Biden denied calling Trump's closure of travel to China 'xenophobic.' Except...
On the topic of National Security
Biden said that foreign nations meddling in US elections 'will pay a price,' noting "Russia's been involved, China's been involved to some degree, and Iran's been involved."
"We are in a situation where we have foreign countries trying to meddle in the outcome of the election," before suggesting that Rudy Giuliani, Trump's attorney, is a 'Russian pawn' - alluding to the recent disclosure of Hunter Biden's alleged laptop contents.
And then things went off the rails...
'You were getting a lot of money from Russia. They were paying you a lot of money. And what came out today - all of the emails, the horrible emails of all the money you were raking in, you and your family. And I think you owe an explanation to the American people.'
To which Biden responded, 'I have not taken a single penny from any country whatsoever,' before claiming Trump as a "secret bank account in China." Biden then said that because he's released "22 years of my tax returns" he's clearly clean.
TRUMP: "I think you owe an explanation to the American people."

BIDEN: "I have not taken a penny from any foreign source in my life." pic.twitter.com/3PKTVFi57t

— Breaking911 (@Breaking911) October 23, 2020
Trump: 'I don't make money from China, you do. I don't make money from Ukraine, you do. I don't make money from Russia, you do.'
FYI for the Russian disinformation and "that's not verified" crowd, Biden still has not denied the authenticity of the emails

— Amber Athey (@amber_athey) October 23, 2020
When asked about Hunter's position on the board of Ukrainian energy giant Burisma, Biden said he had no dealings with the company.
"I did my job impeccably," he said, adding that there's no evidence his son did anything wrong in Ukraine, and that nobody has claimed he did.
Biden falsely claims nobody said Hunter did anything wrong in Ukraine. In reality, a top State Dept. diplomat told the White House—Biden's White House—that Hunter's Burisma dealings were a huge problem. Biden's office repeatedly ignored the concerns. https://t.co/Byyo3FNp3T

— Sean Davis (@seanmdav) October 23, 2020
Joe Biden is lying to the American people.

Every single witness during impeachment hearings testified that Hunter Biden serving on the board of Burisma was a conflict of interest or the appearance of a conflict of interest.

I know. Because I asked each and every one.

— Elise Stefanik (@EliseStefanik) October 23, 2020
Then, during a brief spat over North Korea, Biden barked "We had a good relationship with Hitler before he invaded Europe."
Biden just said we had a good relationship with Hitler.

This guy is straight-up senile. pic.twitter.com/yxnmDBScA9

— Caleb Hull (@CalebJHull) October 23, 2020
The topic turned to American Families - in particular, healthcare.
Biden claims he supports private insurance and will pass 'Bidencare' - which he described as Obamacare plus a public option. He then claimed that he will reduce premiums and drug prices.
Not a single person lost their insurance under Obamacare? This is patently untrue.

— Ben Shapiro (@benshapiro) October 23, 2020
An underrated moment of tonight was Biden claiming "nobody lost their coverage under Obamacare"—a falsehood so brazen it's almost stunning. Millions lost their coverage. Even Politifact awarded the same claim "Lie of the Year" in 2013.

— Ben Williamson (@_WilliamsonBen) October 23, 2020
"He wants socialized medicine," said Trump of Biden, adding that VP running mate Kamala Harris wants socialized medicine as well."
The two then went back and forth on the coronavirus stimulus package - with President Trump blaming Nancy Pelosi for not wanting to do a deal before the election, and Biden blaming Republicans for not accepting Democrats' HEROES Act over the summer - which President Trump says 'bails out poorly run Democratic cities and states.'
Biden said Trump brought up "malarkey" over alleged Biden family corruption because the president doesn't want to discuss substantive issues affecting the country.
On Minimum Wage, President Trump said it should be a state option, while Biden insisted that the federal minimum wage should be a minimum of $15 per hour.
On Border Security, Trump and Biden fought over the child separation policy - to which Biden blamed Trump for separating children from their parents after Trump claimed children are being brought over by coyotes and 'bad people.' Later in the exchange, Trump repeated "Who built the cages?" referring to the Obama-Biden administration.
"They separated them at the border to make it a disincentive," says @JoeBiden and "it violates every notion of who we are as a nation."

"Who built the cages, Joe?" responds @POTUS.

— Steve Herman (@W7VOA) October 23, 2020
#FACT: The Obama/Biden Administration built the "cages" at the southern border.

Here's a picture of Jeh Johnson, President Obama's Homeland Security secretary, touring the "cages" they built! pic.twitter.com/WuZ84kOByN

— House Judiciary GOP (@JudiciaryGOP) October 23, 2020
When Welker asked about the Obama administration's failure to pass comprehensive immigration reform, Biden replied that he will be "president" and not "vice president" this time - seemingly throwing President Obama under the bus.
At one point, Trump said 'I ran because Joe Biden and Barack Obama did a horrible job.'
President @realDonaldTrump: I ran because Joe Biden and Barack Obama did a horrible job#Debates2020 pic.twitter.com/RZLP8s9qb3

— Team Trump (Text VOTE to 88022) (@TeamTrump) October 23, 2020
Race in America was the next topic
When asked about the "talk" that black families give their children regardless of class, Biden says his daughter, a social worker, worked in African-American areas, which we guess makes Biden not racist. Trump claimed that Obama and Biden 'never wanted criminal justice reform.'
"It's all talk and no action," Trump said of Biden, who he slammed for doing 'nothing in 47 years except pass the Crime bill that was detrimental to black Americans.'
"Nobody has done more for the black community than Donald Trump," Trump said, with the possible exception of Abraham Lincoln.
Biden then appeared to have a senior moment, calling Abraham Lincoln a racist.
Joe Biden points to Trump and says "Abraham Lincoln here is one of the most racist presidents we've had in modern history." pic.twitter.com/BLOvUhD7ia

— Daily Caller (@DailyCaller) October 23, 2020
The debate then turned to Climate Change
Welker asked both candidates how they would combat it, to which Trump discussed the 'trillion tree program' after saying he loves the environment, and that the United States has incredibly low carbon emissions. He added that he hasn't heard Biden use the term, because he wasn't sure if 'Biden knows what it means.'
Trump said that China, Russia and India are "filthy" compared to the US, and that he pulled the country out of the Paris accord because he's not willing to sacrifice jobs because of the agreement - particularly when China's obligations don't kick in until 2030 and Russia 'goes to a lower standard.'
Biden then claimed he never opposed fracking, challenging President Trump to play a tape of him saying he did. The former VP then said that global warming is an "existential threat" to humanity, which has a "moral obligation" to solve it. Biden claims we have 8-10 years until we reach the point of no return.
Here you go @JoeBiden! pic.twitter.com/UBqPJT85Pt

— Donald J. Trump (@realDonaldTrump) October 23, 2020
Perhaps most significantly, Trump was able to get Biden to admit to 'shifting away' from petroleum.
Wow. Our jobs are on the line. Millions of jobs. Good paying jobs. Jobs that make American energy independence possible. https://t.co/Eg9vfe1Wla

— Cynthia Lummis (@CynthiaMLummis) October 23, 2020
Joe Biden asked us to make this video. #Debates2020 pic.twitter.com/UAk5MDitgX

— Trump War Room - Text TRUMP to 88022 (@TrumpWarRoom) October 23, 2020
Net Zero carbon emissions means no fracking. Biden thinks PA is stupid

— Matt Schlapp (@mschlapp) October 23, 2020
The last topic was leadership
When asked what each candidate would say in inauguration day to the losing side, President Trump said 'before the plague came in, I was getting calls' from Democrats about the booming economy. He noted that unemployment among blacks, women and other groups were at record lows.
Trump says we have to rebuild the country to the point it was before the 'China plague' hit - and warned that if Biden is elected we will have a depression the likes of which we've never seen, and that '401(k)'s will go to hell.'
Biden responded that he'll be an American president who will represent all Americans - even those who didn't vote for him. He hopes voters will choose 'hope and science over fiction while dealing with systemic racism and creating millions of clean energy jobs.'
"What's on the ballot is the character of the country," said Biden.
Hot takes and hilarity:
How you know Trump won the debate. pic.twitter.com/MrplmL8xHA

— Laura Ingraham (@IngrahamAngle) October 23, 2020
Joe Biden blamed the contents of his sons laptop on the Russians. Remember this. #RussiaRussiaRussia

— Jenna Jameson (@jennajameson) October 23, 2020
Frank Luntz went the extra mile to prove he isn't a Biden shill
"People running for office have to tell you what they plan to do and how they're going to do it.

I thought Joe Biden would tell us tonight, but there was nothing there." #Debates2020

👉🏻 https://t.co/LOOQDLAjoT pic.twitter.com/wpx5qGrY7x

— Frank Luntz (@FrankLuntz) October 23, 2020
So we're just going to let that Hitler thing go without him being condemned I guess.

— Stephen L. Miller (@redsteeze) October 23, 2020
Anyone think the media would give me a total pass on this if I pulled a Hunter and pulled in $183,000 a month for a no show job from a corrupt company with no knowledge of the industry and didn't speak the language?🤔 https://t.co/dNGgfNDi8j

— Donald Trump Jr. (@DonaldJTrumpJr) October 23, 2020
SHOCKED FOX NEWS VIEWERS SAID TRUMP WON DEBATE. SHOCKED pic.twitter.com/1dhwsx3xRq

— The_Real_Fly (@The_Real_Fly) October 23, 2020
Comedy ensued:
Easy, coyotes transform near the border and walk just like humans and once across border they turn back into regular coyotes and run really fast

— The_Real_Fly (@The_Real_Fly) October 23, 2020