---
Debt-Ceiling Doubts Finally Weigh On Stocks; Bonds & Gold Bid
Mixed macro data (housing good-'ish', regional Fed surveys bad, Manufacturing PMI ugly) was dominated today by some FedSpeak (just Kashkari doing Kashkari things) but more so by debt-ceiling doubts actually surfacing in stocks.
Ted Cruz appeared to spook stocks early after warning on CNBC that "20-30 year old Marxists" are running the show behind the scenes at The White House, questioning Biden's cognitive wellness and warning that the odds of an actual default are higher than the market believes, because the 'behind the scenes' staffers believe media will back them in blaming Republicans.
Around 1230ET, stocks and bond yields suddenly puked (no immediate news catalyst was evident)
Around 1330ET, headlines hit that the debt-ceiling negotiators meeting had ended and stocks lunged lower again.
Around 1430ET, Bloomberg issued a story about Republicans questioning Yellen's X-Date 'math' which swept stocks to new lows for the day.
By the close, Nasdaq was the day's biggest loser with Small Caps outperforming (but also red on the day). Today was the worst day in a month for Nasdaq
The S&P 500 broke back below 4200...
Another day, another short-squeeze attempt, but this time it failed...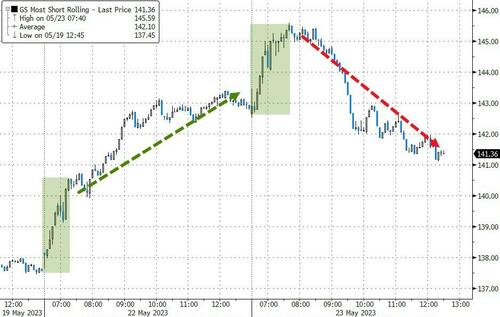 Source: Bloomberg
0-DTE traders suffered on the day as an effort to reverse losses early on failed...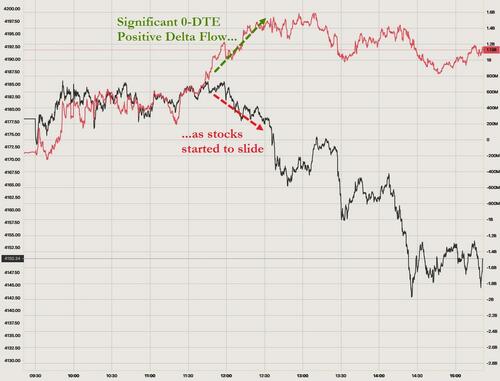 Notably, while financial conditions have been tightening in the last few weeks, Nasdaq has blindly ignored it...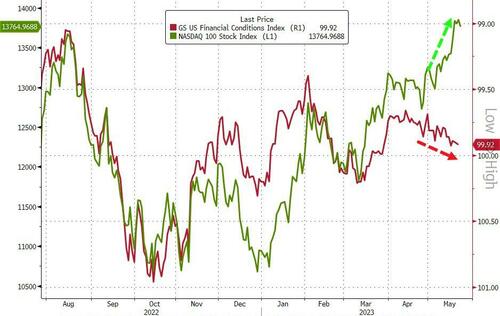 Source: Bloomberg
VIX closed higher on the day but has a long way to go to catch up to the skew...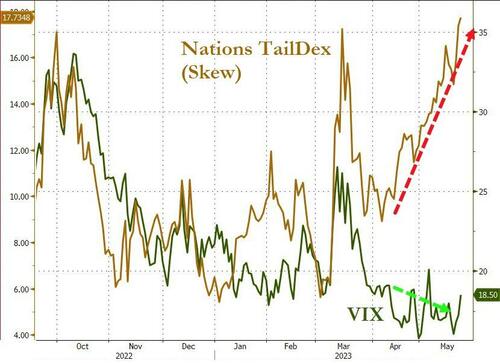 Source: Bloomberg
US Treasuries were mixed today with the long-end outperforming (2Y +3bps, 30Y -2bps) despite a strong 2Y auction...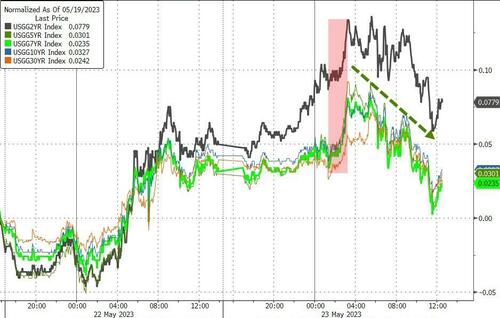 Source: Bloomberg
30Y yields topped 4.00% for the first time since March, but then rallied back lower in yield to end 2bps lower on the day...
Source: Bloomberg
T-Bills maturing in mid-June topped 6.00% yields today...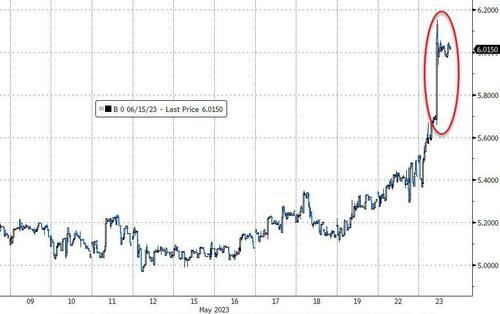 Source: Bloomberg
The dollar continued to drift higher along with September rate-hike odds...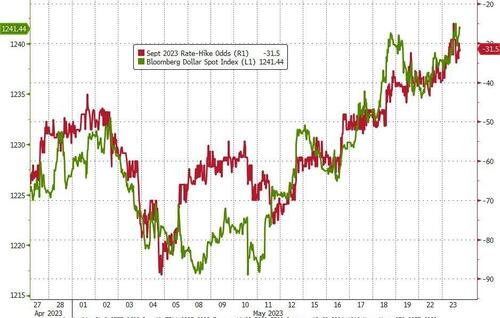 Source: Bloomberg
Bitcoin ended higher on the day after surging in the European session before fading in the US session - but still held above $27,000...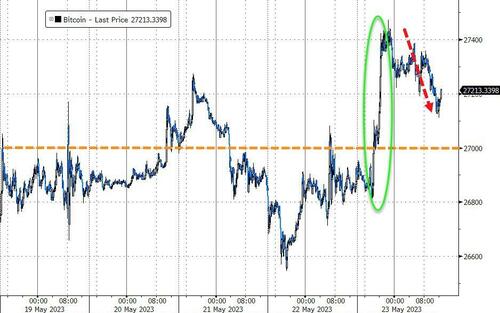 Source: Bloomberg
Oil prices rallied on the day - thanks to Saudi threats to crude shorts to "watch out". WTI slipped late on held $73 ahead of tonight's API data...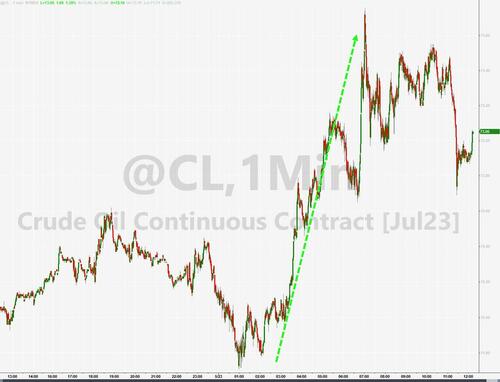 Gold managed gains on the day as it was well bid during the US day session after overnight selling...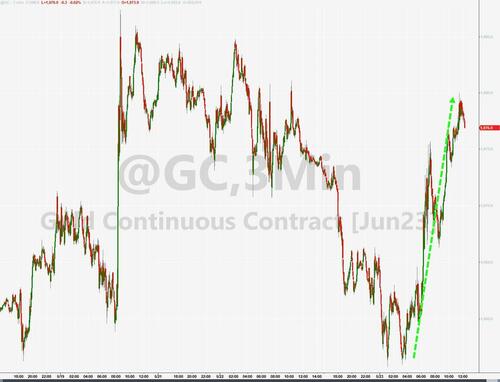 Finally, in another bad sign for those bullish on US equities, the relative return offered by Treasuries continues to rise, making stocks look pricey...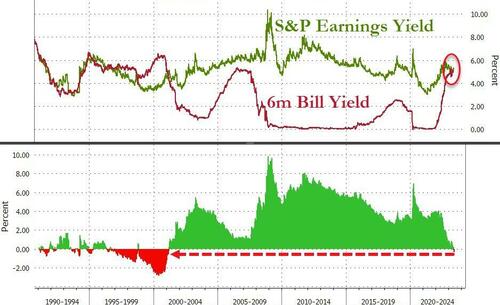 Source: Bloomberg
As Bloomberg notes, even with a deal on the debt-ceiling, equities will struggle to move meaningfully to the upside until valuations look attractive relative to bonds.
Loading...