---
December Rate Hike Odds Rise After Fed's Favorite Inflation Signals Show No Signs Of Slowing
Ahead of this morning's macro data, WSJ Fed Whsiperer Nick Timiraos dropped two notable hints at what to watch for:
First, PCE Deflator (which we have long known is The Fed's favorite inflation indicator) is expected to accelerate...
Context for Friday morning's U.S. economic indicators:

The PCE price index, the Fed's preferred inflation gauge, is expected to be on the high side.

It's the employment-cost index—a high fidelity measure of wages—that's likely to receive a lot of attention inside the Fed. https://t.co/FaXNvFXDlO

— Nick Timiraos (@NickTimiraos) October 28, 2022
Second, and perhaps most notably, Timiraos refocuses the market's attention on the Employment Cost Index (ECI) which Powell highlighted almost a year ago as a factor in their inflation-fighting stance...
In December, Jay Powell was asked about what influenced his pivot (which began with accelerating the asset-purchase taper).

He pointed to the ECI as something that got his attention: pic.twitter.com/IjXtWgZrHW

— Nick Timiraos (@NickTimiraos) October 28, 2022
While a 75bps hike is apparently a lock at next week's FOMC meeting, Timiraos' tweets suggest that December's rate-hike 'step-down' may be in play depending on these two data points.
The ECI printed +1.2% QoQ, the same as Q1 (but less than the +1.3% QoQ expected). This left ECI +5.0% YoY...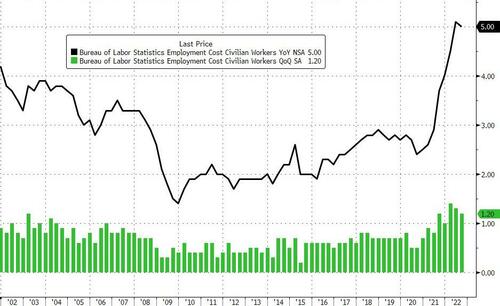 Source: Bloomberg
So that's a push - still extremely high YoY but didn't print hotter than expected.
However, in the case of Core PCE Deflator, it continued to re-accelerate to +5.1% YoY (while the headline print slowed a little to +6.2% YoY).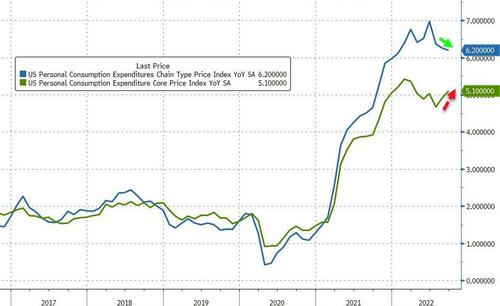 Source: Bloomberg
Desperate analysts are clinging to the fact that Core PCE printed marginally below expectations (+5.1% vs +5.2% exp).
While Bloomberg does not carry the time-series, we note that Timiraos highlights the following:
"The ECI component of greatest relevance to the Fed, which shows wages and salaries for private sector workers excluding incentive paid occupations, rose 1.2% in Q3 and was up 5.6% over the previous year (it rose 1.3% in Q2 was also up 5.6% on a YoY basis)"
This is the non-seasonally-adjusted YoY series...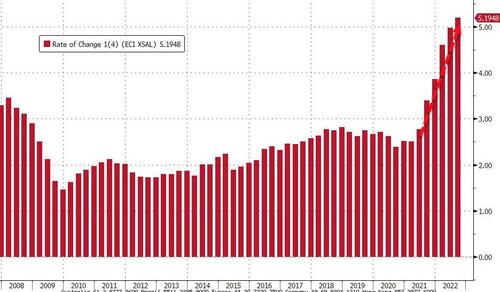 Finally, the reaction to this morning's data shows 75bps continues to be locked in for next week but December's odds of a 75bps hike are rising...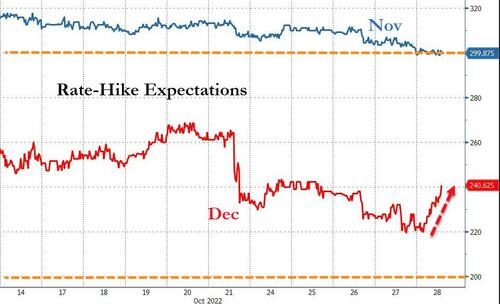 Source: Bloomberg
A 40% chance of a 75bps hike in December is not what the 'pause' hopers were looking for.
Loading...