---
'Deja Vu All Over Again' As Stocks Dump'n'Pump Again Ahead Of Fed
Well who could have seen that coming?
Another day of dumping into EU close followed by buyback ramp?

— zerohedge (@zerohedge) January 25, 2022
Indeed it was a "deja vu all over again" as Yogi Berra would say, but this time the ending was different...
No obvious catalyst from a news or technical support level for today's resurgence, but some pointed to optimism sparked by comments from President Biden: "There is not going to be any American forces moving into Ukraine"
Small Caps were the first again to recover their losses, then The Dow, then as the S&P got green, selling pressure started in the last hour.  That smashed Nasdaq back down towards the lows of the day and the S&P notably red on the day while The Dow survived and Small Caps outperformed...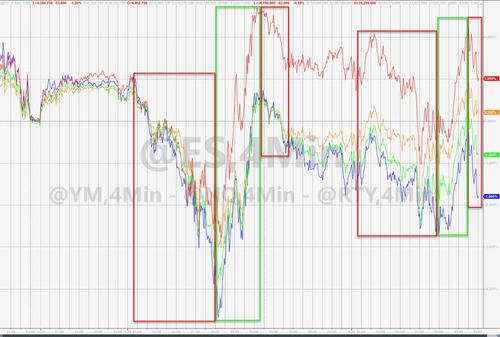 The S&P seemed to stall as it tagged 4400...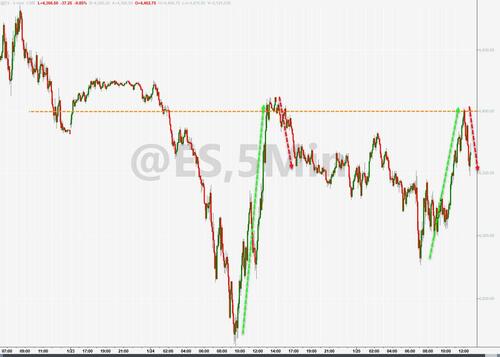 Another day, another dump of puts to send stocks higher...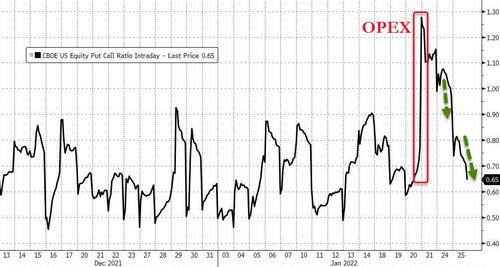 Source: Bloomberg
Following yesterday's 2Y auction, today's 5Y TSY auction was also well-bid (trading well thru WI) as demand from foreign entities soared, but Treasury yields ended the day higher, ramping along with stocks and dragging 5Y higher on the week, joining the rest ofthe curve...
Source: Bloomberg
Rate-hike expectations actually shifted hawkishly higher today with Dec 2022 pricing in 4 hikes once again...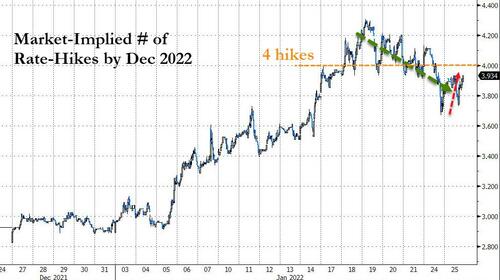 Source: Bloomberg
The dollar followed a similar pattern to yesterday too - rallying overnight then dumping across the European close...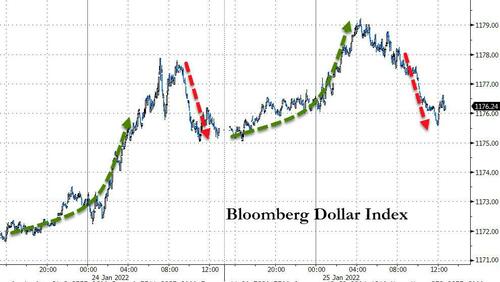 Source: Bloomberg
Crypto led stocks higher off the lows and lower off the highs today...
Source: Bloomberg
Finally, we have been asked a number of times today, some version of the following question: How often do we see two such days in a row?
Well, the answer is simple: pretty much never.
Bloomberg's Cameron Crise reports that based on open/high/low/close data on the S&P going back to the early 1980s, there has never been two consecutive sessions when the SPX drew down at least 2% from the previous day's close only to finish positive on the day.
There have only been a handful of occasions when the index has dropped as much as 1% intraday and then closed positive on consecutive trading days: three times in 2002, three times in 2008/09, once in 2015 and once in 2020.
Incidentally, I checked the 2% threshold on the Nasdaq Composite as well, and it hasn't registered consecutive epic comebacks, either.
Of course - all of that is moot by the close as both the S&P 500 and Nasdaq closed in the red.
Meanwhile, Ned Davis Research's Global Recession Model is back in "high-risk" zone...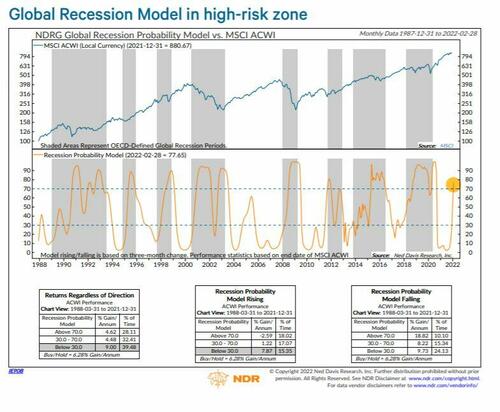 Just as The Fed is about to unleash QT and Hike rates... because this is not Q42018... CPI is at 7%!