---
Dell Cuts 6,650 Jobs Due To "Challenging Global Economic Environment"
Dell Technologies Inc. is the latest technology company to announce job cuts. A filing released Monday morning blamed the layoffs on a "challenging global economic environment" amid a bust in the personal computer market. 
Dell said 6,650 jobs, or about 5% of its global workforce, will be eliminated. The company produces personal computers, servers, data storage devices, network switches, and a slew of other electronic devices that were in high demand during Covid but have slumped in the years after. 
"These actions will result in a reduction of approximately 5% of the Company's workforce as the Company continues to take prudent steps in light of a challenging global economic environment," the company wrote in a filing. 
Bloomberg viewed an internal memo by Co-Chief Operating Officer Jeff Clarke that said market conditions "continue to erode with an uncertain future." 
Dell has 133,000 employees worldwide, and about a third are based in the US. The layoff comes as tech companies are hemorrhaging talent. However, the US economy added 517,000 jobs in January, and the unemployment rate dropped to 3.4%. 
Dell shares were up 1.5% in premarket trading. Shares have fallen 30% since peaking in early 2022.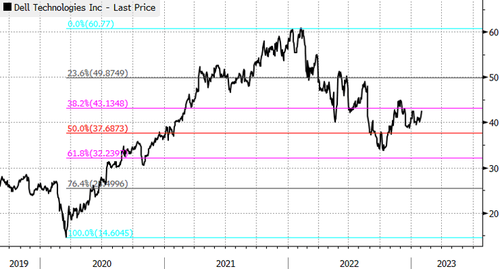 Recall the PC bust is expected to last through 2023. A turnaround in the industry might be seen in 2024. 
We've outlined how graphics cards, memory chips, and monitor prices have plunged in the last several quarters. 
As for Dell, the company generates about 55% of its revenue from PCs.
Loading...