---
Despite 'Financial Tsunami' From Migrants, NYC Mulls Reparations, Removal Of George Washington Statues
While NYC Mayor Eric Adams insists that the migrant crisis will "destroy New York City," and hurt 'low-income New Yorkers' because of the 'financial tsunami,' it seems the city is somehow able to rationalize launching a reparations task force, and removing statues of George Washington.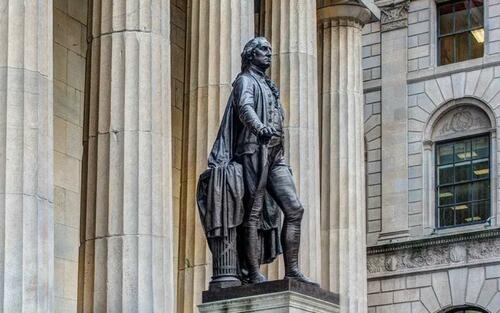 These are among various measures the city council discussed on Tuesday during a public hearing on a measure to remove works of art on city property that "depict a person who owned enslaved persons or directly benefited economically from slavery, or who participated in systemic crimes against indigenous peoples or other crimes against humanity," Fox News reports.
[We assume this includes all Islamic art, since Muhammad had 14 concubines?]
The removals would include statues of America's first president, George Washington, Dutch governor and New York settler Peter Stuyvesant, and Christopher Columbus.
If the Public Design Commission (PDC) determined not to remove the work of art, then it would be required to include a plan to install an "explanatory plaque" next to the work of art. The proposal would also require PDC to consult with the Department of Education to install plaques on sidewalks or other public space adjacent to schools named after a person that fits the criteria. -Fox News
The city's agenda also included a proposal to create a task force which would "consider the impact of slavery and past injustices for African Americans in New York City and reparations for such injustices."
Other proposals include anti-racism training for human services contractors, as well as a plaque near the intersection of Wall and Pearl Streets to "mark the site of New York's first slave market."
Never forget, right? Because the nation can't heal until we all have constant reminders of a practice which ended almost 150 years ago.
Heaven forbid we focus on tackling modern slavery around the world.
Loading...