---
Scholz: 'No Reason To Worry' As Deutsche Bank Bloodbath Reignites Global Bank Crisis Fears
Update (0900ET): The jawboning has begun:
GERMANY'S SCHOLZ: EUROPEAN BANKING OVERSIGHT IS ROBUST AND STABLE, DEUTSCHE BANK IS `VERY PROFITABLE', NO REASON FOR WORRY

ECB'S LAGARDE TELLS EU LEADERS EURO AREA BANKING SECTOR STRONG, ECB FULLY EQUIPPED TO PROVIDE LIQUIDITY TO EURO AREA FINANCIAL SYSTEM, IF NEEDED

MACRON: EUROPEAN BANKS HAVE SOLID FUNDAMENTALS
That prompted a (very) brief pop in bank stocks...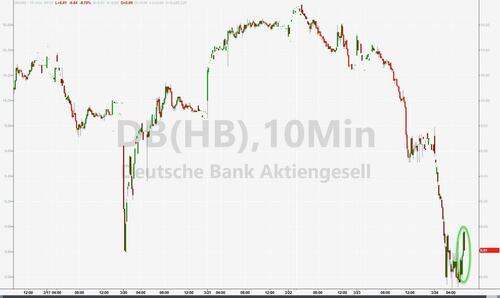 Goldman Sachs' traders said they think the pain in European banks is "simply a function of market selling leveraged and opaque business models post CS, with some discomfort on what may roll out of 1Q IB earnings following the spike in rates vol. There's also 7% of the loan book in CRE (EUR33bn), of which 51% in the US. Total office exposure is 34%, which is the market's core area of concern, so could say the range for US office is EUR5.5-11bn"
But then there's this...
Cramer: "Your money is safe at Deutsche Bank" pic.twitter.com/uADDbMC5dX

— zerohedge (@zerohedge) March 24, 2023
*  *  *
Last night, amid the Fed's H.4.1 report, we noted an unprecedented surge in foreign official Repo ($60 billion) under the Fed's new FIMA repo facility, which means that the offshore scramble for dollars was alive and well, and someone  really needed access to USD. The assumption was that it was Credit Suisse (or UBS) shoring up some shortfalls, but with the action of the last couple of days, others are worrying that there is more afoot in the EU banking system.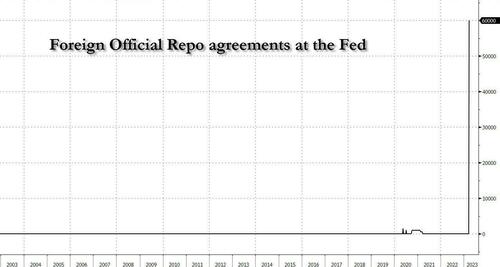 After brief respite earlier in the week, European bank stocks are cratering once again, now at 3-month lows (catching down to Senior Financial CDS)...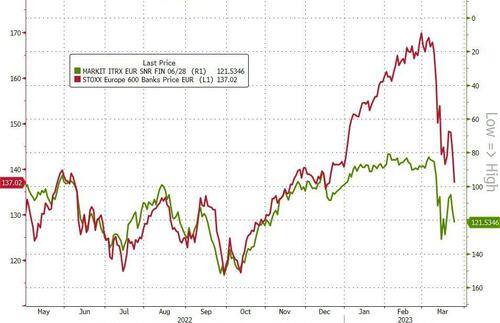 Deutsche Bank stock has crashed to 5-month lows...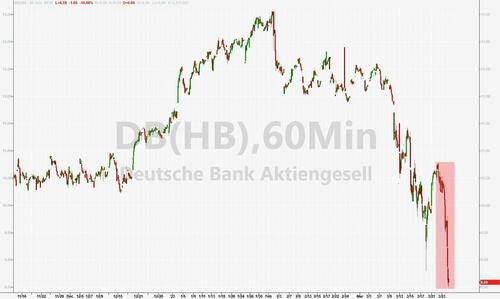 Deutsche Bank CDS is soaring (Commerzbank is also rising rapidly) - now higher than at peak of the COVID lockdowns...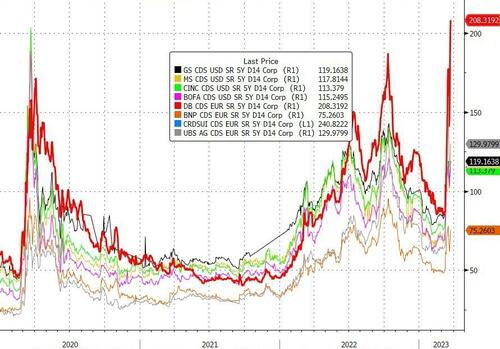 Source: Bloomberg
With the most crucial aspect (short-dated protection mainly used as a counterparty risk by derivatives trading partners) is very aggressively bid...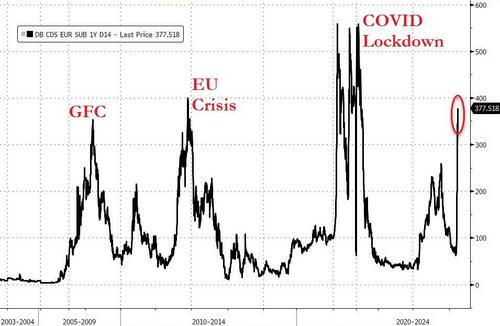 Source: Bloomberg
Notably, Deutsche unexpectedly announced its decision to redeem a tier 2 subordinated bond on Friday in a reassuring effort.
"Deutsche's decision to redeem (having received all required regulatory approvals) should be a reassuring signal to credit investors," Autonomous analyst Stuart Graham wrote in a note on Friday.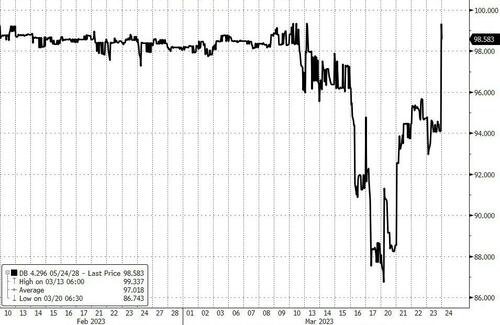 But instead, other Deutsche Bank AT1 bonds have plunged in price (with yields soaring above 16%)...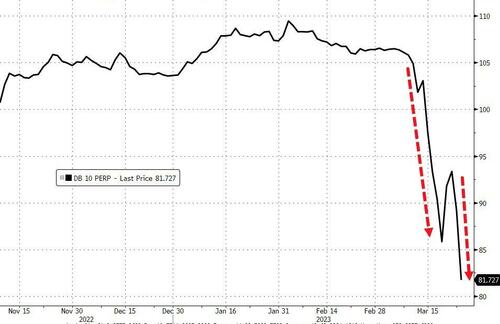 Source: Bloomberg
UBS and Barclays are also seeing AT1 bonds getting smashed lower as the entire CoCo bond market plunges in Europe (well down SNB!)
AT1mber...
Source: Bloomberg
https://t.co/kFILhinIcr
Only surprise is that DB did not go before CS. Sick man of EU banking.... @SquawkCNBC

— Richard Christopher Whalen (@rcwhalen) March 24, 2023
Notably, ECB rate-hike odds have plunged this morning from a 25bps in May fully priced-in to just 60% odds now...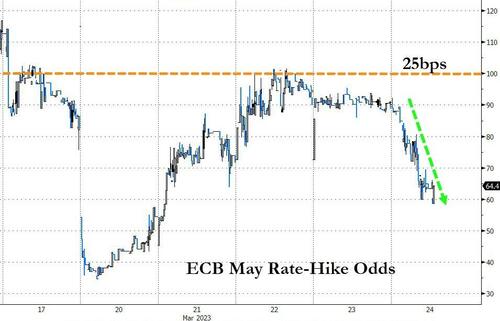 Source: Bloomberg
Even more stunningly, US money markets are now pricing in a rate-cut in June..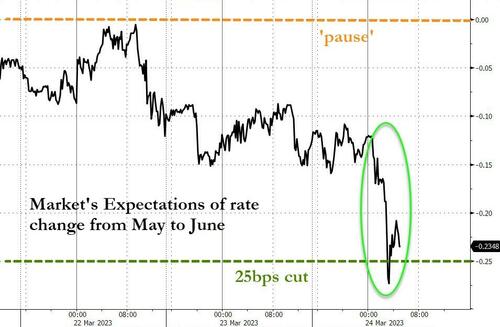 Source: Bloomberg
Expectations for The Fed's rate trajectory have literally collapsed in the last two weeks...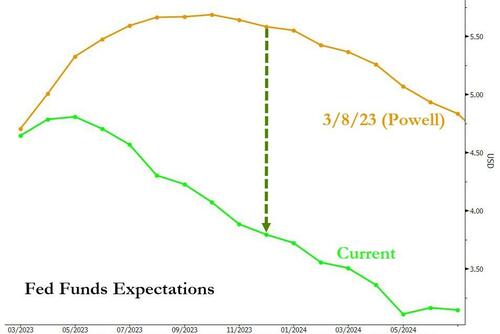 For context, the market's expectations for The Fed's rate at year-end is now 150bps lower than the Dot-Plot...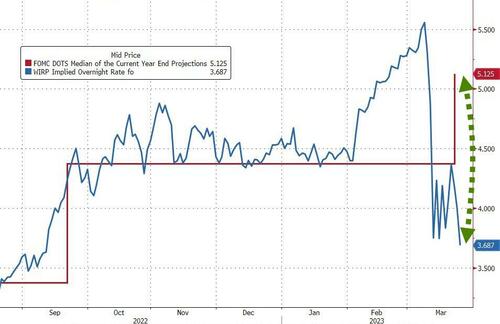 The government-brokered takeover of Credit Suisse by UBS is "no indication" of the state of European banks, Deutsche Bank management board member Fabrizio Campelli said at a conference yesterday.
There is no specific news on DB to catalyze these moves but if DB is next, then the world's financial system has a serious problem that makes CS look like SVB.
Loading...