---
Diamond Crisis - De Beers Records Lowest Profits Since 2009 
De Beers Group reported the worst set of earnings in more than a decade. The international corporation with diamond exploration, diamond mining, diamond retail, and diamond trading segments across the world, has warned the diamond industry is headed for a crisis. 
Worldwide global jewelry markets have been pinched by a global slowdown, trade wars, and a virus outbreak, crimping discretionary income among consumers. 
The extent of the diamond crisis became more evident on Thursday when De Beers reported profits for 2019, crashed by 50%, now below levels that were last seen since 2009!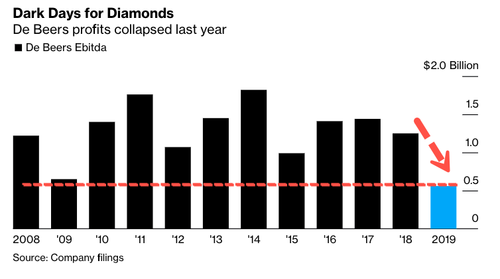 Demand woes and supply chain issues of oversupply conditions weighed on prices in the last several years, leading to declining profitability for De Beers.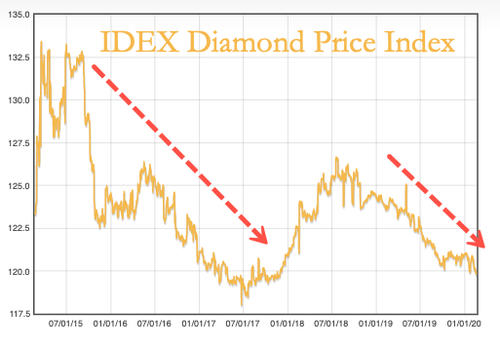 Mark Cutifani, CEO of Anglo-American Plc, which controls De Beers, said a global turnaround was nearing for the industry, then the virus outbreak in China delayed the rebalancing.  
"There aren't as many people walking around jewelry shops in China. In Hong Kong, there are virtually none," Cutifani said. "It'll be a couple of months before we have a better picture."
We've highlighted several factors for why diamond demand has plunged in the last several years. First, the trade war between the US and China led to stock market volatility and uncertainties in regional economies in the East and West hemispheres. This led to a slowdown in world trade growth, especially in mainland China. Less demand from mainland China was visible in Hong Kong in 2018 and 2019. When riots broke out in Hong Kong in the summer of 2019, Mainlanders avoided Hong Kong altogether, crushing the jewelry industry even more. 
At the same time, midstream inventory was increasing in North America as US' bricks and mortar' retail outlets closed. US jewelry sales have declined in the last several years due mostly to highly indebted consumers, leveraged up to their eyeballs in auto debt, credit cards, and student loans that have limited their economic mobility.
On top of this all, the global economy began to slow in late 2017, central banks panicked in 2018/19, unleashed dozens of rate cuts, and printed trillions of dollars to stabilize the global economy. Nothing seemed to work heading into 2020 – then Covid-19 outbreak formed in China, now spreading across the world. Could mean the diamond industry is headed for a crash.
In the face of oversupplied conditions and weak consumer demand, De Beers has offered concessions to its wholesalers and slashed prices.
"I'm actually very proud of what De Beers did in 2019," said De Beers CEO Bruce Cleaver.

"It was not an easy year. We led an industry. We spent a lot of time speaking to customers, to bankers and to retailers to give them confidence that De Beers thinks there's a great future here."
To summarize, weak consumer demand in North America, collapsing demand in China and Hong Kong, oversupplied conditions, and a global economy that continues to decelerate, this only means one thing: The diamond industry is headed for a crash.