---
Did Europe's Luxury Bubble Just Burst
The US has its market leading "Big 7 Tech" basket (a play on AI hype but really just an excuse to buy the former market leaders Apple, Microsoft, Google, Amazon, Nvidia, Meta, Tesla), which is trading on 30x PE vs 17x for rest of S&P and is single-handedly responsible for all market gains in 2023; Europe on the other hand, has its "Big 7 European Luxury" aspirational basket  (LVMH, L'Oreal, Hermes, Christian Dior, Richemont, Kering, Ferrari) which is trading at an even more ridiculous 36x vs rest of Stoxx 600 trading on 12x PE.
But what goes up (in an almost straight line) must come down, and the blistering rally in European luxury goods stocks this year powered by international demand particularly from China took a painful hit today, wiping out more than $30 billion from the sector.
Shares in Hermes International slumped as much as 5.5%, while LVMH Moet Hennessy Louis Vuitton SE dropped around 4% and Gucci owner Kering SA saw its stock decline more than 2%.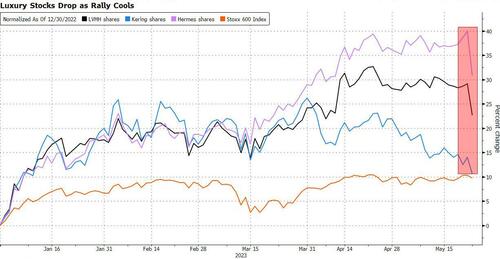 As BofA's Michael Hartnett discussed over the weekend, in the past year this high-flying sector had become to European stocks what Big Tech was to the US: a collection of dominant businesses whose explosive growth was unquestioned even as the economy shrank.
But the questions are finally starting to emerge as confidence in that view has been dented, with attendees at a luxury conference in Paris organized by Morgan Stanley flagging a "relatively more subdued" performance in the US (and China), according to Edouard Aubin, an analyst at the bank. That reflects "weakness in the aspirational consumer in particular."
Separately, the lack of a powerful rebound in China has sparked doubt if the rally will continue. Both Asia and the US are important markets for European luxury companies. Asia excluding Japan accounted for 30% of LVMH's sales in 2022, while the US made up 27%, according to the company's annual report.
At the same time, Deutsche Bank analysts also said that a slowdown in the US is now a growing concern. While the rebound in Chinese demand has been among the key drivers of strong sales, investors are likely to be picky from here on, they said.
"The luxury sector remains a crowded long for many investors, with the sector's premium to the market at historically high levels," Deutsche Bank analyst Matt Garland said in a note. The rally has seen LVMH balloon in size, with its market value breaching the $500 billion level last month, becoming the first European company to hit that milestone.
Despite today's hiccup, luxury stocks have been outperforming by a large margin this year: LVMH is up 25% and Hermes has added 34%, both outperforming a 10% rise in the broader Stoxx Europe 600 Index, roughly the same as the S&P500.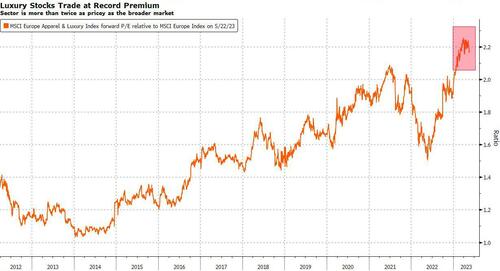 These gains, like those by US AI stocks, have flown in the face of a broader economic slowdown, as investors have bet that Chinese shoppers will be keen to spend after emerging from one of the world's strictest lockdowns (so far they haven't with the latest Chinese data dump a uniform disappointment across the board). Still, Bloomberg reminds us that last month, LVMH's shares hit a record after reporting a surge in sales, while Hermes also saw quarterly sales jump as Chinese consumers snapped up its pricey scarves and Kelly handbags.
However, early warning signs have emerged, with LVMH noting that it is seeing a slowdown in US growth, while British fashion brand Burberry said that it is seeing demand for sneakers and entry-level products softening among younger Americans.
More in the full cautionary note from DB and Morgan Stanley Day 1 luxury conf recap, both available to pro subs.
Loading...