---
Did The "Value Rotation" Just Die Again: Some Market Thoughts From Goldman
In his midday market intel note titled "Like Bull", Goldman's Chris Hussey observes that US equities are trending higher amidst the ongoing news vacuum "and a steady march up in stocks that is favoring this week the mega-cap Tech stocks that did so well during the pandemic — and even as we see further evidence that the post-pandemic era is starting to emerge."
Commenting on today's maltup, Hussey notes that volatility is down (the VIX has fallen to 17.1) and the rotation trade is on pause this week (for the most part) as Tech leads the S&P 500 higher, with all of this happening "as evidence mounts that the US is finally emerging from a year-long pandemic."
Growth has broken out of its recent range against value.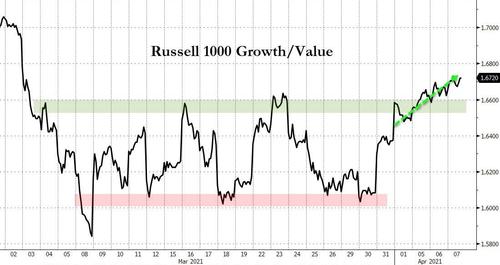 As Russell 2000 relative to Nasdaq 100 hit the long-term downtrend and reversed sharply.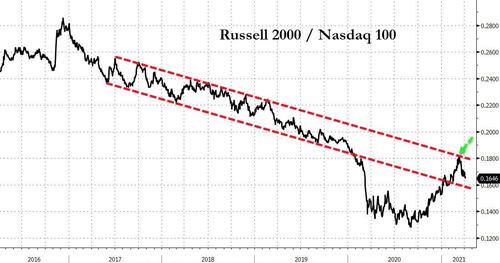 Interestingly, while Tech is leading the index higher this week, the broader index is also quietly marching higher. Unlike in Q1 when tech strength meant weakness in the rest of the market, the S&P 500 is now up almost 2% for the week "a particularly strong gain even in this era of strong stock gains" as Goldman puts it. Also notable, the S&P 500 is achieving these gains the 'old fashioned' way, led by mega-cap Tech, with each of the FAAMG stocks up 4%-5%+ on the week. In fact, despite all of the talk of a rotation into pro-cyclicals this year, the average FAAMG stock is now up 11% vs a 9% rise for the S&P 500."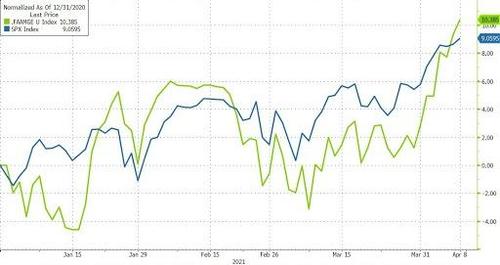 The 11% average ytd gain for FAAMG, however, is coming with considerable variability. At the top, GOOGL has gained 28% as investors lean into a stock that should benefit from an ad spending surge as companies reach out to consumers looking to spend excess savings as they go back outside. And at the bottom of FAAMG performance this year sits AAPL (down 2%) as investors consider the sustainability of iPhone sales and AppleTV growth in a post-pandemic world.
Beyond this week's trading activity, however, Goldman's portfolio strategists maintain a preference for stocks with a pro-cyclical tilt over those that trade more defensively.