---
Didi Shares Extend Collapse, Down 42% As China Tech Stocks Slide 
Update (1058ET): U.S.-listed shares of Didi Global Inc. have been on a non-stop waterfall Friday morning, falling as much as 42% to $1.96 a share, after news the company suspended preparations for its planned Hong Kong listing after failing to appease Chinese cybersecurity regulators.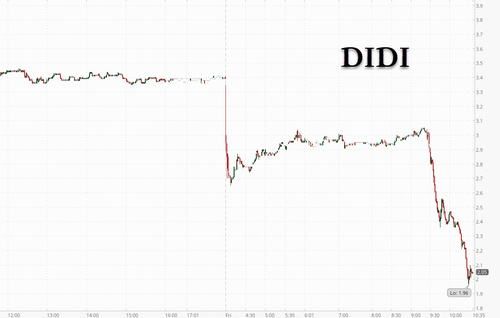 Across the board, Chinese tech stocks have been crushed as investors are losing faith in China.
The NASDAQ Golden Dragon China Index plunged 7% this morning and has stumbled 16% since Wednesday afternoon. The index is down more than 70% from the all-time high recorded in early 2021. 

Are you thinking about buying the dip? Investors have been trying to do so for more than a year and burned on every bounce. 
* * * 
U.S.-listed shares of China's troubled ride-hailing giant Didi plunged as much as 20% Friday premarket after Bloomberg reports its debut on Hong Kong markets would be delayed after failing to meet the demands of Chinese cybersecurity regulators. 
According to Bloomberg's sources, the Cyberspace Administration of China (CAC) allegedly told Didi that their plan to stop security and data leaks had fallen short, forcing bankers who were preparing to list the company in Hong Kong this summer to cease work.
As a result, Didi's American depositary shares tumbled 20% in premarket to as low as $2.70 a share.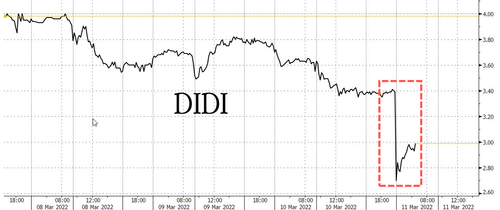 Didi delisted its shares in New York in December 2021 and said it would pursue a listing in Hong Kong, but now those efforts have been derailed. There was no timetable on when the bankers would resume listing preparations. The company has been one of the highest-profile targets of a regulatory crackdown by Beijing to rein in the country's tech sector, especially after the company went public in the U.S. last summer. Shortly after, Chinese authorities launched a probe into the company for allegedly violating the country's data privacy and national security laws. Then weeks later, the company's offices were raided for a cybersecurity review. 
CAC's dissatisfaction with the proposed safeguards puts the company's plans to return to markets closer to China at risk. Sources said the results of the Didi probe would be made public by CAC in the coming weeks. 
Last year, Chinese authorities introduced rules for companies with at least one million users to undergo a cybersecurity review. A suspension of Didi's listing continues to cloud Chinese tech. 
Investors are losing faith in China's tech stocks...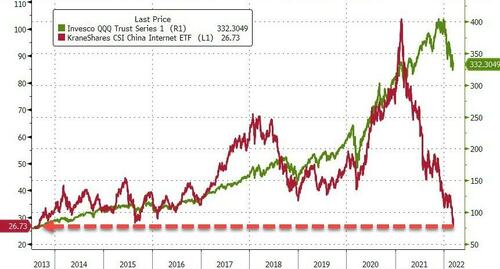 ...as the Nasdaq Golden Dragon China Index on Thursday crashed the most since October 2008 after the U.S. Securities and Exchange Commission said five Chinese companies could be delisted for failure to comply with auditing requirements. 

The news of Didi this morning is more doom and gloom for U.S. investors trying to catch the falling knife in Chinese tech stocks.