---
Discovery Class B Shares Explode Higher In Post-Archegos Short Squeeze
The Archegos margin call liquidation - the biggest since LTCM - may now be over, but the consequences of the fund's unwind will likely continue for days if not weeks.
For a vivid example of this, look no further than the furious squeeze taking place in Discovery Class B shares, which have soared surged as much as 115% (last up 81%), triggering several trading halts in the wake of Archegos-related volatility. The gain in Class B shares (DISCB) has far outpaced the modest 4% advance in Class A shares, which are far more liquid and trade with significantly more daily volume.
As a reminder, together with ViacomCBS and a bunch of Chinese tech names, Discovery Class A was one of the stocks to see a block trade related to the forced liquidation of positions linked to Bill Hwang's Archegos hedge fund. However, while many had expected the rebound to push the Class A shares sharply higher now that the unwind appears to be over, it is the Class B shares where the trading frenzy took place today, with today's volume of 684,000 shares more than 20,000% the three-month average!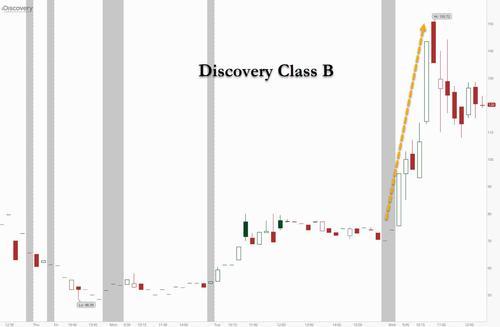 Speaking to Bloomberg, Bright Trading prop trader Dennis Dick said what is happening may be an extreme example of what an "arb squeeze" where instead of buying Class A shares, funds who were forced to buy-in due to a short squeeze or some other reason, have moved to the Class B shares instead:
"It could be that arbitrage traders went in and maybe found that it was tough to borrow on one share class, so they went into the one that is more thinly traded."
"Just because the share classes are fundamentally linked, that doesn't necessarily mean they will trade alike", he added and one look at the chart below confirms that...