---
Disney, Meta Prepare To Eliminate Thousands Of More Jobs
This year, 596 tech firms have laid off 171,308 workers. The list is anticipated to expand, with Meta Platforms Inc. initiating job cuts today and Walt Disney Co. preparing to reduce its workforce by thousands in the coming week.
According to an internal memo seen by Bloomberg, the Facebook parent company told managers they should prepare for job cuts on Wednesday. The memo states jobs across Facebook, WhatsApp, Instagram, and Reality Labs will be affected. 
The move to reduce headcount by at least 10,000 positions at the company was outlined by founder Mark Zuckerberg's goal of greater efficiency earlier this year. Another round of job cuts is expected next month. 
Meta already slashed its total workforce by 13%, or about 11,000 jobs, in November and has extended a hiring freeze through the first quarter.
Meanwhile, next week, Walt Disney is set to cut thousands of jobs, including 15% of its staff in the entertainment division, according to a separate Bloomberg report, citing people familiar with the plans.
"The cuts will span TV, film, theme parks, and corporate teams, affecting every region where Disney operates," said the people. They said affected workers would receive termination letters as early as next Monday. 
Disney announced in February it planned to eliminate 7,000 positions from its 220,000 workforces, a move to save $5.5 billion per year. "Cuts are being carried out across the company," the people said, adding cuts will even happen in the Disney Entertainment unit. 
Disney's old and then-new again CEO, Bob Iger, came out of retirement in November to lead the restructuring of Disney. He elevated key allies in the company, including Alan Bergman and Dana Walden, the co-chairmen of Disney Entertainment. 
The pace of tech layoffs isn't slowing down, according to job tracking website Layoffs.fyi.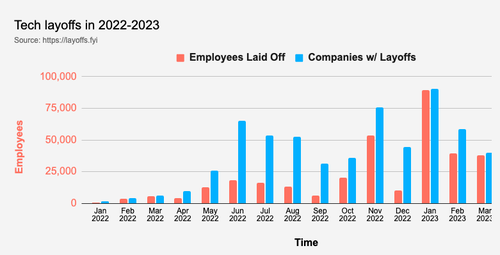 Simply put, tech firms overhired during the pandemic and are currently bracing for a downturn.
Largest Tech Layoffs Since November 2022:

1. Amazon: 27,000 employees
2. Meta: 21,000 employees
3. Google: 12,000 employees
4. Microsoft: 10,000 employees
5. Salesforce 8,000 employees
6. Dell: 6,700 employees
7. Twitter: 80% of employees
8. Uber: 30% of employees
9. Coinbase:…

— The Kobeissi Letter (@KobeissiLetter) April 19, 2023
Loading...