---
"Do Not Drive" Warning: NHTSA Recalls 90,000 BMWs Over Exploding Killer Airbags
The National Highway Traffic Safety Administration published a "Do Not Drive" warning for 90,000 BMW vehicles built between 2000 and 2006 with Takata airbags, telling owners to immediately park sedans and SUVs due to an increasing threat the airbags might explode. 
"These vehicles are 17 to 22 years old, and the risk to vehicle occupants is dire. These are some of the oldest Takata airbags under recall and have an extremely high probability of failure during a crash. If the inflators rupture, the metal fragments ejected toward the driver's face could kill or leave them with devastating, life-altering injuries," NHTSA wrote.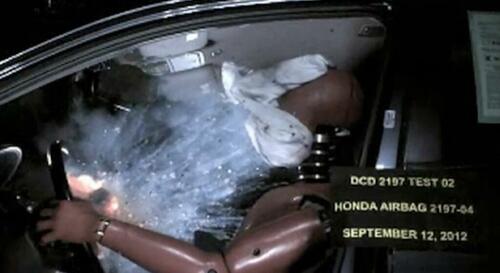 The warning covers the 2000-2006 BMW 3 Series (E46), including M3, 2000-2003 5 Series (E39), including M5, and 2000-2004 X5s (E53) equipped with faulty Takata airbags. 
"If you have a model year 2000-2006 BMW with a recalled Takata air bag, get it repaired immediately – for free. These inflators are two decades old now and, with every day that passes, they become even more dangerous as they can rupture even in a minor crash," NHTSA Deputy Administrator Sophie Shulman said.
Since 2009, the defective airbags manufactured by Takata have resulted in at least 33 deaths worldwide, with 24 of these deaths occurring in the US. The majority of both the fatalities and approximately 400 injuries have been in North America. 
Loading...