---
"Justice For All" - General Flynn Celebrates After DoJ Drops Charges, Pelosi Slams Barr's "Cover Up"
Update (2100ET): It didn't take long for the politics to take over.
First, as The Hill reports,  Attorney General William Barr defended the Department of Justice's (DOJ) decision Thursday to move to drop the case against former national security adviser Michael Flynn for charges of lying to the FBI about his contacts with Russia in 2017. Barr dismissed accusations that he's doing the "president's bidding" in moving to drop the case.
"I'm doing the law's bidding. I'm doing my duty under the law, as I see it," Barr told CBS News in an interview Thursday.
Barr said he was "not at all" influenced by President Trump regarding the case.
"I made clear during my confirmation hearing that I was gonna look into what happened in 2016 and '17. I made that crystal clear," Barr said.

"I was very concerned about what happened. I was gonna get to the bottom of it. And that included the treatment of General Flynn."
Of course, the left was having none of it.
Prominent Democrats, including Sens. Elizabeth Warren (Mass.) and Kamala Harris (Calif.), renewed calls for Barr to resign Thursday after the DOJ moved to drop the case against Flynn. Democrats accused Barr of making the decision out of Trump's interest, rather than the nation's.
Barr said he is "prepared" to face backlash.
"I also think it's sad that nowadays these partisan feelings are so strong that people have lost any sense of justice," Barr said. "And the groups that usually worry about civil liberties and making sure that there's proper procedures followed and standards set seem to be ignoring it and willing to destroy people's lives and see great injustices done."
But Speaker Pelosi chimed in, accusing Attorney General William Barr of trying to "cover up" for President Trump.
"Attorney General Barr's politicization of justice knows no bounds," Pelosi said in a statement.

"Michael Flynn pleaded guilty to lying to federal investigators in the face of overwhelming evidence – but now, Attorney General Barr's Justice Department is dropping the case to continue to cover up for the President," she added.
And Comey couldn't help embarrass himself further:
The DOJ has lost its way. But, career people: please stay because America needs you. The country is hungry for honest, competent leadership.

— James Comey (@Comey) May 7, 2020
Nothing ever changes and cognitive dissonance just went to '11'.
*  *  *
Update (1630ET): General Flynn took to Twitter to celebrate, in a wonderfully appropriate way, with a picture of his grandson:
My grandson Travis..."and JUSTICE for ALL" ⚖️❤️🙏🇺🇸 pic.twitter.com/IuOGugjOC3

— General Flynn (@GenFlynn) May 7, 2020
*  *  *
Update (1530ET): Jonathan Turley remarks that the Flynn case represents one of the most ignoble chapters of the Special Counsel investigation. Notably, the motion itself could lay the foundation for suing on the basis of malicious prosecution.
In the motion below, the Justice Department stresses that "the citizen's safety lies in the prosecutor who … seeks truth and not victims, who serves the law and not factional purposes, and who approaches [the] task with humility."  It also establishes that there was never a satisfaction of the materiality element to the criminal allegation:
"In the case of Mr. Flynn, the evidence shows his statements were not "material" to any viable counterintelligence investigation—or any investigation for that matter—initiated by the FBI. Indeed, the FBI itself had recognized that it lacked sufficient basis to sustain its initial counterintelligence investigation by seeking to close that very investigation without even an interview of Mr. Flynn. See Ex. 1 at 4. Having repeatedly found "no derogatory information" on Mr. Flynn, id. at 2, the FBI's draft "Closing Communication" made clear that the FBI had found no basis to "predicate further investigative efforts" into whether Mr. Flynn was being directed and controlled by a foreign power (Russia) in a manner that threatened U.S. national security or violated FARA or its related statutes, id. at 3."
It further notes that key figures like Andrew McCabe "cut off" objections to the overly aggressive pursuit of Flynn.  It describes an effort of former Director James Comey, McCabe, and others to skip common protocols to bag Flynn at any cost on any grounds.
While malicious prosecution cases are notoriously difficult to prove (particularly in a case with a voluntary plea), the motion reinforces the view of many of us that the Justice Department was engaged in a campaign to incriminate Flynn — a campaign that now appears entirely detached from both the evidence and legal standards supporting a criminal charge.  Such a lawsuit could allow Flynn to pursue discovery into the motivations and actions of figures like McCabe.
The motion relieves President Donald Trump of the necessity of a pardon for Flynn.  However, it hardly ends the matter.  Congress has expressed an interest in investigating new and troubling evidence. It has every reason to do so.  The new evidence obviously does not comport with the standard narrative of the media from the outset of the Russian investigation.  Many will defend this case and its underlying abuses as "standard" practices.  I have certainly seen abuses in my career as a criminal defense attorney, but I have never seen a record as troubling as this one in prosecutors seeking the creation rather than the investigation of criminal conduct.  Even if such abuse is deemed standard by apologists for Mueller, it is neither an excuse nor a license for such misconduct..
Full Motion for dismissal:
Flynn Motion to Dismiss by Zerohedge on Scribd
*  *  *
Shortly after Brandon Van Grack, chief of the Justice Department's Foreign Agents Registration Act division, filed a notice of his withdrawal in federal court in Washington, The Justice Department has this morning filed a motion to drop the criminal case against President Donald Trump's first national security adviser, Michael Flynn, abandoning the critical leg of many leftists' belief in the Russia collusion bullshit.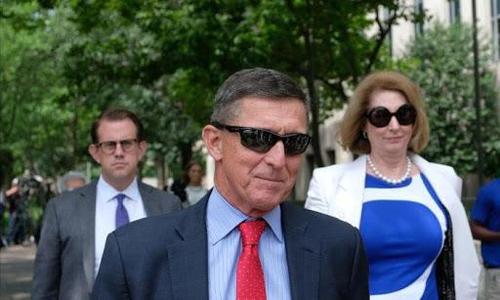 And all it took was one line...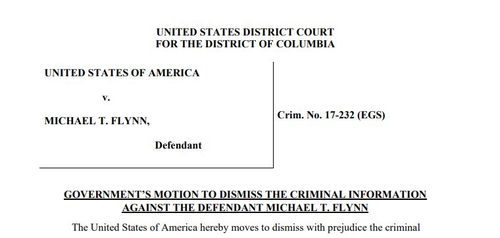 As Byron York notes, the Justice Department finally concedes it had no basis to interview Michael Flynn on January 24, 2017, with the move coming less than a week after unsealed documents in the case fueled renewed claims by Flynn that FBI agents had cooked up a bogus case against him, and as AP reports, is a stunning reversal for one of the signature cases brought by special counsel Robert Mueller.
In court documents being filed Thursday, the Justice Department said it is dropping the case "after a considered review of all the facts and circumstances of this case, including newly discovered and disclosed information."
The documents were obtained by The Associated Press.
The Justice Department said it had concluded that Flynn's interview by the FBI was "untethered to, and unjustified by, the FBI's counterintelligence investigation into Mr. Flynn" and that the interview on January 24, 2017 was "conducted without any legitimate investigative basis."
It comes even though prosecutors for the last three years had maintained that Flynn had lied to the FBI about his conversations with the Russian ambassador in a January 2017 interview. Flynn himself admitted as much, and became a key cooperator for Mueller as he investigated ties between Russia and the 2016 Trump campaign.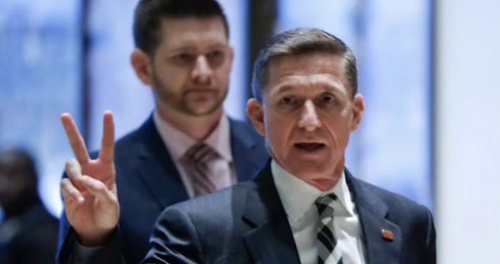 We are sure it will not take long before Trump tweet-celebrates, as has relentlessly tweeted about the case, and just last week pronounced Flynn "exonerated."
As Sara Carter detailed last week, U.S. District Court Judge Emmet G. Sullivan unsealed four pages of stunning FBI emails and handwritten notes which allegedly revealed that the retired three star general was targeted by senior FBI officials for prosecution. Those notes and emails revealed that the retired three-star general appeared to be set up for a perjury trap by the senior members of the bureau and agents charged with investigating the now-debunked allegations that President Donald Trump's campaign colluded with Russia, said Sidney Powell, the defense lawyer representing Flynn.
Last week, after the FBI documents were unsealed, the president tweeted:
"What happened to General Michael Flynn, a war hero, should never be allowed to happen to a citizen of the United States again!"
It didn't take long, as Trump spoke to reporters saying "he is happy for Flynn," and adding that Flynn "is an innocent man."
Your Logan Act investigation is over. The bums lost.

— Eli Lake (@EliLake) May 7, 2020