---
Dollar Dumped; Crude Crushed; Bonds, Bitcoin, & Big-Tech Bid
What a difference a weekend makes (and remember that most of Europe and Asia was also on holiday today too). The message from the market today to the reflation trade was simple...
Small Caps puked back all their exuberant payrolls gains and big-tech (growth) was panic-bid today (dragging S&P and the Dow to new record highs)...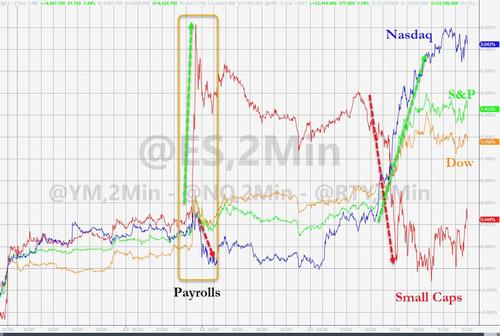 For some context, the surge in Small Caps relative to Big-Tech during Friday's futures session was utterly erased  today, sending Nasdaq back to its strongest against the Russell 2000 since 3/25...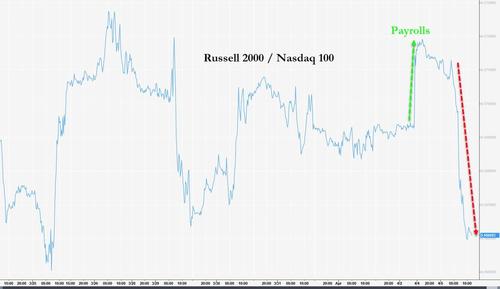 Energy was ugly from the open and got uglier. Tech spiked at the open and kept going but for most of the rest of the S&P sectors the opening gap up was as good as it got...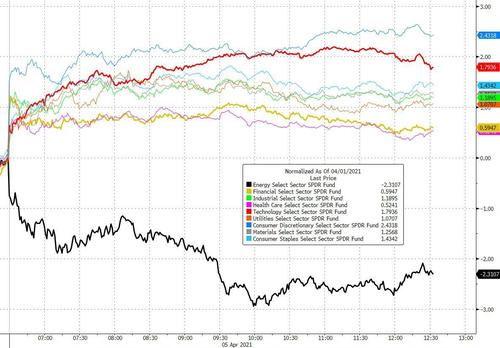 Source: Bloomberg
Growth dramatically outperformed Value today...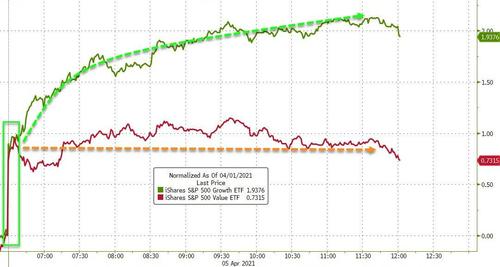 Source: Bloomberg
It appears the Archegos selling is not over as various big holdings (including GSX Techedu, Tencent, Disocvery, and ViacomCBS) were all hammered today.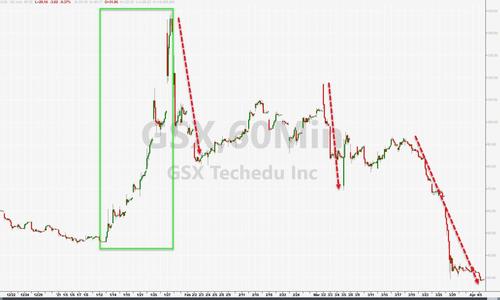 Also GME tumbled on news of a secondary, but most of those losses were recovered intraday...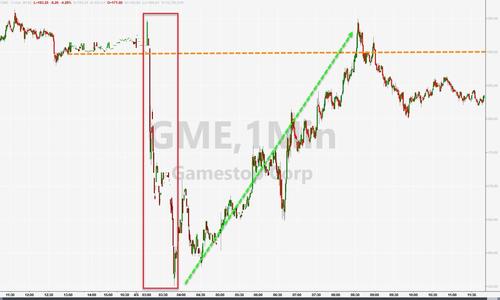 FANG Stocks broke out to a new record high...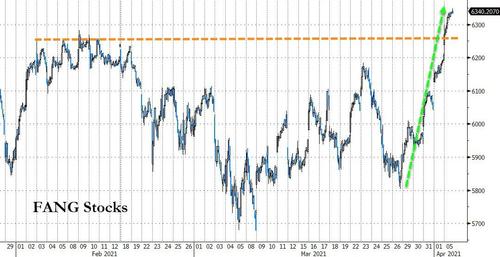 Source: Bloomberg
VIX was noisy today but ended higher despite stock gains, after closing on its lows on Thursday.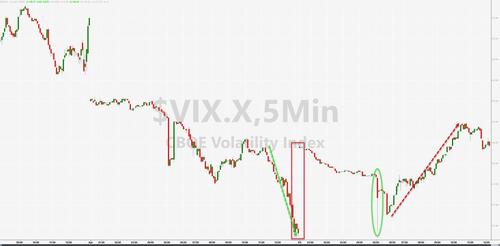 Bonds, which were dumped on Friday, rallied back today (but remain higher from pre-payrolls). The belly led the way today with 5Y -4bps on the day...
Source: Bloomberg
A test to the upside (for yields) and downside but 10Y ended the day unchanged with no follow-through from Friday's fragging...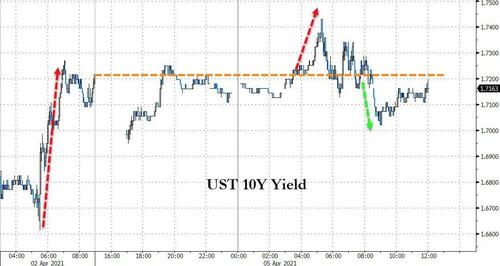 Source: Bloomberg
Notably, if the reversion in big-tech vs small caps is 'true' then 10Y yields should be 35bps lower...
Source: Bloomberg
The dollar was dumped back to two-week lows. Today's drop tested the 200DMA...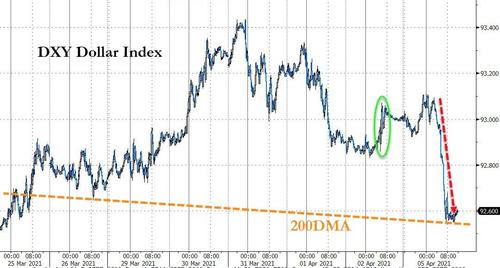 Source: Bloomberg
Crypto soared over the long weekend, pushing the market cap of the entire space above $2 trillion... equal to that of Apple...

Ethereum was the biggest gainer, breaking out from $2000 on Friday and hitting $2100 today...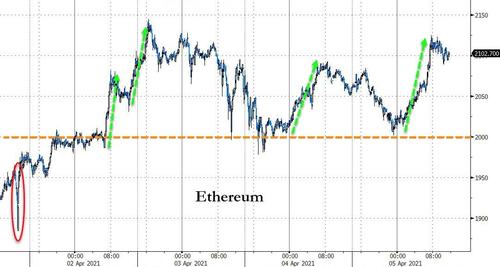 Source: Bloomberg
Bitcoin tagged $60,000 (record high) on Friday, puked over the weekend, but bounced back today above $59,000...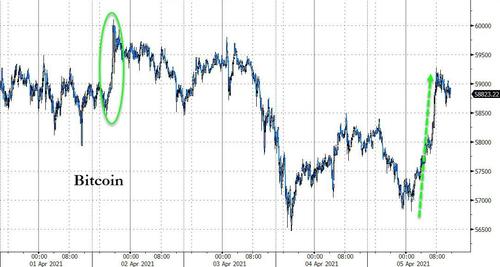 Source: Bloomberg
Crude was clubbed like a baby seal, erasing all the hope-filled gains from the OPEC+ decision with WTI plunging back below $60 and finding support in its recent range...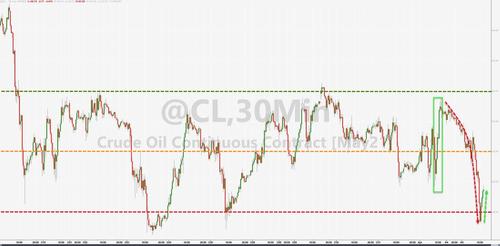 Despite the dollar's drop, gold trod water today...
Finally, net aggregate central bank balance sheet expansion (in USD) has stagnated...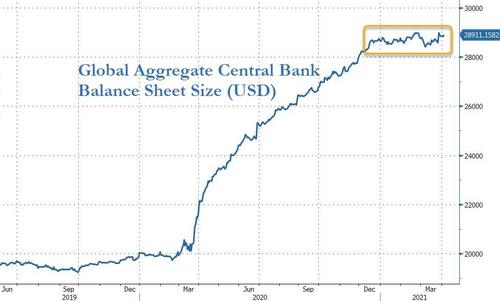 Source: Bloomberg
And the market is pricing in dramatically more aggressive timing and trajectory for rate-hikes...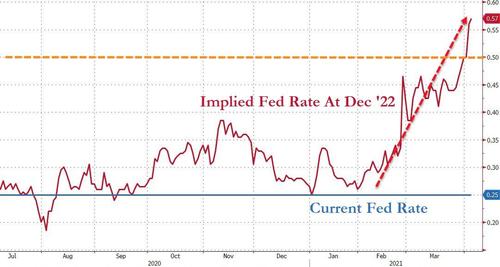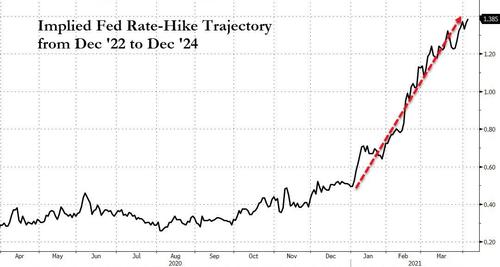 Source: Bloomberg
So the markets are running out of liquidity support and tightening is being priced in... what will stocks do?