---
Dollar Store "Mania" Hits Small Kentucky Town
Brick-and-mortar dollar stores have expanded rapidly nationwide over the past two years. These discount retailers bring rural consumers more buying power during high inflation periods. One town in eastern Kentucky has had what the Daily Mail calls a "dollar store mania" as these retailers take over the town. 
Olive Hill has a population of 1,600. About a third of the residents live below the poverty line, which is higher than the national average of 12.8%. 
Given low incomes and cheap land around the tiny town, it makes sense why dollar stores are flooding the small town to take advantage of poor residents. 
Daily Mail said the town has two Family Dollar locations and four Dollar General stores. One resident said:
"It seems like there's a dollar store every few feet."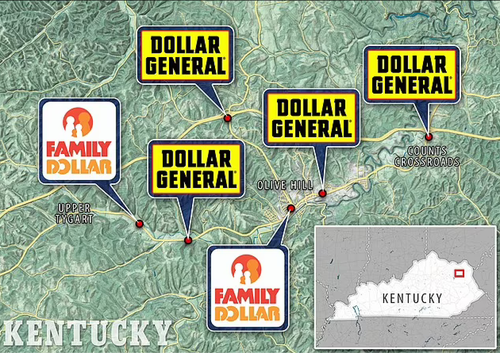 The reason why discount retailers are flooding small towns was explained by John Mercer, head of global research at Coresight, who WSJ quoted:
High inflation has increased the appeal of dollar stores' relatively low prices. But the expansion of the sector is rooted in structural changes in U.S. shopping habits that predate the current economic cycle. 
Mercer said more and more shoppers are turning to dollar stores for groceries. This comes as low-income folks have been battered with 21 months of negative real wage growth, depleted savings, maxed-out credit cards, and the highest credit card rates in years. 
The challenging macroeconomic climate suggests low-income consumers have trouble affording traditional items at stores and supermarkets and must downshift to discount retailers. That's why dollar stores have been the fastest-growing food retailers by share of household expenditure, with growth in rural areas more than doubling in the last decade, according to a recent study. 
However, affordable food at dollar stores comes at a health cost to low-income consumers who will only be able to find high-calorie, ultra-processed packaged foods -- not exactly healthy. 
And while these big corporations are increasingly building dollar stores in small towns. Perhaps these companies could also build diabetes clinics. 
Loading...