---
Dollar Tumbles After Goldman Closes Short USD Reco
It may not be quite a "Thomas Stolper reco", but the dollar reaction to Goldman's announcement on Friday to close its long-running dollar short is certainly one that brings back a few memories of the infamous Kermit photo.
In a Friday note from Goldman's Zach Pandl titled aptly "Tactical Retreat", the bank's chief FX strategist said that "after a choppy few months we are closing our recommended USD short trade, expressed vs a basket of G10 commodity currencies (AUD, CAD, NOK, & NZD)." While we doubt Goldman's trade reco was the catalyst, the Bloomberg dollar index has tumbled in kneejerk response, sliding to a two week low as US stocks soared on Monday, one day after the blockbuster payrolls report.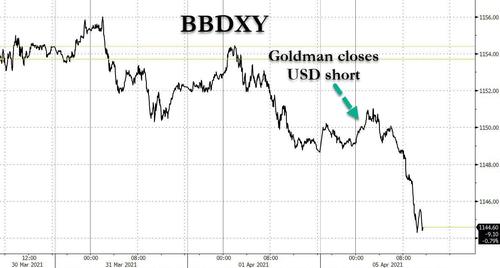 To be fair, it's not just Goldman. AS we noted two week ago, with most of the market short the dollar - which was one of the biggest consensus trades entering 2021 - there has been a big squeeze in net USD futures positioning, which went so far as to send hedge funds long the dollar for the first time since last July in what was the biggest dollar squeeze since 2014.
Biggest Squeeze Since 2014 Sends Hedge Funds Long The Dollar For First Time Since Last July https://t.co/TX6udR9Dhv

— zerohedge (@zerohedge) March 21, 2021
As Bloomberg further notes, Goldman "joins hedge funds and other investors in capitulating on bearish dollar bets after surging Treasury yields triggered a rebound in the U.S. currency, capsizing one of the world's most crowded macro trades."
What was a near-consensus call at the end of last year has come undone as improving economic data and an 80 basis point surge in 10-year Treasury yields boosted the dollar's appeal relative to peers. The Bloomberg Dollar Spot Index has jumped nearly 3% this year.
If anything, Goldman's capitulation shows how much more powerful technicals and positioning are in this market compared to such anachronistic trivia as fundamentals.
"Although we still expect these currencies to appreciate vs the Dollar over the coming quarters, firm US growth and rising bond yields may keep the greenback supported over the short-term."
Goldman's short cover puts an end to a trade reco first initiated by Goldman back on October 9, when it first urged clients to short the dollar against two baskets of developed and emerging currencies. Since then the dollar gauge has fallen about 1%.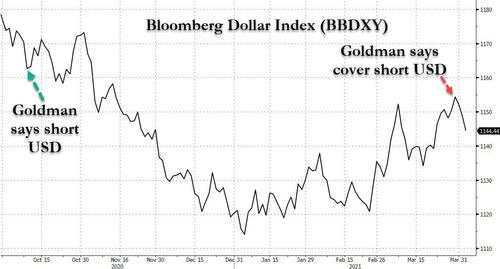 As we said, not quite a Stolper - there was a tiny profit - but in retrospect, was all the headache and opportunity cost worth a whopping 1% return over 6 months?
That said, Goldman isn't done and says that there may be more opportunities to short the dollar beyond the next few weeks as traders position for "the likely recovery in European activity" as the continent's pandemic situation improves:
Vaccinations are set to accelerate significantly in April and May, and past experience suggests current lockdowns will lower covid case numbers relatively soon. Accelerating European growth should help unwind some of the divergence with the US priced into domestic yield curves, as well as support commodity prices and risky assets generally. Therefore, despite the recent pullback, we are keeping our 3m and 12m EUR/USD forecasts unchanged at 1.21 and 1.28, respectively.
As a result, "clear evidence that Europe's covid situation is getting under control would likely warrant fresh USD short recommendations."
Translation: the dollar will likely continue to sell off until Goldman decides to turn short again.