---
Dow Jones Industrial Average Versus 92-Year Resistance Line 
Just when some thought the SPAC phenomenon was an ominous warning of an impending market top, Bloomberg reports shocking new details about the Biden administration's capital gains tax plan, sending markets into a tailspin Thursday afternoon.
And it appears, however briefly, the reality of Biden's 'soak the rich' plan is finally hitting equity markets.
More importantly, DJIA is at critical crossroads attempting to flip a 92-year resistance line as support around the 33,000 handle. The line dates back to resistance from 1929 high to the Dot Com bust. The DJIA has come close to this resistance line since 2018, usually resulting in significant market instability.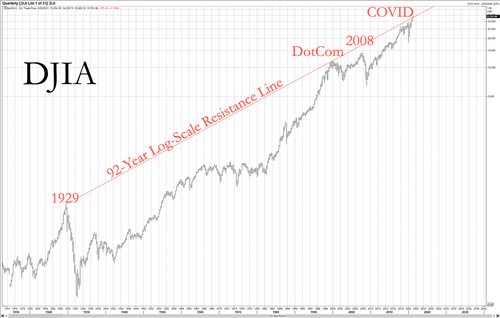 A closer view of the last couple of years and the 92-year log-scale resistance line, notice every time DJIA approached the line, a market panic would form. Since March, DJIA breached the line of resistance and tagged 34,000.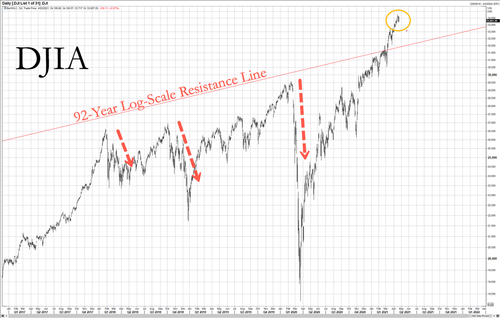 DJIA's level in the sand to watch is around 33,000 mark.