---
ECB Rate-Hike Odds Soar After French, Spanish Inflation Re-Surges
The last week or so in the US has seen the disinflationistas get a gut punch from hot CPI, PPI, and PCE prints.
Today was Europe's turn as consumer prices in France jumped by a euro-era record 7.2% from a year ago in February as food and services costs increased, and Spain saw a stronger-than-expected 6.1% advance.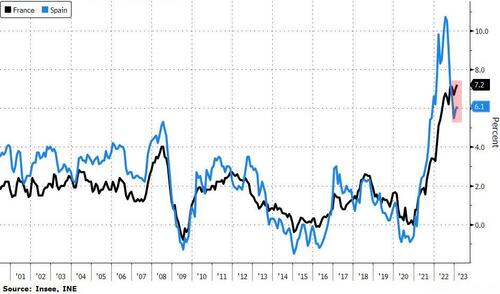 Source: Bloomberg
French flash February HICP inflation was 7.2%yoy in February, 0.2pp higher than the January print and consensus expectations. The press release notes that energy price inflation cooled in February as the increase in regulated electricity prices is offset by a decline in petrol prices. CPI energy inflation cooled from 16.3%yoy in January to 14.0%yoy in February. CPI food inflation increased further to 14.5%yoy in February from 13.3%yoy in January, though the press release notes that sequential food price pressures are easing. Within core, year-on-year CPI goods inflation ticked up a tenth of a percentage point to 4.6%yoy, while services inflation increased 0.3pp to 2.9%yoy. In sequential seasonally adjusted terms, manufactured products inflation in February was unchanged relative to January at 0.50%mom, while sequential services inflation increased sharply to 0.56%mom, up from 0.06%mom in January.

Spanish flash HICP inflation also surprised to the upside at 6.1%yoy in January, 0.2pp above the January print and four-tenths of a percentage point above consensus expectations. The press release notes that higher electricity prices pushed up inflation in February, and this was only partially offset by lower petrol prices. Core CPI inflation increased to 7.7%yoy in February, up two-tenths of a percentage point relative to January.
In response to this, Goldman raised their Euro area headline inflation forecast to 8.36%yoy, from 8.31%yoy previously, and marked up their core inflation tracking estimate by 11bp to 5.28%yoy, given today's news of more sticky core services inflation pressures in France, and further core inflation pressures in Spain.
Bank of France chief Francois Villeroy de Galhau reckons soaring prices are nearing their peak. After next month's likely 50 basis-point rate increase, there'll be less "urgency" for the ECB to act, he said this month.
In Spain, Prime Minister Pedro Sanchez's government will come under more pressure to keep a lid on prices in an election year in which he's widely expected to seek another term.
But to both of their chagrins, the stronger readings from the euro zone's second- and fourth-biggest economies will cement the half-point rate move the ECB is planning for March...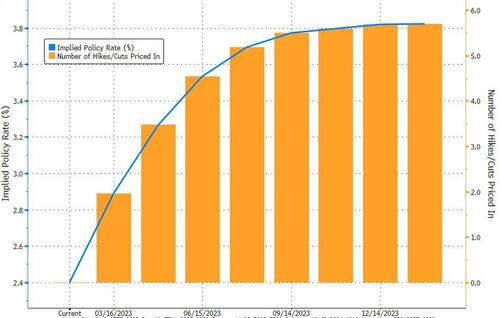 Additionally, today's prints have prompted further repricing of the market's expectations for the ECB's terminal rate - now approaching a record 4.00%...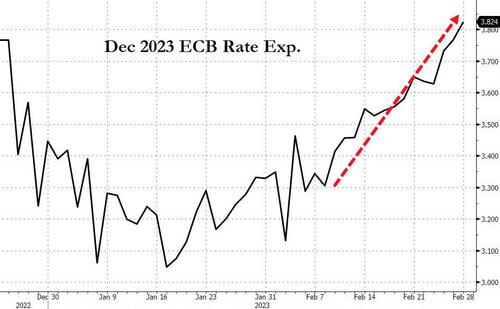 Bloomberg economist Ana Andrade noted:
"The increase in Spain's headline EU harmonized inflation is another reminder that the path of price growth will be choppy and sticky on its way down, as underlying price pressures remain strong. While base effects will dominate over the next few months, bringing inflation meaningfully down by the summer, we still expect it to end the year at above 5%."
Wherever it ends up, it may stay there for a while.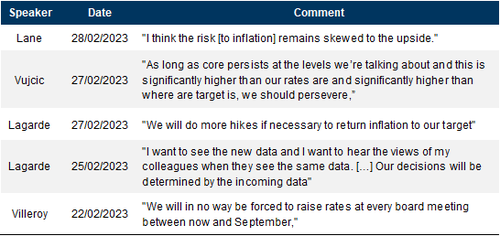 Finally, ECB Chief Economist Phillip Lane noted today that the risks to inflation remained to the upside and that monetary policy transmission may well be slower during this cycle, signalling more openness towards a further 50bp in May and a higher peak rate than in previous comments.
Loading...