---
Egg Prices Finally Fall After Months Of Non-Stop Price Spikes
While global banks spontaneously combust in the background, at least there's a sliver of good news for one asset class: eggs, where prices look like they may have finally topped out. 
For the first time in 5 months, the price of eggs - driven higher by the world's worst ever outbreak of bird flu - finally declined last month, falling 6.7%, according to a new report from Bloomberg. 
Combined with the prices of oranges and bacon also falling, it's looking as though Americans once again may be able to afford breakfast. Who would have thought?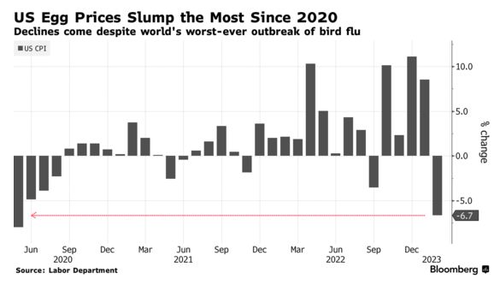 Egg prices had skyrocketed due to a shortage of supply that came about due to avian influenza killing tens of millions of birds. 
But even despite egg prices topping out, the CPI index for food was still up 0.4% last month, Bloomberg noted. This is down from 0.5% in January, but still represents rising prices due to bread, beef, ham and potatoes all seeing prices continue to rise, along with frozen vegetables.
For the year, First Watch Restaurant Group Inc. is estimating commodity inflation of 4% to 6%, the report says. Despite being a mid single digit rise, it is still down from the stunning 18% increase that printed last year. 
As prices spiked last year, First Watch and other restaurant groups were more reliant on the spot market to secure supply, helping stoke the demand that kept prices accelerating higher. 
The egg bubble has burst pic.twitter.com/DDpOORsb1b

— zerohedge (@zerohedge) March 14, 2023
Loading...